By Chris Geo on Jul 17, 2012 with Comments
By Dashiell Bennett
The Atlantic Wire
July 16, 2012
The blistering summer and ongoing drought conditions have the prompted the U.S. Agriculture Department to declare a federal disaster area in more than 1,000 counties covering 26 states.
That's almost one-third of all the counties in the United States, making it the largest distaster declaration ever made by the USDA.
The declaration covers almost every state in the southern half of the continental U.S., from South Carolina in the East to California in the West.
It's also includes Colorado and Wyoming (which have been hit by devatasting wildfires) and Illinois, Indiana, Kansas and Nebraska in the Midwest. However, it does not include Iowa, which is the largest grain and corn producer in the U.S. This map show the counties affected:
The USDA's latest crop report is projecting a 12 percent decrease in the corn harvest this year, which would still be the third-largest haul on record. Despite the negative outlook, grain prices remains quite low, according to CNBC.
Extreme Weather in June 2012 Makes it the Fourth Hottest on Record
By Chelsea Whyte | July 16, 2012 10:46 PM EDT
The hot weather experienced all over the planet this past month has made June of this year the fourth hottest month of June since record keeping began in 1880.
The U.S. National Oceanicographic and Atmospheric Administration released data that shows that June finished out the warmest 12-month period in the lower 48 states since the late 19th century, according to CBS News. Eurasia and northern Africa also saw high-than-average monthly temperatures during that period, according to NOAA.
In the United States, the heat waves were contained to the eastern two-thirds of the country, leaving the northwestern states cooler than average alongside northern and western Europe and Australia, which saw lower-than-average temperatures as well.
As of the 3rd of July, 56 percent of the continental United States was experiencing drought conditions, which marks the largest area affected by drought in the 12-year record kept by the U.S. Drought Monitor, reports The Huffington Post.
The average 2012 temperature through June was 57.4 degrees Fahrenheit – 4.5 degrees higher than the long-term average for the same period, according to The New York Times. That's 1.5 degrees warmer on average than the second hottest temperatures recorded, in 2006, said Jake Crouch, a climate scientist at the data center.
The drought extends into Colorado and with high temperatures and dry weather throughout the Rocky Mountains, recent wildfires have razed homes and forests.
"By the beginning of June, there was no snow in the Rocky Mountains in Colorado. That's unprecedented, to my knowledge," climate analyst Kevin Trenberth of the National Center for Atmospheric Research told The New York Times. He said the reported temperatures are "consistent with the view that climate change is playing a role" in weather patterns.
Though the NOAA report does not mention climate change, the fact that a country as large as the United States is seeing record-breaking heat in a majority of states is significant and could be a symptom of rising global temperatures.
Last 6 Months Hottest on Record
Jon Erdman Updated: Jul 10, 2012, 9:05 AM EDT
The year 2012 continues on a record warm pace, according to a report released July 9.
In the June "State of the Climate" report, the National Oceanic and Atmospheric Administration (NOAA) found the first half of 2012 was the record warmest January-June period for the Lower 48 States, in records dating to 1895.
In all, a total of 28 states, all east of the Rocky Mountains, had a record warm first six months of the year.  Another 15 states had their top 10 warmest January-June.  Only Washington state recorded a cooler-than-average first half of 2012.
Graph of January-June mean temperatures over the Lower 48 States from 1895 (left) to 2012 (right). The long-term average is shown by the horizontal gray line. The long-term temperature trend is indicated by the red line. Credit: NCDC/NESDIS/NOAA
The month of June, however, was only the 14th warmest on record for the Lower 48 States in 118 years of records.
Despite this, Colorado recorded its record hottest June.  Potential all-time state records in South Carolina (113) and Georgia (112) are currently under review by the U.S. State Climate Extremes Committee.  Over 170 all-time record highs were either tied or broken in June.  However, it's important to note many of those locations had relatively short periods of record not dating back at least to the "Dust Bowl" of the 1930s.
(MORE:  All-time, monthly record heat tracker)
On the other end of the spectrum, Washington state had its seventh coolest June.
Here is a month-by-month breakdown of the warmth over the Lower 48 States:
Meteorological spring finished well ahead of all others in the 118-year period of record.  March-May 2012 topped the previous record warm spring, in 1910, by a full 2 degrees Fahrenheit.
(MORE:  Record warm spring)
U.S. drought worsens crop damage, raising world food, fuel worry
Tue Jul 17, 2012 7:35am IST
* U.S. drought worsens, crop ratings drop sharply
* Corn, soybean prices near record, food inflation fears
* Heat dome over Corn Belt to continue, forecasters say
By Andrew Stern
CHICAGO, July 16 (Reuters) – Corn and soybeans in the U.S. Midwest baked in an unrelenting heat wave on Monday with fears rising of big crop losses that will boost food and fuel prices and cut exports and aid from the world's top shipper of the key crops.
The condition of the nation's corn and soybeans as of Sunday deteriorated even more than grain traders had feared, and the U.S. Agriculture Department cuts its weekly corn crop condition rating by the biggest amount in nearly a decade.
After weeks of growing drought some lucky farms have been doused by scattered thunderstorms in the past few days. But weather forecasters warned the heat and dryness would only intensify through the end of July and possibly beyond.
"We're moving from a crisis to a horror story," said Purdue University agronomist Tony Vyn. "I see an increasing number of fields that will produce zero grain."
The drought scorching the U.S. Midwest is the worst since 1956, the National Oceanic and Atmospheric Administration said in a report posted on its website on Monday. Drought is affecting 55 percent of the land mass in the lower 48 states.
The corn crop is in the greatest danger. Plants are trying to pollinate to let ears fill with kernels, a period when adequate moisture is vital for final yields. The United States ships more than half of all world exports of corn, which is made into dozens of products, from starch and ethanol to livestock feed.
The USDA on Monday rated the corn crop – which had once been estimated to total a record 14 billion bushels this year – at only 31 percent good-to-excellent, down 9 percentage points on last week.
The soybean crop rating was cut to 34 percent good-to-excellent, down 6 percentage points from the previous week.
Chicago Board of Trade corn for December delivery has soared 54 percent since mid-June, reaching a contract high of $7.78 on Monday and approaching its record price near $8.
Soybeans for November delivery soared to a new contract high of $15.97 before slipping back a few cents.
Crop watchers were alarmed that corn rated poor-to-very poor jumped to 38 percent, versus 30 percent last week and 11 percent a year ago.
"They're moving corn from good-and-excellent condition to poor-to-very poor in one week, which skips fair condition. What they're saying is it's a lot worse than they thought," said farmer Larry Winger, who farms along the Illinois-Indiana border 30 miles (48 km) south of Purdue, commenting on the USDA report.
To make matters worse, Winger said, drought has created ripe conditions for spider mites, which suck the moisture out of soybeans and can slice yields in half. Japanese beetles and other pests were feeding on Midwest corn, which can also develop toxic fungal diseases in drought years, analysts said.
Both grains are exported around the world, raising concerns about global food shortages and inflation. The impact on American grocery and meat case prices may take time to be felt but will likely be seen in inflation in coming months.
DISASTER AREA
Last week, U.S. Agriculture Secretary Tom Vilsack designated more than 1,000 counties across the country as natural disaster areas due to the drought conditions, the largest single designation in the history of the USDA loan aid program.
In Nebraska, where most farmers irrigate their corn, flows in streams and rivers had dropped so much that the state on Monday asked 1,100 of Nebraska's 48,000 farmers and ranchers to stop pulling water from the waterways and use wells instead.
Iowa and Illinois produce a third of U.S. corn and soybeans. But prospects there have turned down sharply, raising fears losses will be the worst since 1988, the last major drought.
Prospects for the later-developing Midwest soybean crop were better than that for corn, though substantial rains were needed during the next three weeks to salvage Indiana's crop, Vyn said.
"The window for soybeans is closing," he said.
Soybeans usually go through their key growth period of flowering and pod-setting in August, a few weeks after corn in the Midwest. Soy is used in scores of products, from paints and feeds to edible oils and increasingly for soy-based diesel fuel.
"We need soaking rains now. We need 2 to 3 inches and that's not in the forecast," AgResource Co analyst Dan Basse said.
AccuWeather meteorologist Erik Pindrock said a seemingly immovable ridge of high pressure on Monday kept much of the central Corn Belt in a dome of heat, and he predicted the hot, dry weather would persist through July and possibly into August.
Monday's heat matched high temperature records for the date in many locations including Flint, Michigan, where it was 97 Fahrenheit (37 Celsius), and in Indianapolis, where it was 98 F, he said.
"We've seen Raleigh, North Carolina, tie its all-time record of 105 (F) degrees three times … so this is definitely a country-wide heat wave," Pindrock said. (Additional reporting by Kay Henderson in Des Moines, Karl Plume and Michael Hirtzer in Chicago; Editing by Peter Bohan and Lisa Shumaker)
The Largest Natural Disaster In U.S. History: The Endless Drought Of 2012 Will Bake America Well Into August
The End of the American Dream Blog
July 16, 2012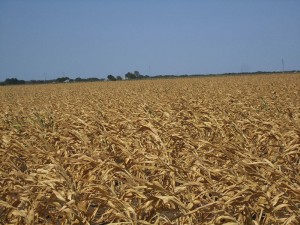 Why is the heartland of the United States experiencing such a horrific drought right now?
At the moment, approximately 61 percent of the entire nation is experiencing drought conditions, and this is absolutely devastating farmers and ranchers all over the country.
Less than two weeks ago I wrote an article asking what would happen if these drought conditions persisted, and now we are finding out.  The U.S. Department of Agriculture has created the largest natural disaster area in U.S. history.
The USDA has declared 1,016 counties in 26 U.S. states to be disaster areas. The USDA declaration basically covered about half of the nation, and there is now no denying how horrible this drought really is.
You can see a map of this disaster area right here.  This endless drought is being compared to the nightmarish drought of 1988, and if it persists into August it could become perhaps the worst drought that America has ever seen.
The USDA says that approximately 60 percent of all corn in the country is experiencing "moderate to extreme" drought conditions.
If this drought does not end soon, the losses are going to be mind blowing.  Already, it is estimated that farmers and ranchers have suffered billions of dollars in damage.  How much worse can things get?
At the beginning of July many were hoping that we would soon see some rain and that we could still see a decent corn harvest.
Unfortunately, the drought has gotten even worse since that time.  The following is from an article in the Chicago Tribune….
The whole of Iowa was classified as abnormally dry as of July 10 and 12.7 percent of the top corn and soybean producing state was in severe drought, up from 0.8 percent the prior week.

Harder-hit Illinois, the No. 2 corn and soy state, was 66.28 percent under severe drought or worse, up from 40 percent the previous week.

Severe to exceptional drought covered 80.15 percent of Indiana, versus 68.84 percent the prior week.

Conditions in Missouri also deteriorated, with 82.54 percent of the state in severe drought or worse, compared with 78.83 percent the week before.
That is not good news.
Posted below is the latest update from the U.S. drought monitor.  As you can see, nearly the entire southern half of the country is extremely dry right now….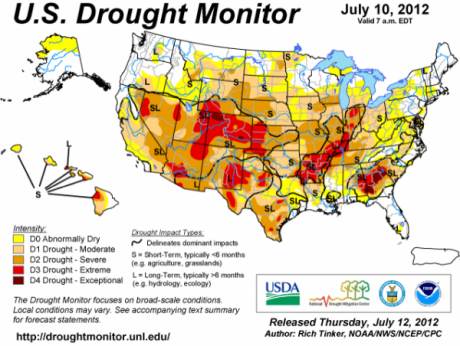 It is being projected that in some of the major corn growing areas as much as 60 percent of the crops could be lost.
Many farmers that had been desperately hoping for rain are now becoming resigned to the fact that their crops are not going to make it.  The following is from an article in the New York Times….
"Corn is anywhere from knee-high to waist-high," Gonzalee Martin, agriculture and natural resources educator with Purdue University's Allen County extension office, told The News-Sentinel. "Much of it has already tassled with no ears at all. Much of it's going to be completely lost"
When your livelihood depends on the weather, an endless drought can be extremely stressful.  Many farmers that had been anticipating a bumper crop this year are now faced with an utter disaster.  The following example comes from CNN….
Now, as punishing drought grips the Midwest, Villwock, 61, walks his hard-hit 4,000 acres in southwest Indiana in utter dismay.

Where there should have been tall, dark green, leafy plants, there now stand corn stalks that are waist high or, at best, chest high. They are pale in color and spindly. Fragile. Tired.

Pull back an ear's husk and you find no kernels, he says. With temperatures rising above 95 degrees, the pollen starts to die.

"It's emotionally draining," he said. "The crop got out of the ground very well. We were so optimistic. But maybe a few of us were counting our eggs before they were hatched."
So is there any hope that things are going to turn around?
Unfortunately, things do not look promising right now.  It is being projected that the Corn Belt will experience extremely high temperatures and very low rainfall all the way through mid-August.  The following report comes from accuweather.com….
AccuWeather.com agricultural meteorologists are concerned that new and frequent waves of near-100-degree temperatures and stingy rainfall will further stress crops over Iowa, Illinois and Nebraska into mid-August.
When temperatures are very high and rainfall is very low, evaporation happens very rapidly.  As accuweather.com notes, when the ground becomes very, very dry it can create a vicious cycle that feeds on itself….
Evaporation rates are very high into the first part of August. Soaking rain on a regular basis instead of a brief downpour is needed to be of benefit beyond a couple of days.

Turning things around in the Midwest as a whole will be a difficult task as dry ground tends to bring higher daytime temperatures, which in turn raises evaporation rates and so on.
So what does all of this mean for the rest of us?
It is going to mean higher food prices.
On Friday, the price of corn hit $7.50 a bushel.
It had been thought that the price of corn would only be about $5.00 a bushel this year.
At this point, the price of corn is up 48 percent since mid-June, and it could go a whole lot higher.
Some analysts are projecting that if this endless drought persists, we could see ten dollars for a bushel of corn and 20 dollars for a bushel of soybeans.
And yes, you will notice this at the supermarket.
In a previous article, I included a quote from a recent article by Holly Deyo about why the price of corn affects the price of so many other products….
Since 75% of grocery store products use corn as a key ingredient, expect food prices to skyrocket. Corn is also a staple in many fast foods. Corn is in ethanol and the main food source or chickens. In addition to this, maize is in many things that aren't obvious like adhesives, aluminum, aspirin, clothing starch, cosmetics, cough syrup, dry cell batteries, envelopes, fiberglass insulation, gelatin capsules, ink, insecticides, paint, penicillin, powders, rugs and carpets, stamps, talcum, toothpaste, wallpaper, and vitamins. That's just for starters…

This is a huge heads up for you to purchase corn-using products NOW before these conditions reflect in grocery goods. It will be a narrow window of opportunity.
This endless drought is also a complete and total nightmare for ranchers.
At this point, approximately 50 percent of America's pastures and ranges are in "poor" or "very poor" condition.
Back in June, that figure was only sitting at 28 percent.
So things have gotten a lot worse very quickly.
A lot of ranchers are selling off their cattle because this drought is making it very difficult to continue to feed them.  The following is from examiner.com….
Rauhn Panting, with the University of Idaho, who works with ranchers and farmers, says, "We're going to run out of grass. It's going to be scary." Ranchers are being advised to vacate grazing lands, weeks and even months before when they usually have to leave.

Left with only two choices, feed or sell, many are opting to sell their cattle. The Torrington Stock Market in Wyoming, has recorded that 36,000 cattle were sold in May and June of this year. The usual average for these months is 5,500. Small ranchers, with 30-50 cow/calf pairs, are being hit the hardest.
So expect higher meat prices in the fall and winter as well.
This all comes at a really bad time.  We are already on the verge of a global financial catastrophe.  Agriculture was supposed to be one of the few bright spots in the U.S. economy.
Sadly, the U.S. is not the only one having problems with crops this year.
For example, in Germany farmers are actually experiencing a full-blown plague of rats.
Yes, seriously.
The following is from a recent Der Spiegel article….
Millions of field mice are overrunning the central German states of Thuringia and Saxony-Anhalt, much to the concern of local farmers. The rodents are devastating food crops, cutting yields by up to 50 percent. Getting birds of prey to hunt the critters didn't help, and now farmers want to be allowed to use a banned rat poison.
So why is all of this happening?
Why is nature going crazy all of a sudden?
Geoengineering Could Backfire, Make Climate Change Worse
By Joel Winston, Wired UK
Deploying giant space mirrors and spraying particles from stadium-sized balloons may sound like an engineer's wild fantasy, but climate models suggest that the potential of geoengineering to offset rising atmospheric carbon dioxide may be significantly overstated.
Through a variety of computer simulations used for reporting to the Intergovernmental Panel on Climate Change (IPCC), the team investigated a scenario where an increase in the world's atmospheric carbon dioxide levels was balanced by a "dimming" of the sun.
Across all four models tested, the team showed that geoengineering could lead to adverse effects on the Earth's climate, including a reduction in global rainfall. They therefore concluded that geoengineering could not be a substitute for the reduction of greenhouse gas emissions.
However, in a field with divided opinion on geoengineering's potential role in addressing climate change, some doubt the significance of this conclusion. "From a policy standpoint, this doesn't provide very helpful guidance to decision-makers," said Steve Rayner of the Oxford Geoengineering Program. "No serious player in this field suggests that [geoengineering] could ever be a substitute for mitigation and adaptation."
The leader of the research, Hauke Schmidt of the Max Planck Institute, Germany, believes their experiment still contributes important details on how the Earth's systems might respond to geoengineering. "The first thing we realized was that we had to 'dim' the sun 25 percent more than expected, in order for the Earth's systems to show a response, which translates to needing more geoengineering than previously thought," says Schmidt.
A reduction in global rainfall is not necessarily an equal one. "It becomes interesting when you look into the regional responses," continues Schmidt. "If you have just a carbon dioxide increase, most models predict a global rainfall increase, but a strong decrease in the Mediterranean and subtropics. But if you try to balance this with geoengineering, these zones shift to Northern Europe, Northern Asia and North America."
There's also the question of how effective these simulations are in recreating real-world deployment of geoengineering. One particular concern is the study's assumption of a quadrupling of carbon dioxide levels. "If it ever gets to that stage, then we have probably passed the point where geoengineering can be useful anyway," says Rayner.
The researchers recognize this level is at the upper end. "But one of the simulations we're running for the next IPCC has more than a quadrupling of CO2," explains Schmidt. "That's called the 'business as usual' scenario, and it's not completely outside what's conceivable."
The team have also run simulations with smaller (and perhaps more realistic) CO2 increases and will publish results in the upcoming months. But they say the extreme CO2 increase in this first scenario helps to identify signals and understand how the system responds. "From the point of view of a climate researcher it is the most interesting scenario," continues Schmidt. "While those who are interested in geoengineering applications may find it unrealistic."
One scientist particularly interested in geoengineering applications is Matthew Watson, leader of the volcano-inspired Stratospheric Particle Injection for Climate Engineering (Spice) project. The government-funded project was investigating the potential effects of spraying solar-reflective sulphates into the stratosphere from a 20 kilometer-high, stadium-sized balloon. However, a scaled-down field test of a smaller balloon spraying water droplets was cancelled due to governance and patent issues.
Now Watson is concerned by the report's conclusions, which he says could be used to suggest that geoengineering research is a waste of time. "Only through combined modelling and field research can we generate the evidence-base for a salient answer on whether climate engineering is a good or bad idea," says Watson. "It's vitally important that scientists are given the space within which to ask and try to answer difficult questions."
To understand different components of the Earth's systems, Schmidt agrees that a few experiments are necessary. "I'm not generally against small-scale field experiments if they help us understand processes in nature," says Schmidt. "But they should obviously be benign, and we should be very careful." However, small-scale field tests are also limited, Schmidt believes, with climate simulations possibly being the only way to fully grasp the long-term and large-scale climate effects of geoengineering.
Both options may have their individual limitations, according to Watson. "That small-scale experiments are, by their nature, incomplete is often used as an argument against climate engineering, but that can also be said of models, which are, by definition, imperfect." In addition to large-scale simulations, Watson accepts the need for small, benign and well-governed field experiments in the interim.
Despite the controversy on the best course of action to take, there is agreement between all parties on the need to determine the effects of geoengineering with confidence. But this confidence may perhaps only be found by both peering through simulations to see long-term global effects, and engaging in detailed examination of field tests to assess the practical potential of specific interventions.
Watson says time is short: "Unfortunately, we don't have hundreds of years before climate change really takes hold. So researching climate engineering now is much better than undertaking that effort only when it becomes clear it is necessary."
Source: Wired.co.uk
Filed Under: EARTH CHANGES • FEATURED
Comments (0)