By Chris Geo on Sep 13, 2012 with Comments
FLASHBACK: 09/06/2012: Rockefellers Preside Over Creation Of Global Journalist Group To "Advance Reporting On Religion"
By Jurriaan Maessen
theintelhub.com
The Rockefeller Foundation has recently presided over the creation of a new international journalism group to "advance reporting on religion", the AP reports.
The stated goal of the newly created International Association of Religion Journalists? In the words of the steering committee's chair Maria-Paz Lopez: to help journalists write "with accuracy, fairness and balance" on all religious matters.
Teaming up with the Association of Religion Data Archives, the international group launched its website, describing itself as "the world's first international body of religion journalists provides editors, reporters and analysts with the tools, resources and support to promote accurate, fair and balanced reporting on religion worldwide."
"The International Association of Religion Journalists (IARJ) was founded by leading journalists from 23 countries in six continents at a meeting at The Rockefeller Foundation Bellagio Center in Italy. Nearly 400 journalists from more than 90 nations have been accepted into the new organization.", the group's website states.
Under the header "A Global Voice", the group states that "global religion journalism comes with great responsibility."
What excellent coincidence that the Rockefeller Foundation came along to preside over the creation of this global group, ensuring a flying start. Or is it?
In the course of many decades several arms of the Rockefeller corpus have went out of their way to somehow co-opt religion, hoping to bring the flocks towards accepting climate change as being man-made.
In their 2010 review of grants extended from 2005 to 2010, the Rockefeller Brothers Fund admits to funding so-called "non-green voices"- meaning people outside the environmental community- to sell man-made climate change doctrine to their respective communities.
These voices include mayors, governors, "national security hawks", military leaders and… evangelicals.
It seems that the Rockefellers have now added religion journalists to that list.
"(…) foundation dollars extended to support these non-green voices have grown dramatically (…). The RBF has supported "allied voices for climate action" that include businesses, investors, evangelicals, farmers, sportsmen, labor, military leaders, national security hawks, veterans, youth, and governors and mayors."
In the document we read that in the past decade both religious leaders and state/local politicians have been subsidized into selling man made global warming. The report goes on to say that:
"Foundations, including the RBF, have played a significant role in building the capacity of these groups to organize their base members, communicate publicly about their interest in climate solutions, and advocate for policies that will address climate change domestically and internationally. In addition to its direct financial support of these individual groups, the Fund has also provided technical assistance for strategic development, communications planning, and advocacy training."
Specifically mentioning the National Board of Governors as beneficiaries, we read:
"Governors and mayors have proven to be very effective advocates for climate change solutions domestically and internationally. Across America, states and localities are developing innovative climate programs and serving as laboratories for pioneering approaches.
Many have launched climate initiatives in their cities and states and have seen the economic benefits of doing so."
The review also describes in some detail how the Fund from 1984 onward has poured bucket loads of cash into climate change propaganda-efforts, including strengthening the implementation of Agenda 21 up to and exceeding the 1992 Earth Summit:
"Two strategies underpinned this phase of grantmaking: 1) distilling consensus on climate science and, 2) moving the discussion of climate change from the scientific community into the policy arena. (…) The RBF organized and funded some of the earliest meetings of advocates addressing climate change.
It was also during this period that the U.N. Intergovernmental Panel on Climate Change (IPCC) was created in 1988 and formal international negotiations on a climate treaty began in 1991; these culminated in Rio de Janeiro in June 1992 with a U.N. Framework Convention on Climate Change (UNFCCC) that the first President Bush and the U.S. Congress ratified. A review of correspondence between then-RBF president Bill Dietel and program staff clearly indicates that the Rio negotiation and treaty, and the creation of the Intergovernmental Panel on Climate Change, were specific aspirations of the RBF program at the time."
Although from the late 1980s onward, it was smooth sailing for the Fund, by 2009 the Rockefellers hit a snag. Acknowledging that the selling of the IPPC rapport has become increasingly difficult since the Climategate scandal erupted, the Fund is now stepping up its efforts to refuel the heavily diminished effectiveness of the effort:
"While public awareness of the urgency for addressing climate change spiked in 2007, a deep erosion of public trust in climate science was sparked by an unauthorized public release of e-mail messages from the computer system at the University of East Anglia in Britain in late 2009. These e-mails appeared to suggest that scientists were using tricks to hide temperature declines and attempting to discredit scientists who were skeptical of human caused climate change."
Despite the described "erosion of public trust" the Rockefeller's at the same time marvel at the results of their grant-making schemes from 2005 to 2010:
"As philanthropic giving has grown over the past several years, with it have grown new organizations, new alliances, and new campaigns. Just a few short years ago, climate change was addressed by a small subset of the environmental movement. It is fair to say that the issue now has a growing movement of its own. Powerful voices from business, faith, national security, youth, labor, and agricultural groups have joined the fight for robust climate change policy."
To illustrate that this buying off on a mass scale of so-called "non-green voices" by the Rockefellers is far from an incidental funding-program, we know that the Rockefeller Foundation also actively engaged celebrity-journalists.
As far back as the mid seventies the Foundation has been busy buying off reporters and funding media-empires into existence. Even then "climate change" was actively being promoted as a tragic result of human meddling in the affairs of mother earth. Genetically engineered food was already being pushed as the cure to remedy all ills.
The 1974 Rockefeller Foundation journal reports:
"Several science editors were asked to participate in Foundation meetings on climate change, food production and interstate conflict, genetic resistance in plants to pests, and aquaculture.
Stories appeared subsequently on the front page of The New York Times, and the Associated Press carried substantial stories which were widely used. In each instance, the writers were introduced to our program officers and encouraged to use them as resource people. (Officers are now, in fact, being called on by journalists, particularly in areas of current high news interest such as food production, population problems, environmental issues, and the arts.)."
On several occasions, and in different publications spread throughout its long and sordid past, the Rockefeller Foundation openly brags using media- figureheads for their own purposes.
In none of these instances does the RF mention any problem encountered with any of the media moguls they contacted. In the 1974 yearly report, Bill Moyers is mentioned as one of the beneficiaries of information disseminated by the Foundation.
"In preparing its remarkable 25-part series on the world food situation, the New York Times reporters have become acquainted and have established fruitful ongoing relationships with a good many of our officers.
Our staff have provided substantial information and further contacts for Bill Moyers in his television series dealing with the problems of global interdependence. These are only a few of the many productive new relationships we have established with representatives of the mass media."
Another arm of the octopus, the United Nations Population Fund (UNFPA) put out a document in 2009 describing specific tricks used by the Fund to reach congregations unwilling to go along with the UN's population control programs:
"UNFPA has found that leaders of faith ‐ and interfaith ‐ based organizations are open to discussing reproductive health, if issues are addressed with care and sensitivity."
These "agents of change" should also be recruited to protect and promote the overall agenda "through countering misinformation campaigns and building social support within the governments for the ICPD (International Conference on Population and Development)."
The ultimate goal of these engagement efforts is clearly described:
"Create a conducive socio‐cultural environment (impacting on behaviour, attitudes and practices) to ultimately promote and mobilize key communities towards achieving the goals of the ICPD PoA (International Conference on Population and Development Programme of Action) and the MDGs (Millennium Development Goals)."
"The National Religious Partnership on the Environment is an alliance of the US Catholic Conference, Coalition on Environment and Jewish Life, National Council of Churches, and the Evangelical Environmental Network that serves more than 100 million Americans."
Another UN front, called the Interfaith Partnership for the Environment was admittedly founded in the mid 1980s to, as the UNEP website teaches, "… inform North American congregations about the serious environmental problems facing life on earth."
The UNFPA, as the enforcement arm of the overall infrastructure, joined with their brother- and sister-agencies in the UN to encircle the world's religions reminiscent of a pack of hungry wolves:
"Since 2002, UNFPA has emphasized the integration of culturally sensitive approaches into programming efforts. Toward this end, it has worked closely within communities and with local agents of change, including religious leaders."
All these entities, from the Rockefellers to the United Nations, have for decades set out to use their resources in order to step up the propaganda. The creation of this latest religion journalists group is just the latest chapter in this ongoing program.
Jurriaan Maessen post first appeared on his website, Explosivereports.com.
Hillary Clinton calls anti-Muslim film 'disgusting and reprehensible'
By David Edwards
Thursday, September 13, 2012 11:41 EDT
U.S. Secretary of State Hillary Clinton is condemning recent attacks on U.S. embassies in Libya and Egypt as well as the anti-Islamic film "Innocence of Muslims" that sparked the violence.
On Tuesday, U.S. ambassador to Libya Chris Stevens and at least three members of his staff had been killed during protests over a film that mocked that the Prophet Muhammad and was promoted by Terry Jones, a U.S. pastor who had previously sparked deadly riots threatening to burn Qurans.
"Let me state very clearly and I hope it is obvious that the United States government had nothing to do with this video," Clinton said on Thursday during a meeting with Moroccan leaders at the State Department. "We absolutely reject its content and message. America's commitment to religious tolerance goes back to the very beginning of our nation."
"To us, to me personally, this video is disgusting and repressible," she continued. "It appears to have a deeply cynical purpose, to denigrate a great religion and to provoke rage. But as I said yesterday, there is no justification — none at all — for responding to this video with violence. We condemn the violence that has resulted in the strongest terms. And we greatly appreciate that many Muslims in the United States and around the world have spoken out on this issue."
The secretary went on to explain that many people around the world could not understand why the U.S. could not prevent films like "Innocence of Muslims" from being distributed.
"I would note in today's world with today's technologies, that is impossible," she said. "But even if it were possible, our country does have a long tradition of free expression, which is enshrined in our Constitution and our law. And we do not stop individual citizens from expressing their views, no matter how distasteful they may be."
Republican presidential nominee Mitt Romney on Wednesday had used the death of Stevens to score political points by accusing President Barack Obama of "sympathizing" with the enemy after the U.S. embassy in Libya released a statement condemning the anti-Muslim film.
"It's disgraceful that the Obama administration's first response was not to condemn attacks on our diplomatic missions, but to sympathize with those who waged the attacks," Romney said.
That initial statement from the former Massachusetts governor and his press conference later in the day were both panned as "irresponsible" and "craven."
Watch this video from CNN's Newsroom, broadcast Sept. 13, 2012.
Is Muhammad Movie a Contrived Fraud?
Bizarre story behind film that supposedly sparked middle east unrest
Paul Joseph Watson
Infowars.com
Thursday, September 13, 2012
An anti-Muslim film that has been blamed for the attacks on U.S. embassies in Egypt, Libya and Yemen is likely a contrived fraud designed to stir up unrest in the Middle East while shielding the true reasons behind the murder of Ambassador Chris Stevens.
A trailer for the film, entitled The Innocence of Muslims, has been on You Tube for over two months. Despite the alleged film maker's claim that the movie was funded by rich Jewish donors to the tune of $5 million dollars, it has all the quality of a low budget film school project. The trailer has now been banned in several middle eastern countries, including Egypt and Afghanistan.
Indeed, the full film itself may not even exist, a doubt that has also been shared about the existence of its shadowy director Sam Bacile, who told the Associated Press this week that he was a 56-year-old "Israeli Jew" who lives in California, despite telling actors on set that he is Egyptian, while others have claimed he is an American.
Bacile claims he made the film to illustrate how "Islam is a cancer, period."
However, numerous authorities have failed in attempting to locate a 'Sam Bacile' residing in California. Bacile is likely a pseudonym for the only real person who has been positively connected with the movie – Nakoula Basseley Nakoula, a 55-year-old Coptic Christian living in California who was convicted for federal bank fraud in 2010.
The movie itself – or the 14 minutes of it which have been released – is also highly suspect. Actors involved in filming were told "they were appearing in a film about the life of a generic Egyptian 2,000 years ago." Following the attack on the U.S. Consulate in Benghazi, all 80 cast members put out a joint statement stating that they were misled by the producer.
"The entire cast and crew are extremely upset and feel taken advantage of by the producer. We are 100% not behind this film and were grossly misled about its intent and purpose," the statement says. "We are shocked by the drastic re-writes of the script and lies that were told to all involved. We are deeply saddened by the tragedies that have occurred."
The film has been purposely dubbed and edited to elicit maximum outrage from Muslims. The Prophet Muhammad is depicted as a pedophile, a homosexual, a religious phony, a philanderer, a womanizer and a bloodthirsty dictator.
During dialogue, the actors words have been crudely dubbed to include references to Muhammad that were not in the original script.
As Cindy Lee Garcia, an actress involved in the movie, told Gawker, "In the script and during the shooting, nothing indicated the controversial nature of the final product. Muhammed wasn't even called Muhammed; he was "Master George."
"The words Muhammed were dubbed over in post-production, as were essentially all other offensive references to Islam and Muhammed," writes Adrian Chen.
For example, at 9:03 in the trailer, the words "Is your Muhammed a child molester?" are heard, yet the actress' voice has been dubbed as her lips do not form the word "Muhammed".
As the Christian Science Monitor summarizes, the film looks like, "it could have been ginned up by someone sitting a basement with cheap dubbing software."
Everything about the movie suggests it was a contrived fraud to artificially manufacture unrest in the middle east at a time where speculation that the U.S. and Israel are about to launch military interventions in Iran and Syria is rife.
The amateurish nature of the film may be a ruse to deflect suspicion away from its true purpose and the real identities of its creators.
"Those sniffing the air properly smell some sort of intelligence/influence operation in the whole situation," writes Daniel McAdams, comparing the film to Kony 2012. "A purposely bad cover for what happened in Benghazi yesterday? A badly done attempted cover for what happened yesterday? Arabs — even Muslim Brotherhood — looking to score points by blaming "wealthy Jews" for making the film? A power struggle between Islamist factions in Egypt? Israelis attempting to make it look like Arabs made a crudely anti-Semitic cover story for a crude film?"
What's known for sure is the fact that the establishment media has seized upon the movie as an excuse to explain away the attacks on the embassies in Cairo and Benghazi as just another instance of extremist Muslims getting riled up over nothing in particular.
Subsequent reports confirmed that the attacks were coordinated well in advance of the release of the Arabic version of the trailer this week and had nothing to do with the film, but the media immediately ran with that narrative.
This conveniently disguises the true narrative behind the attacks, which is the fact that the United States and other NATO powers are seeing their chickens come home to roost having armed and empowered Al-Qaeda affiliated Islamic extremists in pursuit of regime change, most notably in Libya where the removal of Gaddafi was achieved via NATO's support for the Libyan Islamic Fighting Group – which is listed as a terrorist organization by the State Department and was responsible for killing U.S. troops in Iraq.
Given that these same militants are now being used by Gulf states and NATO powers in a bid to topple President Bashar Al-Assad in Syria, their connection to the embassy attacks must be downplayed. This was evident when NATO stooge Ali Aujali, Libya's Ambassador to Washington, ludicrously claimed that Gaddafi loyalists were responsible for killing Ambassador Stevens.
With embassies in Yemen, Tunisia and other countries now coming under siege, the mass media's promotion of what would otherwise have been an obscure, ineffectual and downright laughable 14 minute You Tube trailer has now created a crisis that threatens the stability of the entire region.
The bizarre circumstances behind The Innocence of Muslims, its shadowy creators and the deliberate attempt to manipulate the film to offend Muslims clearly suggests that the whole farce was a contrived set-up to inflame tensions in order to justify an acceleration of U.S., Israeli and NATO aggression across the Middle East and North Africa.
Is There Really a Sam Bacile?
economicpolicyjournal.com
September 12, 2012
News reports have indicated that the film mocking the Prophet Muhammad, that has resulted in outrage in the Muslim world and the attack on the U.S. embassy in Libya resulting in the death of U.S. Ambassador Stevens, was made by Sam Bacile. But is there really such a person?
U.K.'s Daily Mail reports:
A search is on for the man behind the 'blasphemous' film that branded Mohammed a fraud, pedophile and a womaniser and sparked deadly protests after records apparently reveal he does not exist.

The producer, whose movie led to demonstrations that left the U.S. ambassador to Libya and three other American officials dead on Tuesday, claimed he was an Israeli Jew named Sam Bacile and living in California.

But his identity began to crumble as it emerged Israeli authorities had no records of him being a citizen, and there were no property, phone, license or court records of Bacile in California.
Despite claiming he had spent $5 million on the film, he also has virtually no footprint in the Hollywood community, has no agent listed on IMDBPro and no credits on any film or TV production.

Steve Klein, a consultant for the film, told the National that Bacile is not Israeli or Jewish and is in fact working under a pseudonym – but he does not know the man's real name.
It raises questions over the real identity of the man behind the 'offensive' film and his motives for creating a movie that promised to spark outrage – and death.

He claimed the two-hour movie cost $5 million and was financed with the help of more than 100 Jewish donors, who believe the film will help his native land by exposing Islam's flaws to the world.
The film "released" into the Muslim world on 9-11  is clearly designed to enrage the Muslim world, sort of like the way the 9-11 attacks enraged many in the U.S.
And now the filmmaker turns out to be a mystery man. Very interesting.
Protesters storm US embassy in Yemen as anti-film violence spreads
Updated
10:03 am, September 13th, 2012
5:06 pm, September 12th, 2012
BRYN WEESE | QMI AGENCY
UPDATE: Protesters have stormed the US embassy in Yemen as violence spreads across the Middle East over a low-budget US film that is critical of Islam.
WASHINGTON, DC — The murder of America's ambassador to Libya and three other U.S. citizens in the north African country late Tuesday night may have been planned and organized in advance, and not the result of an angry mob, according to US officials.
The murderers reportedly used rocket-propelled grenades and mortars to attack Ambassador Chris Stevens' convoy, and the attack coincided with the 11th anniversary of the 9/11 terrorist attacks.
Earlier Wednesday, President Barack Obama condemned what he called an "outrageous and shocking attack" outside the US consulate in Benghazi that killed Stevens and three other American diplomatic workers in what was initially thought the work of a mob angered by an anti-Islam film made in the U.S.
A similar protest led to a breach of the US Embassy in Cairo, Egypt where protesters tore down the American flag.
The US beefed up security at all diplomatic posts around the world, and sent 50 Marines to Libya to protect the embassy there in case more security threats loomed.
According to reports, US officials were investigating all possible angles of the attack, but were reluctant to jump to any conclusions.
But the House of Representatives' intelligence committee chairman Mike Rogers said he had "no doubt.
"It was a co-ordinated, military-style, commando-type raid," Rogers told Fox News. "This was a well-planned, well-targeted event. No doubt about it."
In June, a pro-al-Qaida group claimed responsibility for detonating an explosive device outside the U.S. consulate in Benghazi where Stevens was murdered Tuesday, and the same group is believed to have attacked a British diplomatic convoy with rockets in Benghazi in the same month.
And Reuters reported Wednesday anonymous US officials said some reports from the region hinted al-Qaida's north Africa-based affiliate may have been involved.
But whoever is to blame, Secretary of State Hillary Clinton said Wednesday it was not the fault of the Libyan people or the new government, but rather "a small and savage group" of people.
And Obama vowed they would be brought to justice.
"Today we mourn four more Americans who represent the very best of the United States of America. We will not waiver in our commitment to see that justice is done for this terrible act and make no mistake, justice will be done," he said at a White House press conference Wednesday. "It's especially tragic that Chris Stevens died in Benghazi
because it is a city that he helped to save. At the height of the Libyan revolution Chris led our diplomatic post in Benghazi with characteristic skill, courage and resolve. He built partnerships with revolutionaries and helped them as they planned to build a new Libya."
Obama's Republican challenger in the presidential election Mitt Romney blasted the White House late Tuesday, accusing them of sympathizing with the protesters in Egypt who breached the embassy there over the anti-Islamic video.
The embassy did release a statement condemning not the breach of the embassy but rather the video itself.
Later Wednesday, Romney doubled-down on the attack on
Obama, saying his administration was sending mixed messages to the world by seemingly "apologizing for America's values" of free speech to make the video, and not condemning the attack on the embassy.
The White House said the statement from the Embassy in Egypt was not approved by the State department.
Romney also called the murder of Stevens and the others outrageous, disgusting, and heartbreaking.
Obama's campaign fired back at Romney for what they said was trying to score political points over the death of US diplomats.
50 Marines sent to Libya after American diplomats killed, Egyptians fly al Qaeda flag in Cairo
Madison Ruppert, Contributor
Activist Post
After today's events in Libya and Egypt, it will be much more difficult for the United States government and the controlled establishment media to continue to promulgate the false narrative of "successful" and "peaceful" revolutions.
Of course, for those who were keeping up with these issues, it was clear it was never about so-called democratic protesters or reform. This was reinforced by the quick recognition of the al Qaeda-affiliated rebels in Libya and the funding of the Egyptian military dictatorship despite the countless human rights violations and genuine concerns of the people of Libya and Egypt.
It's quite unfortunate to say that this type of activity is hardly surprising given the Libyan rebels have been directly linked to heinous racist crimes and other human rights violations with very little in the way of freedom.
The attack in Libya, which Danger Room called, "a pitched battle," is quite troubling, not only since it resulted in the tragic death of four Americans, but also because U.S. personnel repeatedly tried, and failed, to regain control of the consulate.
Now a team of 50 Marines have arrived in Libya to lock down the U.S. Embassy in Tripoli, where the staff from the Benghazi consulate was evacuated to after Libyan security forces and a local militia assisted American efforts to suppress the attack and remove the diplomats.
The incident is surrounded in much confusion, mystery and misinformation since, "much of what has been initially reported in the media on Wednesday has proven incorrect. And it was provided to reporters late Wednesday afternoon by Obama administration officials who would not speak for therecord," according to Danger Room.
The assault began around 4 p.m. EST on September 11, 2012 when a group of unknown Libyans began their attack on a group of buildings currently being utilized by the U.S. State Department as their consulate in the former rebel stronghold of Benghazi.
The diplomats apparently had no idea that there was an attack in their immediate future when they conducted their security review ahead of the 11th anniversary of the tragic events of 9/11.
To make matters even worse, the consulate in Benghazi was significantly more vulnerable than typical diplomatic compounds since they had no reinforced doors, bulletproof glass or any of the other standard security features.
Furthermore, Libyan security guards were supposedly outside the walls of the compound providing an additional layer of security with a State Department security force of an undisclosed size inside.
The attack involved small arms fire and set the main building ablaze, killing four people including Sean Smith, a Foreign Service Information Management Officer assigned to the consulate, who made a quite interesting statement to a member of his online gaming guild before he was killed.
On Tuesday, Smith wrote to the director of his guild in the popular game EVE Online, "Assuming we don't die tonight. We saw one of our 'police' that guard the compound taking pictures," according to a blog post by an online friend of Smith.
According to Danger Room, "The consulate was under siege, and within hours, a mob would attack, killing Smith along with three others, including the U.S. ambassador."
If Smith rightly identified one of the so-called police guarding the compound taking pictures of the facility, it very well might indicate that the Libyan security forces, at least those in Benghazi, are working with those who actually carried out the attack.
Of course, we have no clue who they actually are at this point nor do we know what their motives are and if it will be an isolated incident.
In Egypt, several hours before the U.S. consulate came under siege in Benghazi, Libya – the same place where an al Qaeda flag was raised in triumph last year – the U.S. embassy in Cairo became the focal point for protests involving many "ultraconservative Salafists," according to Long War Journal.
These protesters were, "chanting anti-US slogans in angry reaction to the negative portrayal of Islam in the film on YouTube. Many of the protesters were ultraconservative Salafists, and some were chanting 'We are all Osama,' Long War Journal reported via The Associated Press.
Oddly enough, even when protesters scaled the embassy walls, broke into the compound and replaced the American flag with the black flag of al Qaeda, the Egyptian security guards did nothing to stop them.
One senior Egyptian security official told The Associated Press that the protest was permitted because it was "peaceful."
Romney adviser offers his own timeline on Libya conflict
By David Ferguson
Thursday, September 13, 2012 9:03 EDT
On Wednesday on CNN's "Newsroom," anchor Don Lemon went head-to-head with Richard Williamson, a foreign policy adviser to Republican presidential nominee former Gov. Mitt Romney (R-MA).  Lemon set about trying to address Romney's response to the riots and killings of U.S. personnel in Egypt and Libya with Williamson, a discussion that quickly turned heated as Lemon questioned the timing of Romney's statements.
"When this country was in the midst of a diplomatic crisis overseas, our people were in harm's way, is this the time for a candidate for the presidency to speak out in a way that's critical of the government? It couldn't wait?" he asked.
"Well, let me make a few comments to your presentation," said Williamson, deflecting Lemon's question by attempting to offer an alternative version of the official timeline of events.
Early in the conflict on Tuesday, as rioters were amassing outside embassy gates in the Middle East, the Egyptian embassy issued what it hoped would be a mollifying statement decrying attacks on people of faith in the Muslim world, a statement that the Romney campaign has attributed to the Obama administration and called an "apology for our values."
Williamson argued that U.S. embassy personnel had released the statement after the walls of the embassy had been breached.  Then he asserted that it was only at the prompting of the Romney campaign that the White House issued its own statement about the attacks.
Lemon asked if such lengthy dissemination is necessary when U.S. personnel have lost their lives and the government should be presenting a unified front.  Then, he tried to turn back to his original question, "Thank you for everything you just said, but my initial question was, it couldn't wait?"
"Well," said Williamson, "let me reiterate, the timeline you suggest is not the same as what I just went through."
"I'm not asking about the timeline, it couldn't wait until all the information was out — hang on, let me finish," he said as Williamson talked over him.
When Lemon asked the question again, Williamson chucked and rolled his eyes before saying, "That's a silly question."
"It's not a silly question," Lemon countered, as Williamson made a show of hiding his face in his hand, shaking his head.
"I came here to talk about the failed policies in the Middle East, which is what the American people are interested in," he said, "the failed policies of leading from behind, and what you want to do is play a 'process-getcha' question.  I don't want to play your game."
Finally Williamson said, "The governor made the statement. It was fine, it was acceptable, it was right.  Did you just hear me?  It was fine, it was acceptable and it was right."
"I heard you," said Lemon briskly, "but that's not what I asked you.  But we'll move on now."
After some back and forth, Lemon circled back to his original question, asking whether or not Romney's handling of the issue has the appearance of opportunism, and of exploiting the deaths of foreign officers for political advantage.
"What's best in the situation is to stand up for our values," said Williamson, doggedly, "and being willing to lead from the front."
Watch the clip, embedded via Mediaite, below:
Killed U.S. Ambassador Illustrates Obama's Disastrous Foreign Policy in Libya
Infowars.com
Sept 13, 2012
Every indication points to the fact that the attack was carried out by Al-Qaeda affiliated terrorists whom NATO supported during last year's bombardment of Libya, the same bands of Salafists who have destroyed mosques and shrines across Libya and whose goal is to impose sharia law.
Libyan attack underscores fires of U.S. hatred still seething in the Middle East

September 13, 2012 – LIBYA - The violent deaths of four American diplomatic personnel in Libya during a heavily armed and possibly planned assault on a flimsily protected consulate facility on the Sept. 11 anniversary provoked uproar in Washington on Wednesday, presenting new challenges in the volatile Middle East less than two months before the American presidential election.
`The killings of the four Americans on Tuesday, including the ambassador to Libya, J. Christopher Stevens, also raised basic questions about security and intelligence in the eastern Libyan city of Benghazi, where the assault took place, as well as other American diplomatic facilities elsewhere in the region, where deep-seated anti-American sentiment remains a potent force despite United States support for the Arab Spring uprisings that have transfixed the region for nearly two years.
President Obama denounced the attack, promised to avenge the killings and ordered tighter security at all American diplomatic installations. The administration also dispatched 50 Marines to Libya for greater diplomatic protection, ordered all nonemergency personnel to leave Libya and warned Americans not to travel there, suggesting further attacks were possible. "These four Americans stood up for freedom and human dignity," Mr. Obama said in a televised statement from the White House Rose Garden, where he stood with Secretary of State Hillary Rodham Clinton. "Make no mistake: we will work with the Libyan government to bring to justice the killers who attacked our people."
But the killings also led to heated exchanges between the Obama administration and the Republican presidential challenger, Mitt Romney, who criticized Mr. Obama's handling of the killings in what Mr. Romney's critics, including a few Republicans, called an unwarranted politicization of an American foreign policy tragedy.
There were unconfirmed reports that Ambassador Stevens, a highly regarded diplomat who was well liked by officials in the new Libyan government, had been pursued by Islamic militants to his death in a safe house, where he may have died of asphyxiation from smoke in a grenade explosion. He was the first American ambassador killed abroad in more than three decades.
Initial accounts of the assault in Benghazi were attributed to popular anger over what was described as an American-made video that lampooned the Prophet Muhammad, which had been publicized by Egyptian media and led to a mob protest at the United States Embassy protest in Cairo on Tuesday. But administration officials in Washington said the attack in Libya may have been plotted in advance.
While the protesters in Cairo appeared to be genuinely outraged over the anti-Islam video, the attackers in Benghazi were armed with mortars and rocket-propelled grenades. Officials said it was possible that an organized group had either been waiting for an opportunity to exploit like the protests over the video or perhaps even generated the protests as a cover for their attack.
U.S. promises reprisals: U.S. officials say the Pentagon is moving two warships to the Libyan coast, in the aftermath of the attack in Benghazi that killed the U.S. ambassador and three others. Officials say one destroyer, the USS Laboon, moved to a position off the coast Wednesday, and the USS McFaul is en route and should be stationed off the coast within days.
The officials say the ships, which carry Tomahawk missiles, do not have a specific mission. But they give commanders flexibility to respond to any mission ordered by the president. The destroyers have crews totaling about 300. There have been four destroyers in the Mediterranean for some time.
These moves will increase that to five. Officials spoke on condition of anonymity because they were not authorized to publicly discuss troop movements. The U.S. also dispatched an elite group of Marines to Tripoli on Wednesday. U.S. officials are investigating whether the violence — initially blamed on an anti-Islamic video — was a terrorist attack planned to coincide with the anniversary of 9/11. –Houston Chronicle
YouTube refuses to take down video that caused murder of US ambassador in Libya
Published: 13 September, 2012, 00:39
Even after the killing of an American ambassador in Libya, YouTube refused to take down the video that enraged Muslims around the world. Instead it blocked access to the 14-minute clip in the two countries where American embassies were attacked.
­Due to an executive decision by YouTube, Internet users in Egypt and Libya will be unable to access the video that sparked public outrage in those countries over claims that it insulted the prophet Muhammad, AP reports.
Enraged Muslims stormed the US Embassy in Cairo Tuesday, replacing the American flag with an Islamic banner, hours before believers in Benghazi, Libya set fire to the US consulate there, killing the US ambassador and three consular staffers.
The low-budget, amateur film, entitled "Innocence of Muslims," runs for 14 minutes and portrays Muhammad as a womanizer who approved of pedophilia.
Any depiction of the prophet, full stop, is highly offensive to Muslims – let alone in such an inflammatory manner.
YouTube has left the video up on its site, but due to the violence in Northern Africa, has selectively blocked access to it in Egypt and Libya.
In a rare public commentary, YouTube said in a statement that maintaining an environment in which all opinions can be expressed, and which everyone can enjoy, "can be a challenge because what's OK in one country can be offensive elsewhere. This video – which is widely available on the web – is clearly within our guidelines and so will stay on YouTube. However, given the very difficult situation in Libya and Egypt we have temporarily restricted access in both countries. Our hearts are with the families of the people murdered in yesterday's attack in Libya."
The video was posted in early July by a user calling himself Sam Bacile. It received only a handful of views for two months, when suddenly it was dubbed into Arabic – then shown on Egyptian television, enraging conservative Muslim viewers.
Following the attacks on American diplomatic missions, US President Barack Obama condemned the violence and called on American security services to ramp up protection of the country's diplomats stationed abroad.
In the Wednesday statement, Obama promised to "bring justice to the killers who attacked our people."
"We reject all efforts to denigrate the religious beliefs of others," he said. "But there is absolutely no justification for this type of senseless violence, none."
Afghanistan bans YouTube to prevent viewing of anti-Muslim film
nydailynews.com
September 12, 2012
Afghanistan banned the YouTube website on Wednesday to stop Afghans watching a U.S.-made film insulting the Prophet Mohammad that sparked protests in North Africa and the killing of the U.S. ambassador to Libya.
"We have been told to shut down YouTube to the Afghan public until the video is taken down," Aimal Marjan, general director of Information Technology at the Ministry of Communications, told Reuters.
Afghan President Hamid Karzai condemned the film, in which Mohammad is portrayed as a philanderer and a religious fake, saying its makers had done a "devilish act" and that insulting Islam was not allowed by freedom of speech.
Rumsfeld defends Romney: Embassy attacked because of 'American weakness'
By David Edwards
Thursday, September 13, 2012 9:08 EDT
Former Secretary of Defense Donald Rumsfeld is defending Republican presidential nominee Mitt Romney for scoring political points by blaming "American weakness" for attacks on U.S. embassies in Egypt and Libya — even though terrorists attacked U.S. embassies 12 times during President George W. Bush's tenure.
"It's disgraceful that the Obama administration's first response was not to condemn attacks on our diplomatic missions, but to sympathize with those who waged the attacks," Romney had said over a statement from the U.S. embassy that denounced an anti-Muslim movie prior to the attacks.
That initial statement from the former Massachusetts governor and his press conference later in the day were both panned as "irresponsible" and "craven."
The neoconservative former Defense secretary took to Twitter on Wednesday afternoon to weigh in on the side of Romney.
"The attacks on our embassies & diplomats are a result of perceived American weakness," Rumsfeld wrote. "Mitt Romney is right to point that out."
As The Daily Dolt noted on Thursday, terrorists attacked U.S. embassies 12 times while President George W. Bush was in office. At least eight of those attacks occurred while Rumsfeld was serving as secretary of Defense.
Including the attacks on Tuesday, U.S. embassies have come under attack twice since Obama took office.
(h/t: Political Wire)
Two US warships ordered to Libyan coast
DEBKAfileSeptember 13, 2012, 7:56 AM (GMT+02:00)
The destroyer USS Laboon moved into position Wednesday night after the al Qaeda attack that killied the US ambassador and three diplomats in Benghazi Tuesday. The USS McFaul is due within days. They carry Tomahawk cruise missiles and 300 troops. DEBKAfle: Washington may be preparing to retaliate for the attack on its Benghazi consulate against al Qaeda targets in North Africa.
US should handle ambassador's death carefully – former diplomat
Published: 13 September, 2012, 06:29
The small number of Islamic militias in Libya will use any opportunity to hurt American interests in the Arab World, John Graham, who began his diplomatic career in the American Embassy in Tripoli, told RT.
­Washington must be very careful with its rhetoric when addressing the recent attack on diplomatic mission in Benghazi, he said, in order to prevent the spread of anti-American sentiment.
Commenting on the recent killings of US Ambassador Chris Stevens and three others in Benghazi, Libya, and the outrage against the anti-Islamic, American-made film "Innocence of Muslims," Graham told RT that Washington is "simply playing into the hand of the opportunistic mullahs and perhaps the al-Qaeda operatives who would see this as a wonderful opportunity to enrage the Arab street against the United States."  
RT: Has the anger directed towards Americans who are based there shocked you?
John Graham: No, no. There is enormous tumult in the Arab world ever since the Arab Spring, and there's all kinds of factions and all kinds of unresolved issues in both Libya and in Egypt, as your viewers well know. So anything that happened out there – it's the Wild West out there – no, it does not shock me. What does shock me is, quite frankly, is the fodder that some are using in the United States in terms of our current presidential campaign, using it as a domestic political issue. That does shock me.
RT: Are we talking about a select few, or is the discontent much more widespread? What is the scope that you're talking about in Libya?
JG: Well, I think what President Obama and the Secretary of State Hilary Clinton were trying to do with their statements was not to inflate the entire Arab world, because they recognize perfectly well that most Arab nations are trying to do the right thing, to build their nations. Most Muslim people have a good deal of respect for the United States, even if they do no not agree with all of our policies. There is great incentive to tread extremely carefully, which Obama's statement did. So what we're dealing with, I think, are Islamic opportunists. Who knows? Some say that this incident in Benghazi could have been planned even by them; I think most likely they simply took advantage of it. And there are a lot of opportunistic militias and Islamists who see this great chance in order to further their anti-American aims, but they're a small minority.  The danger is that the American policy will not be sensitive enough in order to condemn these extremists, find and punish the perpetrators and still not enrage the entire Arab world.
RT: Did you know Christopher Stevens?
JG: I did not, I confess that I'm a bit older than his rank of diplomats, but still he was an American Foreign Service officer.  I'm outraged by the killing and my sympathy goes to the families of the fallen.
RT: This is the first time a US ambassador has been killed while in the job since 1979. What does this mean for Washington?
JG: I think all of us recognize, and certainly I did when I was in the Foreign Service, it can be a dangerous occupation. You have American Foreign Service officers in Afghanistan – when I was in Vietnam, I was a Foreign Service officer; it is a dangerous occupation. So, we regret the fact that four more names are on our remembrance wall, but it does happen. I think Obama made the right statement in saying we won't rest until we find and punish the perpetrators.
RT: This film has sent shockwaves through the Arab world, with another anti-US protest in Tunisia Wednesday. Do you fear further unrest spreading now in the region?
JG: It could, it could. That is why the situation has to be handled so extremely carefully. And while I'm glad to see some of Obama's opponents in the Unites States recognizing that and getting behind him in this moment of national crisis, it has to be handled extremely carefully. If it is not handled carefully, we are simply playing into the hand of the opportunistic mullahs and perhaps the al-Qaeda operatives who would see this as a wonderful opportunity to enrage the Arab street against the United States.
RT:It depends how you may look at it, but I think one YouTube clip alone has made a bigger impact, it seems, on the region's attitude towards America than all those billions spent on the Arab Spring.
JG: Well, I would not agree with that. I think what goes on on YouTube, on Twitter and Facebook – we will not know for several years that it has enormous influence from Iran to Tunisia. And what Mr. Bacile, the California filmmaker… I mean it was outrageously irresponsible but in the United States it is his First Amendment right for this man to make such a film, so there's little we can do to stop him.
Identity of mystery anti-Muslim filmmaker confirmed
By Stephen C. Webster
Wednesday, September 12, 2012 14:12 EDT
Update (below): Film's consultant confirms "Sam Bacile" is not real, Associated Press confirms filmmaker identity with U.S. law enforcement
A man who claimed he's the creator of an anti-Muslim film that's sparked violent protests in Libya and Egypt may not be who he says he is.
The mysterious "Sam Bacile" supposedly spoke to The Associated Press, The Wall Street Journal and The Times of Israel, claiming to be a California real estate developer and an Israeli Jew who raised $5 million for the film from 100 other nameless Jewish donors.
However, since those stories were published, several cracks in that description have emerged, and now reporters are wondering whether he even exists at all.
The WSJ reported that he's 52, but the AP placed his age at 56. Raw Story's own inquiries could not find a "Sam Bacile" linked to any California court filing, which would be highly unusual for a real estate developer. He's also missing from U.S. genealogy databases and the major social media networks.
And yet another wrinkle: Speaking on condition of anonymity, Israeli officials told the AP that they have no record of anyone by that name. "If that is true, and 'Bacile' was claiming to be Jewish and to have raised money from Jews for the film, it only multiplies the incendiary nature of his project," Religion Dispatches senior editor Sarah Posner pointed out.
Foreign policy reporter Laura Rozen also noted that Steve Klein, cited by the AP as a consultant on the film, said in 2007 that he had ties to the Coptic Christian community in Egypt, an often persecuted minority group. "And there were some hints that Bacile may be a pseudonym, possibly for someone affiliated with the Egyptian Coptic diaspora," she wrote.
He also published a book called "Is Islam Compatible with Democracy?" which claims that mosques on U.S. soil are "the head quarters of terrorism." Interestingly, the film, "Innocence of Muslims," depicts the Prophet Muhammad as a gay man who approves of sexually abusing children, and shows his followers rioting and murdering Coptic Christians.
Speaking to The Daily Mail, Klein said he did not feel responsible for the violent protests that erupted in Egypt and Libya, resulting in the deaths of four Americans, including Ambassador J. Christopher Stevens.
"I feel bad for the death of the ambassador – he didn't do anything to anybody – but it's not our fault," he reportedly said. "We didn't want anybody to get killed but on the other hand the truth had to come out. We told the truth and these people reacted the way that Mohammed wanted to them to react – by killing people. Do I feel guilt? Yes, but not for me, I feel it for those that did this. Do I feel shame? Yes, but not for me. Killing this man fits in with their legal and ethical standpoint."
Update: Film's consultant confirms "Sam Bacile" is not real
Speaking to The Atlantic, in a story published later Wednesday afternoon, Klein admitted that "Sam Bacile" is not real, claiming he doesn't know the man's real name.
"I don't know that much about him," he reportedly said. "I met him, I spoke to him for an hour. He's not Israeli, no. I can tell you this for sure, the State of Israel is not involved, Terry Jones is not involved. His name is a pseudonym. All these Middle Eastern folks I work with have pseudonyms. I doubt he's Jewish. I would suspect this is a disinformation campaign."
The Associated Press has interviewed Nakoula Basseley Nakoula, 55, who admitted to managing the company that created the movie. Nakoula denied that he posed as "Sam Bacile" and insisted the mystery filmmaker was an acquaintance of his. Nakoula is a Coptic Christian, who lives near Los Angeles, and has been convicted of financial crimes. Federal court documents showed he had numerous pseudonyms.
The cast and crew of the film also alleged that they had been duped by the filmmaker and were mislead about the true nature of the controversial film.
"The entire cast and crew are extremely upset and feel taken advantage of by the producer. We are 100% not behind this film and were grossly misled about its intent and purpose," 80 cast and crew members said in a statement to CNN. "We are shocked by the drastic re-writes of the script and lies that were told to all involved. We are deeply saddened by the tragedies that have occurred."
"It was going to be a film based on how things were 2,000 years ago," actor Cindy Lee Garcia told Gawker. "It wasn't based on anything to do with religion, it was just on how things were run in Egypt. There wasn't anything about Muhammed or Muslims or anything."
Update: U.S. law enforcement confirmed to the Associated Press that the filmmaker is, in fact, Nakoula Basseley Nakoula.
Iran plans protests over anti-Islam film
By Agence France-Presse
Wednesday, September 12, 2012 17:45 EDT
TEHRAN — Iran has condemned a film insulting Islam that sparked a deadly protest in Libya killing the US ambassador, while Iranian media reported an anti-US protest over the movie would take place in Tehran on Thursday.
A foreign ministry statement slammed the film, an amateur production made in the United States, as "repulsive" and said the US government's "silence" encouraged such offences to Islam.
The Iranian statement made no mention of the attacks on US diplomatic compounds in Egypt and Libya by ultra-conservative Muslims protesting the film.
In the Libya attack, US Ambassador Chris Stevens and three other US officials were killed when a mob stormed the consulate in the eastern city of Benghazi.
Iranian media, including news agencies ISNA, Fars and Mehr, all reported that a protest over the movie would take place in Tehran on Thursday around 12:00 pm (0730 GMT) in front of the Swiss embassy, which hosts a US interests section in the absence of Iran-US diplomatic relations.
The news agencies said the demonstration was called by the Student Islamic Society, a hardline group active in Iran's universities that has held anti-Western rallies in the past.
"The members of this society along with other students will hold a gathering in front of the Swiss embassy, which holds the US interests section, to protest and condemn this inulting action by the Americans against Muslim holy figures. We ask all Iranians to take part in this gathering," Fars quoted the group's secretary general, Abolfazl Chamandi, as saying.
Foreign journalists are barred from covering any protests in Iran, making it difficult to verify how many people attend or what action they take.
The foreign ministry statement on the film, issued by spokesman Ramin Mehmanparast, said: "The Islamic republic of Iran strongly condemns insults to Islamic sanctities and sympathises with the hurt feelings of the Islamic Umma (community).
"The US government's systematic and continued silence on such repulsive acts is the fundamental reason that they keep happening," and Washington "has the responsibility to stop this dangerous trend," state media quoted the statement as saying.
The film at the centre of the protests was made by an Israeli-American who describes Islam as a "cancer" and depicts the Prophet Mohammed sleeping with women, the Wall Street Journal reported.
Controversial Florida pastor Terry Jones, who has drawn protests in the past for burning the Koran, is also promoting the film.
Pastor Terry Jones: Film not intended to insult Muslims
By Agence France-Presse
Wednesday, September 12, 2012 20:33 EDT
MIAMI — The film which has triggered deadly protests in the Middle East over its portrayal of the Islamic faith is not intended to insult Muslims, a controversial US pastor who backs the movie said Wednesday.
Terry Jones, who has sparked deadly protests in the past by burning copies of the Koran, also insisted that the deaths of the US ambassador to Libya and three other Americans in an attack in Benghazi were not the result of the film.
"We have been contacted by the producer of the film, 'Innocence of Muslims,' to help distribute it," Jones said in a statement, referring to the movie which mocks the Prophet Mohammed, a 14-minute clip of which is available online.
"The film is not intended to insult the Muslim community, but .. to reveal truths about Mohammed that are possibly not widely known," he said, adding it was "very clear that God did not influence him in the writings of the Koran.
"The fruits of the religion speak for themselves. For example the recent outbreak of violence and deaths is not because of the film, it is not because of the activities that we have done and that we will continue to do.
"These types of violent activities must be totally rejected. These people must be held accountable."
US President Barack Obama quickly ordered increased security at US diplomatic missions around the world after the deadly protests Tuesday, which coincided with the anniversary of the September 11, 2001 attacks.
Jones said the violence which has accompanied protests in Libya's Benghazi city and the Egyptian capital Cairo "again shows the true nature of Islam. Islam does not tolerate criticism of Mohammed, the Koran or Sharia.
"Because of their fear of criticism, knowing that if Islam and the Koran were closely examined, Mohammed and the Koran will be revealed for what it is, a lie and a deception," the Florida-based pastor added.
In 2010, Jones drew widespread condemnation over his aborted plan to burn a pile of Muslim holy books to mark the anniversary of the 9/11 attacks in the United States.
Jones cancelled his plans under pressure from world leaders, but the mere threat to burn the Koran nonetheless sparked large protests in Afghanistan, in which at least 12 people were killed.
Earlier Wednesday, the US military's top officer, General Martin Dempsey, called Jones to urge him to disavow the film, a Pentagon spokesman said.
"In the brief call, Gen. Dempsey expressed his concerns over the nature of the film, the tensions it will inflame and the violence it will cause," his spokesman Colonel Dave Lapan said in an email.
"He asked Mr Jones to consider withdrawing his support for the film," he said.
But a senior administration official said Jones made no pledge to stop promoting the film.
"He heard the chairman's concerns but he was non-committal," the official, who spoke on condition of anonymity, told reporters.
Sen. Jon Kyl: Cairo embassy statement on anti-Muslim film like blaming rape victim
By Eric W. Dolan
Wednesday, September 12, 2012 19:34 EDT
Senate Republican Whip Jon Kyl (AZ) on Wednesday accused the U.S. embassy in Cairo of "apologizing" for anti-American violence because the embassy released a statement condemning an anti-Muslim film.
"It's like the judge telling the woman who got raped, 'You asked for it because of the way you dressed.' OK? That's the same thing," he told reporters. "'Well America, you should be the ones to apologize, you should have known this would happen, you should have done — what I don't know — but it's your fault that it happened.' You know, for a member of our State Department to put out a statement like that, it had to be cleared by somebody. They don't just do that in the spur of the moment."
The film, "Innocence of Muslims," had been recently given Arabic subtitles and promoted by Terry Jones, a U.S. pastor who had previously sparked deadly riots threatening to burn Qurans. It was produced in the U.S., but the maker of the film is a mystery.
The anti-Muslim film has sparked protests around the world, including in Egypt and Libya. Militants stormed the U.S. consulate in Libya on Tuesday, resulting in the deaths of four Americans, including Ambassador J. Christopher Stevens.
"The Embassy of the United States in Cairo condemns the continuing efforts by misguided individuals to hurt the religious feelings of Muslims – as we condemn efforts to offend believers of all religions," the U.S. embassy in Cairo said in a statement on Tuesday. "We firmly reject the actions by those who abuse the universal right of free speech to hurt the religious beliefs of others."
The statement was released prior to the protests.
"Senator Kyl's comments were meant to demonstrate that innocent victims of violence need never apologize to those committing the heinous acts of violence," a spokesman for the Republican senator later clarified.
US Ambassador to Libya killed as radicals attack in Libya, Egypt
7:34 am, September 12th, 2012
PAIGE T. MACPHERSON | SUN NEWS NETWORK
One day after the eleventh anniversary of the 9/11 terrorist attacks, Libyan radicals have attacked the US Consulate in Libya, killing US Ambassador to Libya, J. Christopher Stevens and three security personnel. The three were killed while attempting to drive to a safe location, Libyan officials say.
The attackers were outraged over an American film that depicted the prophet Muhammed. The film was low-budget – not a Hollywood film – but Muslims find it offensive to depict the prophet in any case.
Libyan forces have been accused of doing very little to stop these attacks. They said they were heavily outnumbered and decided not to intervene.
Canadian Foreign Affairs Minister John Baird released a statement this morning strongly condemning the attacks and regretting the lives lost. "We call upon Libyan authorities to take all necessary measures to protect diplomatic premises in accordance with Libya's international obligations," he said. "We also urge Libyan officials to ensure the extremists responsible are brought to swift justice."
President Obama has also condemned these attacks.
In Cairo, Egypt, several men scaled the walls of the US Embassy in protest of the same film, and replaced the US flag with an Islamic banner reading "There is no God but God, and Muhammed is His prophet."
Security stepped up at US embassies and missions worldwide
DEBKAfile September 12, 2012, 10:34 PM (GMT+02:00)
Following the wave of Islamist terrorist attacks on US missions in Libya, Egypt and Tunisia – and  the deaths of four US diplomats in Benghazi – security has been reinforced at all US embassies around the world. DEBKAfile: Six of those embassies have published warnings on their websites that they may be leading al Qaeda targets.
Thanks Obama – The Terrorists You Used To Topple Regimes In Egypt And Libya Are Now Attacking Our Embassies
theintelhub.com
September 12, 2012
Contributed by The End of the American Dream Blog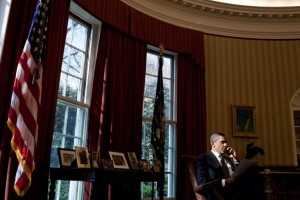 Many of us tried to warn Barack Obama that using militants from al-Qaeda and other terrorist organizations to overthrow governments in the Middle East would not end well.
The Obama administration was so determined to get rid of Mubarak and Gaddafi that they didn't even really stop and think about who would be replacing them.
Our leaders assured us that those opposed to Mubarak and Gaddafi were "freedom fighters" that just wanted "liberty" and "democracy" in those countries.
Well, of course it turns out that the folks that took control of both Egypt and Libya bear no resemblance to George Washington whatsoever.
They have simply replaced one form of tyranny with an even worse form of tyranny.  Sadly, the last couple of days have been a huge wake up call for all of us.  Radical Islamic militants stormed the U.S. embassy in Cairo, Egypt and replaced the American flag with the al-Qaeda flag.
In Benghazi, Libya the U.S. consulate was attacked by a crowd equipped with guns, homemade bombs and rocket-propelled grenades.  They torched the consulate, looted it, and killed the U.S. ambassador and three other U.S. officials.
Apparently they are not as grateful for our help in "liberating" their homelands as the Obama administration thought they would be.  Unfortunately, our politicians fundamentally misunderstand what is going on in the Middle East, and this is going to continue to lead to more policy errors.
For years, our politicians told us that "al-Qaeda" was the big enemy in the "War on Terror".
But then during the "Arab Spring" the U.S. government was openly working with "al-Qaeda" and a bunch of other similar organizations all over the Middle East to overthrow established governments.
To say that our approach to the Middle East has been "inconsistent" would be a massive understatement.
After the protesters stormed the U.S. embassy in Cairo, they made it very clear who they are aligned with.  They tore down the U.S. flag and desecrated it, and they put up a black Islamic flag in its place.
So what did the black flag have on it?  The following is how CNN described the flag….
The black flag, which hangs atop a ladder inside the compound, is adorned with white characters that read, "There is no God but Allah and Mohammad is his messenger," an emblem often used in al Qaeda propaganda.
This is very reminiscent of what happened in Libya in the days after the toppling of Gaddafi.  At the time, the Daily Mail and other international media organizations posted pictures of the black al-Qaeda flag flying high and proud over the courthouse in Benghazi….
The black flag of Al Qaeda was hoisted in Libya yesterday as Nato formally ended its military campaign.

The standard fluttered from the roof of the courthouse in Benghazi, where the country's new rulers have imposed sharia law since seizing power.
Today, the new government in Egypt is completely dominated by the Muslim Brotherhood.  They hold 47 percent of the seats in parliament and the new president of Egypt belongs to the organization.
So how are they responding to this incident?
Well, they have issued a half-hearted condemnation of the attacks in English, and they have also announced that new protests against the anti-Islam film that originally sparked the violence will be held in Tahrir Square on Friday.
I'm sure that a new round of mass protests will definitely calm everyone down.
Or not.
Hopefully the U.S. embassy in Egypt will have significantly strengthened security by Friday.
In Libya, the U.S. consulate has been essentially destroyed.
You can see pictures of what the U.S. consulate in Benghazi looks like after the attack right here.
Looters took off with whatever they were able to carry.  Reporters saw some people carrying desks, chairs and even washing machines away from the consulate.
The U.S. ambassador, Chris Stevens, was killed along with three other U.S. officials.
You can see a photo of an unconscious Stevens being carried through the streets after the attack right here.
So who was responsible for the attack?
Once again, it appears to have been Islamic radicals associated with al-Qaeda.  The following is from a Reuters article about this incident….
The attack was believed to have been carried out by Ansar al-Sharia, an al Qaeda-style Sunni Islamist group that has been active in Benghazi, a Libyan security official said. Witnesses said the mob also included tribesmen, militia and other gunmen.

Ansar al-Sharia cars arrived at the start of the protest but left once fighting started, Hamam said. "The protesters were running around the compound just looking for Americans, they just wanted to find an American so they could catch one."
Most Americans thought that it was a good idea for the Obama administration to back "the rebels" that were fighting to overthrow Gaddafi, but perhaps more people should have been asking what those "rebels" actually stand for.
The following is what former CIA officer Bruce Riedel once said about the composition of the fighters that were attempting to overthrow Gaddafi….
"There is no question that al-Qaida's Libyan franchise, Libyan Islamic Fighting Group, is a part of the opposition. It has always been Gadhafi's biggest enemy and its stronghold is Benghazi. What is unclear is how much of the opposition is al-Qaida/Libyan Islamic Fighting Group – 2 percent or 80 percent."
The leader of the Libyan rebel forces even admitted that some of the very same militants that were shooting at U.S. troops in Iraq were among those that were seeking to "liberate" Libya.  The following is from a 2011 article in the Telegraph….
Abdel-Hakim al-Hasidi, the Libyan rebel leader, has said jihadists who fought against allied troops in Iraq are on the front lines of the battle against Muammar Gaddafi's regime.
You can find much more on the link between al-Qaeda and the rebel forces in Libya right here.
So we were shooting at them in Iraq but we supplied them with weapons and gave them air support in Libya?
What kind of nonsense is that?
The truth is that the U.S. government has absolutely no idea what it is doing in the Middle East.
And it looks like more trouble is ahead.
There were other anti-U.S. protests in Sudan, the Gaza Strip and Tunisia on Wednesday.
Sadly, even the top officials in our own government fail to grasp why these militants hate us.  In response to the torching of the consulate in Benghazi, Hillary Clinton asked the following question….
"Today, many Americans are asking, indeed I ask myself … How could this happen in a country we helped liberate in a city we helped save from destruction?"
And of course foreign policy has never been a point of emphasis for Barack Obama.
In fact, it has been reported that he skips more than half of his daily intelligence meetings.
So the blind are leading the blind and we continue to make mistake after mistake in the Middle East.
When will we ever learn?
Romney condemns "disgraceful" Obama response to attacks on US missions
DEBKAfileSeptember 12, 2012, 9:05 PM (GMT+02:00)
Republican presidential candidate Mitt Romney voiced outrage for the attacks on US diplomatic missions in Libya and Egypt and 4 deaths in Benghazi. ""It's disgraceful that the Obama Administration's first response was not to condemn attacks on our diplomatic missions, but to sympathize with those who waged the attacks," Romney added.
US-Backed Terrorists Murder US' Own Ambassador in Libya
By Tony Cartalucci
theintelhub.com
September 12, 2012
Murdered US Ambassador exposes US "pro-democracy" foreign policy – same terrorists US backs in Syria are behind the murder of US Ambassador in Libya.
Update: The picture below of John McCain in Benghazi, during the violent military subversion of Libya in 2011, includes the now deceased US Ambassador John Christopher Stevens on the right, wearing a blue tie. 
Stevens has now become a victim of the very terrorists he played a role in creating. The caption below has been edited to reflect this information.

Editor's Note: With Russia openly accusing the West of using Al Qaeda as their direct, militant proxies in Syria and beyond, this latest attempt to purposefully provoke and incite Muslims across the Arab World is an attempt by the West to reestablish the perception that the US and Israel are at war with sectarian extremists, not partnered with them.
The film allegedly at the center of the violence, most likely came from the Neo-Con "Clarion Fund" or a project of similar origin.
September 12, 2012 – "I have met with these brave fighters, and they are not Al-Qaeda. To the contrary: They are Libyan patriots who want to liberate their nation. We should help them do it." – Senator John McCain in Benghazi, Libya April 22, 2011.
Image: Senator John McCain (with the now deceased US Ambassador John Christopher Stevens on the right with blue tie) in the terrorist rat nest of Benghazi after marshaling cash, weapons, and political support for militants tied directly to Al Qaeda. McCain's insistence that the terrorists he helped arm and install into power were "not Al Qaeda" runs contra to the US Army's own reports which state that Benghazi's terror brigades officially merged with Al Qaeda in 2007.
McCain's "Libyan patriots" have now killed US Ambassador Stevens with weapons most likely procured with cash and logistic networks set up by NATO last year, part of a supranational terror campaign that includes violently subverting Syria – a campaign McCain also supports.
….
McCain's "Libyan patriots" have now murdered US Ambassador John Christopher Stevens in the very city McCain spoke these words.
An assault on the American consulate in the eastern city of Benghazi, the epicenter of not only last year's violent subversion and destruction of sovereign Libya, but a decade's old epicenter of global terrorism, left Ambassador Stevens dead along with reportedly three others.
The violence, Western media claims, stems from an anti-Islamic film produced in the US.
In reality, the coordinated nature of the attacks on both the US Embassy in Libya, as well as its embassy in Cairo, Egypt, on the 11th anniversary of 9/11, are most likely using the Neo-Conservative Clarion Fund-esque propaganda film as a false pretense for violence long-planned.
The Clarion Fund regularly produces anti-Muslim propaganda, like "Iranium," specifically to maintain a strategy of tension using fear and anger to drive a wedge between Western civilization and Islam to promote perpetual global wars of profit.
NATO Knowingly Handed Libya to Al Qaeda 
Indeed, the US Army's West Point Combating Terrorism Center (CTC) noted that Benghazi and the neighboring city of Darnah served a disproportionately high role in supplying foreign fighters to wage terror against the people of Iraq and Afghanistan – foot soldiers brought in to fuel a destructive and divisive sectarian war that undermined a united Sunni-Shi'ia resistance to Western troops who had invaded.
Image: In Benghazi, in front of the very courthouse McCain and other representatives of the West's corporate-financier driven foreign policy voiced support for Libya's terror brigades, sectarian extremists took the streets waving the flag of Al Qaeda, even hoisting it atop the Benghazi courthouse itself.
Despite a concerted effort by Western media houses to portray Libya as in the hands of progressive democratic secularists, the country was intentionally handed over to extremists to serve as a base of militancy to destabilize and destroy targets of Western interest around the word.
….
The men McCain was defending were Libyan Islamic Fighting Group (LIFG) militants, terrorists linked directly with Al Qaeda according to West Point reports (.pdf), and listed to this day by the US State Department, the UK Home Office (.pdf), and the UN as a "foreign terrorist organization."
McCain was not only rhetorically supporting listed terrorists, but calling for material support including weapons, funds, training, and air support in direct violation of USC § 2339A & 2339B, "providing material support or resources to designated foreign terrorist organizations."
These same terrorists are now not only the defacto rulers of much of Libya, but are leading death squads in Syria and arming militants in Mali, an exponential expansion made possible by a non-partisan effort including Republicans and Democrats, as well as Bush-era Neo-Conservatives who concurrently lead both anti-Islam propaganda while leading calls to arm the most radical sectarian extremist groups, including groups directly affiliated with Al Qaeda.
Syria is Next 
Not only has US policy been exposed as not "promoting democracy" but purposefully spreading destabilization, violence, and terrorism, but the exact same militants behind the death of the US' own ambassador are literally leading US efforts to visit the same violence, destabilization, and chaos upon Syria.
Reuters, in their article, "Libyan fighters join Syrian revolt," reported, that Mahdi al-Harati, "a powerful militia chief from Libya's western mountains," who is actually a militant of the US, British, and UN listed terrorist organization Libyan Islamic Fighting Group (LIFG), "now leads a unit in Syria, made up mainly of Syrians but also including some foreign fighters, including 20 senior members of his own Libyan rebel unit." Reuters would go on to explain, "the Libyans aiding the Syrian rebels include specialists in communications, logistics, humanitarian issues and heavy weapons," and that they "operate training bases, teaching fitness and battlefield tactics."
Image: Libyan Mahdi al-Harati of the US State Department, United Nations, and the UK Home Office (page 5, .pdf)-listed terrorist organization, the Libyan Islamic Fighting Group (LIFG), addressing fellow terrorists in Syria. Harati is now commanding a Libyan brigade operating inside of Syria attempting to destroy the Syrian government and subjugate the Syrian population. Traditionally, this is known as "foreign invasion." 
….
Reuters concedes that the ongoing battle has nothing to do with democracy, but instead is purely a sectarian campaign aimed at "pushing out" Syria's minorities, perceived to be "oppressing" "Sunni Muslims."
Reuters' propaganda piece is rounded off with a Libyan terrorist allegedly threatening that "the militancy would spread across the region as long as the West does not do more to hasten the downfall of Assad," a talking point plucked straight from the halls of America's corporate-financier funded think-tanks.
In fact, just such a think-tank, the Foreign Policy Initiative, recently published a statement signed by Bush-era Neo-Conservatives stating:
"America's national security interests are intertwined with the fate of the Syrian people and the wider region.  Indeed, Syria's escalating conflict now threatens to directly affect the country's neighbors, including Turkey, Lebanon, Jordan, Iraq, and Israel, and could provide an opening for terrorist groups like al Qaeda to exploit."
Along with "War on Terror" proponent John McCain, Al Qaeda's LIFG and America's Neo-Con establishment are now operating in tandem, as well as in direct contradiction to a decade of "War on Terror" propaganda.
It should be remembered that those who signed this statement, including Elliott Abrams, Max Boot, Ellen Bork, William Kristol, Paul Bremer, Paula Dobriansk, Douglas Feith, Robert Kagan, Clifford D. May, Stephen Rademaker, Michael Weiss, Radwan Ziadeh, were among the very engineers of the fraudulent "War on Terror" that McCain himself is such a fervent supporter of.
Radwan Ziadeh, last on the list, is in fact a "Syrian National Council" member – one of several proxies the US State Department is hoping to slip into power in Syria.
Russia, China, Iran, and Others Oppose Terrorism in Syria for a Reason 
With Libya's "democratic progress" exposed as only tenuously covering up NATO's creation of a nation-wide safe haven for Al Qaeda terrorists to subsequently be deployed against the West's political enemies across he Arab World and beyond, it will be even more difficult, if not impossible to continue promoting this same "change" in Syria.
Libya, through direct action of NATO, has been overrun by terrorists. Syria's government is desperately trying to prevent its people from being likewise overrun.
And even as the US buries its own ambassador, killed by terror brigades it itself armed and thrust into power through covert and direct military intervention, in a nation now wrecked by sectarian and tribal infighting, it insists on replicating its "success" in Syria.
Russia, China, Iran, and a growing number of nations have been opposing this campaign of supranational terrorism – with the death of Ambassador Stevens laying bare the true nature of America's proxy "freedom fighters," the list of global opposition will only grow, leaving only the most shameless and deeply invested to defend America's invasive and bloody foreign policy.
This article originally appeared on The Land Destroyer Report
Fifty US marines rushed to Benghazi
DEBKAfile September 12, 2012, 6:19 PM (GMT+02:00)
The US has deployed 50 marines from a fast-response counter-terror unit to Benghazi to redouble security at the US consulate after enraged Libyan Islamists murdered US Ambassador Chris Stevens and three embassy officials Tuesday night.
Marines Sent to Libya After Murder of Ambassador
foxnews.com
September 12, 2012
A team of about 50 Marines has been dispatched to Libya after attacks Tuesday on the U.S. Consulate in Benghazi left four Americans dead including the U.S. ambassador, military officials told Fox News.
Officials said a Marine "fast team" is being sent from the U.S. Naval base in Rota, Spain. They are not yet on the ground.
One official said the State Department has not yet decided whether to send the unit to Tripoli or Benghazi, and whether to use them. There have been requests, though, from the department for military planes to be used for possible evacuation of personnel and/or the wounded. Those requests are in the pipeline, but no final decision has been made as to how many planes to send.
Was U.S. Ambassador Lynched?
Attack on U.S. Consulate illustrates disastrous outcome of Obama's "humanitarian" intervention in Libya
By Paul Joseph Watson
Infowars.com
Wednesday, September 12, 2012
Despite initial reports suggesting he died in a rocket attack on the U.S. Consulate in Benghazi, photos appear to indicate that U.S. Ambassador J. Christopher Stevens was killed by a lynch mob, illustrating the disastrous consequences of the Obama administration's military intervention in Libya – arming some of the very same men who carried out today's attack.
"The US ambassador to Libya, Christopher Stevens, has been killed in a rocket attack in the eastern city of Benghazi along with three other embassy staff, the White House confirmed on Wednesday," reports France 24.
However, images released in the hours after the attack show Stevens' body being paraded around by a mob. The body appears to show signs of torture.
Subsequent reports speculated that Stevens' car was attacked as he and the three other personnel attempted to escape from the Consulate.
The other embassy staff were shot while Stevens' died of "suffocation," suggesting he was lynched and physically attacked by the mob.
The incident is being portrayed by the establishment media as a reaction to a film produced in the United States that purportedly ridicules Islam's Prophet Mohammed.
However, the wider issue of how the 2011 bombardment of Libya paved the way for gangs of militant Islamic extremists, once backed by NATO powers with heavy weapons, to fill the power vacuum left by Colonel Gaddafi, has been largely ignored.
Indeed, it's a horrific irony that Hillary Clinton's infamous gloating about Gaddafi's execution - "We came, we saw, he died" - has now come full circle, with Stevens paying for such despicable arrogance with his life.
After NATO-backed insurgents with links to Al-Qaeda helped topple Colonel Gaddafi in Libya, they proudly flew the distinctive black Al-Qaeda flag over courthouses in Benghazi and other centers of power. That same flag flew over the Consulate today after the U.S. flag was torn down and burned.
In the aftermath of last year's "no fly zone," which turned into an incessant bombardment almost overnight, Libya, once one of the richest countries in Africa, is now run by brutal armed gangs who have rounded up black people in huge numbers, subjecting them to torture, incarceration in concentration camps and execution.
A February 2012 report by Amnesty International found that Libya's militias are "largely out of control" and that "Thousands of detainees are being held in various prisons across the country" and are being "tortured to death."
The country's NATO-installed rulers have proven themselves unwilling to prevent widespread abuse.
Libya's oil resources have been carved up between NATO-aligned corporations while the country's financial enslavement to global bankers is ensured with a fresh IMF loan and the end of their state-owned central banking system.
Despite the fact that Libya is in a state of hellish sectarian warfare and societal collapse, with armed thugs hostile to the west now in control of major power centers, the White House is intent on repeating the same disaster in Syria, funneling arms to rebels, the majority of whom aren't even Syrian, who are being led by Al-Qaeda terrorists.
Indeed, some of the very same militants responsible for the Libya debacle were airlifted into Syria with the aid of NATO powers as part of the effort to topple Bashar Al-Assad.
The assault on Libya was carried out with absolutely zero constitutional authorization.
In June last year, President Obama arrogantly expressed his hostility to the rule of law when he dismissed the need to get congressional authorization to commit the United States to a military intervention in Libya, churlishly dismissing criticism and remarking, "I don't even have to get to the Constitutional question."
Obama tried to legitimize his failure to obtain Congressional approval for military involvement by sending a letter to Speaker of the House John Boehner in which he said the military assault was "authorized by the United Nations (U.N.) Security Council."
Today's attack on the U.S. Consulate serves as another reminder that the military-industrial complex's new paradigm of "humanitarian intervention" – a scam they hope to repeat in Syria – has nothing to do with humanitarianism in that it only results in more bloodshed and more instability.
Obama: Murders of US ambassador to Libya and 3 staff members outrageous
DEBKAfile September 12, 2012, 5:58 PM (GMT+02:00)
Ambassador Chris Stevens and three embassy officials were killed in a rocket attack on the consulate in Benghazi Tuesday night.  Hundreds of protesters, angered by a US amateur movie that allegedly insulted Prophet Mohammad, broke into the US consulate building and set it on fire after a rocket attack. The US president said in a special statement that while America respects all faiths, nothing justifies such actions. "We will work with the Libyan government to bring the perpetrators to justice," he said.
A few hours earlier, a mob of angry Islamists, some hoisting al Qaeda flags, stormed the US embassy in Cairo.
U.S. vows to stand by Libya despite envoy killings
By Agence France-Presse
Wednesday, September 12, 2012 17:51 EDT
WASHINGTON — The United States vowed to stand by Libya on Wednesday despite the killing of the US ambassador and three colleagues by Islamist militants on the anniversary of the September 11 attacks.
President Barack Obama and Secretary of State Hillary Clinton paid tribute to the slain envoy, Ambassador Chris Stevens, and said its mission would not waver in its support for Libya's shaky attempt to build democratic rule.
Obama's Republican challenger in the upcoming US presidential race, Mitt Romney, sounded the only off note — accusing the White House of "sympathizing" with Muslim protesters angered by an amateur US movie that lampoons Islam.
The Obama campaign dismissed the charge, and the president himself rose above the fray to issue a solemn statement, flanked by Clinton in the Rose Garden of the White House, denouncing the attack.
"The United States condemns in the strongest terms this outrageous and shocking attack," he said. "Make no mistake, we will work with the Libyan government to bring to justice the killers who attacked our people."
"The attack will not break the bonds between the United States and Libya," he said, paying tribute to the actions of the new Libyan government which is trying to unite its country after last year's overthrow of Moamer Kadhafi.
"Libyan security personnel fought back alongside Americans. Libyans helped some of the diplomats find safety and carried Ambassador Stevens's body to the hospital where we tragically learned that he had died," Obama said.
Libya's deputy ambassador to the United Nations, Ibrahim Dabbashi, said that up to 10 members of the Libyan security forces were hurt or killed in their failed attempt to protect the compound belonging to their US ally.
Obama and Clinton said that security would be stepped up at various US missions around the world, and US officials said a detachment of Marines would be dispatched to secure the main embassy in the Libyan capital Tripoli.
An FBI spokesman said an investigation into the attack has been launched.
Tuesday's attack was on the US consulate in Benghazi, the eastern Libyan city which was the cradle of the NATO-backed revolt against Kadhafi's regime, and whose streets are now prey to a variety of tribal and Islamist militias.
The assault, in which the building was burned and rocket-propelled grenades were fired, followed an earlier protest in Cairo, the capital of neighboring Egypt, in which hardline Salafist Islamists stormed the US embassy compound.
No one was hurt in Cairo, but the US flag was torn down and replaced by the black banner favored by supporters of militant groups like Al-Qaeda, in a protest triggered by the emergence on the Internet of an anti-Muslim film.
The US-made amateur production, which was recently dubbed into Arabic and broadcast in part on some Egyptian-based television networks, mocks and insults Islam's revered prophet, Mohammed, and has triggered protests around the world.
Four hours before the Cairo protest began, the US embassy in Cairo issued a short statement indirectly criticizing the film by condemning "efforts by misguided individuals to hurt the religious feelings of Muslims."
For Romney, this amounted to Obama's administration "sympathizing with those who had breached our embassy in Egypt instead of condemning their actions."
But Clinton had insisted that anger over the film's content could in no way justify either the protest in Cairo nor the attack in Libya.
"Some have sought to justify this vicious behavior as a response to inflammatory material posted on the Internet," Clinton said.
"The United States deplores any intentional effort to denigrate the religious beliefs of others…. But let me be clear: There is never any justification for violent acts of this kind."
Consulate Attack: NATO Stooge Ludicrously Points Finger at Gaddafi Loyalists
Lame Attempt To Shift Blame Away From U.S.-Backed Extremists
Paul Joseph Watson
Infowars.com
Wednesday, September 12, 2012
While the establishment media has engaged in a concerted effort to bury the fact that today's attack on a U.S. Consulate in Benghazi was carried out by the same extremists the U.S. armed during the overthrow of Colonel Gaddafi, Libya's Ambassador to Washington Ali Aujali launched his own lame attempt to shift the blame, ludicrously pointing the finger at Gaddafi loyalists.
"We know that Qaddafi's associates are in Libya. Of course, they took this chance to infiltrate among the people," Aujali said in today in an interview.
"His claim contradicts most reports, which place the blame on radical Islamist groups that claimed to be reacting to an obscure American film they viewed as insulting to Islam. Aujali said that the Libyan government has intelligence that unspecified Qaddafi forces were involved," reports Foreign Policy.
For Aujiali to claim that the attack, which took place in the rebel stronghold of Benghazi, was the work of Gaddafi loyalists, is a plainly absurd trick to manipulate the narrative behind the incident in a desperate bid to save face.
As Tony Cartalucci points out, the media's failure to admit that the terrorists behind the attack are the same gangs of thugs armed and empowered by NATO represents "an attempt by the West to reestablish the perception that the US and Israel are at war with sectarian extremists, not partnered with them."
Every indication points to the fact that the attack was carried out by Al-Qaeda affiliated terrorists whom NATO supported during last year's bombardment of Libya, the same bands of Salafists who have destroyed mosques and shrines across Libya and whose goal is to impose sharia law.
The storming of a U.S. Embassy in Egypt and the killing of U.S. Ambassador Chris Stevens and three others in Benghazi are confirmed to have been "coordinated attacks," meaning the two groups behind the incidents were working together at some level.
Ludicrous it is therefore to suggest that Gaddafi loyalists were responsible given that when the mob in Cairo tore down the U.S. flag they replaced it with the Al-Qaeda flag while chanting "We are all Osama," according to theAssociated Press.
This distinctive black flag with white Arabic lettering is the same one currently being flown by western-backed rebels in Syria and it is the same flag that was flown over courthouses and other centers of power in Benghazi following the execution of Gaddafi.
The terrorists in Benghazi also used some of the same weapons, including rocket-propelled grenades, that they were given by NATO powers during last year's overthrow of Gaddafi.
While absolutely zero evidence suggests that Gaddafi loyalists, huge numbers of which were rounded up, tortured and executed by Libyan rebels, have anything to do with today's events, every single fact confirms that the same thugs NATO supported in Libya were behind the assault.
The establishment's desire to obscure the fact that western-backed terrorists are to blame for the violence is a transparent ploy to disguise the fact that NATO powers are brazenly arming and supporting radical extremist Muslims all over the Middle East and North Africa.
The goal is simple – to topple the last few remaining sovereign countries who have refused to allow their resources to be carved up and doled out between different corporate branches of the the military-industrial complex – while promulgating the myth that such aggressive acts of regime change represent an organic "Arab Spring," when nothing could be further from the truth.
Officials believe embassy attack in Libya was coordinated
J.J. Green
wtop.com
September 12, 2012
Intelligence experts and U.S. government officials are starting to view the attack in Libya that killed U.S. Ambassador Chris Stevens and three others in Benghazi as a coordinated attack.
Sources at the Pentagon and the State Department are discussing the possibility that it was a planned operation.
Several developments seem to support the possibility. The incident does not appear to be a random mob scene, but rather an opportunity that militants seized, sources say. The attackers used a rocket-propelled grenade, a weapon not traditionally carried by protesters, but commonly used by terrorists.

Read more
Filed Under: FALSE FLAGS / FAKE TERROR • FEATURED • WORLD NEWS
Comments (0)