By Chris Geo on Aug 28, 2012 with Comments
By Agence France-Presse
Monday, August 27, 2012 19:11 EDT
WASHINGTON — The sea ice in the Arctic Ocean has melted to its smallest point ever in a milestone that may show that worst-case forecasts on climate change are coming true, US scientists said Monday.
The extent of ice observed on Sunday broke a record set in 2007 and will likely melt further with several weeks of summer still to come, according to data from the National Snow and Ice Data Center and the NASA space agency.
The government-backed ice center, based at the University of Colorado at Boulder, said in a statement that the decline in summer Arctic sea ice "is considered a strong signal of long-term climate warming."
The sea ice fell to 4.10 million square kilometers (1.58 million square miles), some 70,000 square kilometers (27,000 square miles) less than the earlier record charted on September 18, 2007, the center said.
Scientists said the record was all the more striking as 2007 had near perfect climate patterns for melting ice, but that the weather this year was unremarkable other than a storm in early August.
Michael E. Mann, a lead author of a major UN report in 2001 on climate change, said the latest data reflected that scientists who were criticized as alarmists may have shown "perhaps too great a degree of reticence."
"I think, unfortunately, this is an example that points more to the worst-case scenario side of things," said Mann, director of the Earth System Science Center at Penn State University.
"There are a number of areas where in fact climate change seems to be proceeding faster and with a greater magnitude than what the models predicted," Mann told AFP.
"The sea ice decline is perhaps the most profound of those cautionary tales because the models have basically predicted that we shouldn't see what we're seeing now for several decades," he added.
Arctic ice is considered vital for the planet as it reflects heat from the sun back into space, helping keep down the planet's temperatures.
The Arctic region is now losing about 155,000 square kilometers (60,000 square miles) of ice annually, the equivalent of a US state every two years, said Walt Meier, a scientist at the National Snow and Ice Data Center.
"It used to be the Arctic ice cover was a kind of big block of ice. It would melt a little bit from the edges but it was pretty solid," Meier told reporters on a conference call.
"Now it's like crushed ice," he said. "At least parts of the Arctic have become like a giant slushie, and that's a lot easier to melt and melt more quickly."
How Ocean Currents Affect Global Climate Becoming Better Understood

By Science Daily
Aug 27, 2012 – 11:44:46 AM
Florida State University oceanographer Kevin Speer has a "new paradigm" for describing how the world's oceans circulate — and with it he may help reshape science's understanding of the processes by which wind, water, sunlight and other factors interact and influence the planet's climate.
A Florida State University professor of oceanography with a passion for teaching, Speer and a colleague recently published a significant paper in the journal Nature Geoscience.
Working with John Marshall, an oceanography professor at the Massachusetts Institute of Technology, Speer reviewed — or essentially synthesized — vast amounts of previous data on ocean circulation (including their own earlier papers). As a result, they have created what Speer calls a new paradigm in the study of ocean currents on a global scale.
Here's how it works: Basically, the oceans, together with the atmosphere, rebalance heat on the planet. The Sun shines on Earth and heats up the tropics more than the poles. Near the poles, the ocean is cold and the water sinks; near the equator, the surface of the ocean is inviting and warm — and floats on top of the colder deep water.
So the question is this: Where does the water that goes down come back up?
Speer, Marshall and other oceanographers now believe that it comes back up in the Southern Ocean surrounding Antarctica — not as much in the warm oceans as had been previously thought.
"We're not saying that nothing comes up in the rest of the World Ocean, just that the main thrust is in the Southern Ocean," Speer said. "To a large extent it's driven by the wind."
Very strong winds, to be precise.
In the rough waters around Antarctica, sailors call those winds the "Roaring Forties" and the "Furious Fifties." They originate near the Equator, where hot air rises and then is pushed toward the North and South poles by cooler air that rushes in to take its place.
The resulting "eddy-driven upwelling" in the Southern Ocean, as Speer characterizes it, may in fact describe the most important process to date that helps scientists understand the role of the ocean and climate.

Bosnia on red alert during hottest summer on record
August 25, 2012 – BOSNIA – Bosnian authorities put the entire country on red alert Thursday against a heat wave that has seen the Balkan nation bake in its hottest summer on record, the national weather institute said. Meteorologist Dzenan Zulum said the months of June, July and August had been the hottest since measurements were first recorded 120 years ago. In some places, the mercury has soared to 41 degrees Celsius (105.8 Fahrenheit) and temperatures in the capital Sarajevo have in recent days been about seven degrees Celsius warmer than normal. "We predict a similar temperature for the next two or three days followed by a slight cooling from Sunday," Zulum said. Farmers say between 50-80 percent of their crops have been damaged in the heat wave, and water distribution to several towns has been disrupted. Bosnia is also battling dozens of forest fires in the south and east of the country, with many hundreds of hectares (acres) of land burned.
Arctic sea ice levels to reach record low within days
The dramatic melt expected over the next week signals that global warming is having a major impact on the polar region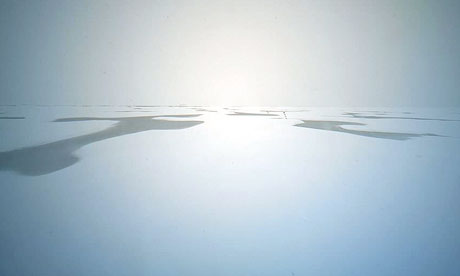 Arctic sea ice is set to reach its lowest ever recorded extent as early as this weekend, in "dramatic changes" signalling that man-made global warming is having a major impact on the polar region.
With the melt happening at an unprecedented rate of more than 100,000 sq km a day, and at least a week of further melt expected before ice begins to reform ahead of the northern winter, satellites are expected to confirm the record – currently set in 2007 – within days.
"Unless something really unusual happens we will see the record broken in the next few days. It might happen this weekend, almost certainly next week," Julienne Stroeve, a scientist at the US National Snow and Ice Data Centre (NSIDC) in Boulder, Colorado, told the Guardian.
"In the last few days it has been losing 100,000 sq km a day, a record in itself for August. A storm has spread the ice pack out, opening up water, bringing up warmer water. Things are definitely changing quickly."
Because ice thickness, volume, extent and area are all measured differently, it may be a week before there is unanimous agreement among the world's cryologists (ice experts) that 2012 is a record year. Four out of the nine daily sea ice extent and area graphs kept by scientists in the US, Europe and Asia suggest that records have already been broken. "The whole energy balance of the Arctic is changing. There's more heat up there. There's been a change of climate and we are losing more seasonal ice. The rate of ice loss is faster than the models can capture [but] we can expect the Arctic to be ice-free in summer by 2050," said Stroeve.
"Only 15 years ago I didn't expect to see such dramatic changes – no one did. The ice-free season is far longer now. Twenty years ago it was about a month. Now it's three months. Temperatures last week in the Arctic were 14C, which is pretty warm."
Scientists at the Danish Meteorological Institute, the Arctic Regional Ocean Observing System in Norway and others in Japan have said the ice is very close to its minimum recorded in 2007. The University of Bremen, whose data does not take into account ice along a 30km coastal zone, says it sees ice extent below the all-time record low of 4.33m sq km recorded in September 2007.
Ice volume in the Arctic has declined dramatically over the past decade. The 2011 minimum was more than 50% below that of 2005. According to the Polar Science Centre at the University of Washington it now stands at around 5,770 cubic kilometres, compared with 12,433 cu km during the 2000s and 6,494 cu km in 2011. The ice volume for 31 July 2012 was roughly 10% below the value for the same day in 2011. A new study by UK scientists suggests that 900 cu km of summer sea ice has disappeared from the Arctic ocean over the past year.
Costs of Big Wildfire Season Hurting Some States
Updated: Aug 23, 2012, 9:11 AM EDT Associated Press
MANTON, Calif. — Twisted sheets of metal, the hulks of pickup trucks and brick walls were all that was left of homes once sheltered by green pine and cedar trees.
In a rural Northern California subdivision that was the latest to feel the wrath of massive western wildfires, long pine needles bent back on themselves, unburned but dried to a brittle dusty gray by the intensive heat of the Ponderosa fire.
(MORE: Wildfire Safety and Preparedness)
Thousands of residents of tiny rural communities just outside Lassen Volcanic National Park who had been forced to flee soon after the fire was ignited by lighting on Saturday were allowed to return home on Wednesday. But hundreds of other homes were threatened as the fire burned a new front on the southern flank.
The blaze has grown to more than 37 square miles in the hills about 25 miles southeast of Redding.
Bob Folsom, who works at a nearby hydroelectric facility, tended the gasoline generator that is keeping his refrigerator running while utility crews worked to replace power lines destroyed by the blaze when it roared through the area last weekend.
"I was ready for this day," he said. "I try to be self-sufficient."
Folsom and his son never left their home as the fire burned within a half mile of them last weekend, close enough that they heard trees exploding and the flames roaring like a freight train. Over the past 10 years, they had thinned hundreds of trees, dug a pond to store water, and installed hydrants to fill fire hoses.
Filed Under: EARTH CHANGES
Comments (0)