By Chris Geo on Aug 13, 2012 with Comments
Obama's personal feud with Netanyahu over Iran
DEBKAfile DEBKA-Net-Weekly August 14, 2012, 5:44 PM (GMT+02:00)
Barack Obama's quarrel with Binyamin Netanyahu and Ehud Barak is becoming more intense and personal the closer Israel comes to attacking Iran's nuclear program before the US presidential election on Nov. 6. Read the coming DEBKA-Net-Weekly out next Friday, and find out how that feud fires up certain opposition political circles at home and fuels their virulent campaign to tie the Netanyahu government's hands and so push it out of office.
And don't miss our exclusive insights into the Muslim Brotherhood's coup against the Egyptian army and the Syrian conflict.
Iran confident Israel won't launch 'stupid' attack
Tuesday, August 14, 2012 7:15 EDT
Iran on Tuesday said it is dismissing Israeli threats of an imminent attack against it, explaining that even some Israeli officials realized such a "stupid" act would provoke "very severe consequences."
"In our calculations, we aren't taking these claims very seriously because we see them as hollow and baseless," foreign ministry spokesman Ramin Mehmanparast told reporters in a weekly briefing.
"Even if some officials in the illegitimate regime (Israel) want to carry out such a stupid action, there are those inside (the Israeli government) who won't allow it because they know they would suffer very severe consequences from such an act," he said.
Iran's defence minister, General Ahmad Vahidi, was quoted by the ISNA news agency saying that Israel "definitely doesn't have what it takes to endure Iran's might and will." He called the Israeli threats "a sign of weakness" by "brainless leaders."
The comments were a response to bellicose rhetoric from Israeli Prime Minister Benjamin Netanyahu and Defence Minister Ehud Barak in recent days suggesting they were thinking more seriously of military action against Iranian nuclear facilities.
"We are determined to prevent Iran from becoming nuclear (armed), and all the options are on the table. When we say it, we mean it," Barak told Israeli radio last Thursday.
Israeli media have underlined the threat, reporting that a decision could be made within weeks. They have also highlighted opposition to the idea by current and former Israeli military officials.
The United States has recently multiplied visits by top officials to Israel in what appears to be an attempt to dissuade the Jewish state from targeting the Islamic republic.
"We continue to believe there is time and space for diplomacy," White House spokesman Jay Carney said on Monday.
Israel insists that Iran is on the point of developing nuclear weapons, and says it reserves the right to act to prevent that.
The Jewish state has in the past launched air strikes to destroy nuclear facilities in Iraq and, reportedly, in Syria to protect its own regional nuclear weapons monopoly, whose existence it refuses to officially confirm.
Iran says its nuclear programme is exclusively for peaceful, civilian uses.
In the past couple of years it has ramped up uranium enrichment to a level just a few steps short of military-grade fissile material, saying those stocks are needed to create medical isotopes. It has also refused UN nuclear inspectors access to suspect military installations.
Renewed negotiations between Iran and the five top UN Security Council powers, plus Germany, have taken place this year. They have been downgraded after it became clear they were in an impasse, but not ended.
In the meantime, Iran is suffering from increasingly tough US and EU economic sanctions that have crippled its all-important oil exports.
[Israeli F-15 file photo via Agence France-Presse]
West Celebrates as Dark Age Descends over Egypt
Tony Cartalucci
Infowars.com
Aug 14, 2012
US State Department's Voice of America boldly proclaimed "Egyptian Media: Military Shakeup 'Revolutionary'," airing proclamations from the Egyptian Muslim Brotherhood that, "Egyptians have been "dreaming of a fair democratic system for more than 60 years." It is unlikely that Egyptians have been "dreaming" of an end to their secular system of governance, or "dreaming" of a sectarian extremist political party coming to power, notorious for thuggery, violence, and for being a stalwart pillar of Western machinations.
Image: Mohamed Morsi – hardly a "hardline extremists" himself, he is the embodiment of the absolute fraud that is the Muslim Brotherhood – a leadership of Western-educated, Western-servingtechnocrats posing as "pious Muslims" attempting to cultivate a base of fanatical extremists prepared to intimidate through violence the Brotherhood's opposition. Failing that, they are prepared to use (and have used) extreme violence to achieve their political agenda.
….
And already, Egypt's "democratic dreams" are vanishing like the last wisp of morning mist as the ruling Muslim Brotherhood regime in Egypt begins rounding up critics amongst the media. AFP recently reported in their article, "Egyptian journalists to be tried for insulting Mursi," that "television boss Tawfiq Okasha and newspaper journalist Islam Afifi will be tried for "incitement" and insulting Egyptian President Mohammed Mursi."
Strangely, while similar actions around the world beget howling indignation from organizations including Freedom House, Amnesty International, Human Rights Watch, and IFEX – not to mention the US State Department itself which underwrites each of these faux-human rights advocates – there is not only absolute silence regarding this assault on "freedom of expression," but instead, a collective chorus of support from the Western media, hailing Morsi's increasingly despotic dismantling of Egypt's checks and balances through an increasing aggressive consolidation of power, as a "step forward for revolution."
Morsi's assault on Egypt's press has coincided with "mysterious" sectarian extremist attacks on Egyptian security forces on the Sinai Peninsula, most likely the collective work of Israel and Hamas. Of course, Hamas, an affiliate of the Muslim Brotherhood, is a direct creation of Israel (and here), and like the Muslim Brotherhood, is a pillar of US-Israeli machinations throughout the region.
Morsi quickly used the convenient attacks as a pretense to sack various security officials, the momentum of which carried forward to the forced "retirement" of Egypt's military leadership.
Fortune 500-funded think-tanks including the Council on Foreign Relations and the Brookings Institution would gush over Morsi's move to extra-legally procure more power – with CFR's Steven Cook declaring Morsi as "extraordinarily powerful." Cook would concede however that "in theory," this is a "more healthy place for Egypt to be in a democratic transition, but you have to raise questions about the democratic credentials of the Muslim Brotherhood."
So What are the Brotherhood's "Democratic Credentials?"
Raise questions about the Muslim Brotherhood's "democratic credentials" indeed. The Muslim Brotherhood is a theocratic sectarian extremist movement, and not only that, but a regional movement that transcends national borders. It is guilty of decades of violent discord not only in Egypt, but across the Arab World and it has remained a serious threat to secular systems from Algeria to Syria and back again.
Today, the Western press has decried Egyptian and Syrian efforts to hem in these sectarian extremists, particularly in Syria where the government was accused of having "massacring" armed Brotherhood militants in Hama in 1982. The constitutions of secular Arab nations across Northern Africa and the Middle East, including the newly rewritten Syrian Constitution, have attempted to exclude sectarian political parties, especially those with "regional" affiliations to prevent the Muslim Brotherhood and Al Qaeda affiliated political movements from ever coming into power.
And while sectarian extremists taking power in Egypt and attempting to take power in Syria may seem like an imminent threat to Western (including Israeli) interests – it in reality is a tremendous boon.
Morsi himself is by no means an "extremists" or an "Islamist." He is a US-educated technocrat who merely poses as "hardline" in order to cultivate the fanatical support of the Brotherhood's rank and file. Several of Morsi's children are even US citizens. Morsi will gladly play the part of a sneering "anti-American," "anti-Zionist" "Islamist," but in the end, no matter how far the act goes, he will fulfill the West's agenda.
Already, despite a long campaign of feigned anti-American, anti-Israel propaganda during the Egyptian presidential run-up, the Muslim Brotherhood has joined US, European, and Israeli calls for "international" intervention in Syria. Alongside the CIA, Mossad, and the Gulf State despots of Saudi Arabia and Qatar, the Muslim Brotherhood's Syrian affiliates have been funneling weapons, cash, and foreign fighters into Syria to fight Wall Street, London, Riyadh, Doha, and Tel Aviv's proxy war.
In a May 6, 2012 Reuters article it stated:
"Working quietly, the Brotherhood has been financing Free Syrian Army defectors based in Turkey and channeling money and supplies to Syria, reviving their base among small Sunni farmers and middle class Syrians, opposition sources say."
The Muslim Brotherhood was nearing extinction in Syria before the latest unrest, and while Reuters categorically fails in its report to explain the "how" behind the Brotherhood's resurrection, it was revealed in a 2007 New Yorker article titled, "The Redirection" by Seymour Hersh.
The Brotherhood was being directly backed by the US and Israel who were funneling support through the Saudis so as to not compromise the "credibility" of the so-called "Islamic" movement. Hersh revealed that members of the Lebanese Saad Hariri clique, then led by Fouad Siniora, had been the go-between for US planners and the Syrian Muslim Brotherhood.
Hersh reports the Lebanese Hariri faction had met Dick Cheney in Washington and relayed personally the importance of using the Muslim Brotherhood in Syria in any move against the ruling government:
"[Walid] Jumblatt then told me that he had met with Vice-President Cheney in Washington last fall to discuss, among other issues, the possibility of undermining Assad. He and his colleagues advised Cheney that, if the United States does try to move against Syria, members of the Syrian Muslim Brotherhood would be "the ones to talk to," Jumblatt said." -The Redirection, Seymour Hersh
The article would continue by explaining how already in 2007, US and Saudi backing had begun benefiting the Brotherhood:
"There is evidence that the Administration's redirection strategy has already benefitted the Brotherhood. The Syrian National Salvation Front is a coalition of opposition groups whose principal members are a faction led by Abdul Halim Khaddam, a former Syrian Vice-President who defected in 2005, and the Brotherhood. A former high-ranking C.I.A. officer told me, "The Americans have provided both political and financial support. The Saudis are taking the lead with financial support, but there is American involvement." He said that Khaddam, who now lives in Paris, was getting money from Saudi Arabia, with the knowledge of the White House. (In 2005, a delegation of the Front's members met with officials from the National Security Council, according to press reports.) A former White House official told me that the Saudis had provided members of the Front with travel documents." -

The Redirection, Seymour Hersh
It was warned that such backing would benefit the Brotherhood as a whole, not just in Syria, and could effect public opinion even as far as in Egypt where a long battle against the hardliners was fought in order to keep Egyptian governance secular. Clearly the Brotherhood did not spontaneously rise back to power in Syria, it was resurrected by US, Israeli, and Saudi cash, weapons and directives.
Likewise, its rise into power in Egypt was facilitated by Western-backed and funded destabilization, sometimes referred to as the "Arab Spring."
US-backed Sedition, Not Revolution Has Seized Egypt
In January of 2011, we were told that "spontaneous," "indigenous" uprising had begun sweeping North Africa and the Middle East, including Hosni Mubarak's Egypt, in what was hailed as the "Arab Spring." It would be almost four months before the corporate-media would admit that the US had been behind the uprisings and that they were anything but "spontaneous," or "indigenous." In an April 2011 article published by the New York Times titled, "U.S. Groups Helped Nurture Arab Uprisings," it was stated (emphasis added):
"A number of the groups and individuals directly involved in the revolts and reforms sweeping the region, including the April 6 Youth Movement in Egypt, the Bahrain Center for Human Rights and grass-roots activists like Entsar Qadhi, a youth leader in Yemen, received training and financing from groups like the International Republican Institute, the National Democratic Institute and Freedom House, a nonprofit human rights organization based in Washington."
The article would also add, regarding the US State Department-funded National Endowment for Democracy (NED):
"The Republican and Democratic institutes are loosely affiliated with the Republican and Democratic Parties. They were created by Congress and are financed through the National Endowment for Democracy, which was set up in 1983 to channel grants for promoting democracy in developing nations. The National Endowment receives about $100 million annually from Congress. Freedom House also gets the bulk of its money from the American government, mainly from the State Department. "
It is hardly a speculative theory then, that the uprisings were part of an immense geopolitical campaign conceived in the West and carried out through its proxies with the assistance of disingenuous organizations including NED, NDI, IRI, and Freedom House and the stable of NGOs they maintain throughout the world. Preparations for the "Arab Spring" began not as unrest had already begun, but years before the first "fist" was raised, and within seminar rooms in D.C. and New York, US-funded training facilities in Serbia, and camps held in neighboring countries, not within the Arab World itself.
In 2008, Egyptian activists from the now infamous April 6 movement were in New York City for the inaugural Alliance of Youth Movements (AYM) summit, also known as Movements.org. There, they received training, networking opportunities, and support from AYM's various corporate and US governmental sponsors, including the US State Department itself. The AYM 2008 summit report (page 3 of .pdf) states that the Under Secretary of State for Public Diplomacy and Public Affairs, James Glassman attended, as did Jared Cohen who sits on the policy planning staff of the Office of the Secretary of State. Six other State Department staff members and advisers would also attend the summit along with an immense list of corporate, media, and institutional representatives.
Image: The Serbian Otpor fist… in Egypt? The same US organizations that trained & funded Serbians to overthrow their government in 2000, were behind the April 6 Movement and the Egyptian "Arab Spring." Sun Tzu in the Art of War said, "all warfare is deception." In fourth generation warfare, no deceit is greater than convincing people they are "liberating" themselves when in reality they are dividing and destroying their nation so that Wall Street & London's network of already in-place NGOs can take over. This, while a suitable proxy is put in office as PM or president. In Egypt, these NGOswould already have a new constitution draftedand ready before the fall of Hosni Mubarak.
….
Shortly afterward, April 6 would travel to Serbia to train under US-funded CANVAS, formally the US-funded NGO "Otpor" who helped overthrow the government of Serbia in 2000. Otpor, the New York Times would report, was a "well-oiled movement backed by several million dollars from the United States." After its success it would change its name to CANVAS and begin training activists to be used in other US-backed regime change operations.
The April 6 Movement, after training with CANVAS, would return to Egypt in 2010, a full year before the "Arab Spring," along with UN IAEA Chief Mohammed ElBaradei. April 6 members would even be arrested while waiting for ElBaradei's arrival at Cairo's airport in mid-February. Already, ElBaradei, as early as 2010, announced his intentions of running for president in the 2011 elections. Together with April 6, Wael Ghonim of Google, and a coalition of other opposition parties, ElBaradei assembled his "National Front for Change" and began preparing for the coming "Arab Spring."
Photo: From left to right, ICG members Shlomo Ben-Ami, Stanley Fischer, Shimon Peres, and Mohamed ElBaradei. Despite claims that Mohomed ElBaradei is "anti-Israeli" or "anti-West," it is a documented fact that he is indeed an agent of the Wall Street-London corporate-fascist global oligarchy, and a member of the International Crisis Group which includes several current and former senior Israeli officials. The same charade is now taking place with Morsi of the Muslim Brotherhood.
….
An April 2011 AFP report would confirm that the US government had trained armies of "activists" to return to their respective countries and enact political "change," when US State Department's Michael Posner stated that the "US government has budgeted $50 million in the last two years to develop new technologies to help activists protect themselves from arrest and prosecution by authoritarian governments." The report went on to explain that the US "organized training sessions for 5,000 activists in different parts of the world. A session held in the Middle East about six weeks ago gathered activists from Tunisia, Egypt, Syria and Lebanon who returned to their countries with the aim of training their colleagues there." Posner would add, "They went back and there's a ripple effect."
That ripple effect of course, was the "Arab Spring" and the subsequent destabilization, violence, and even US armed and backed warfare that followed. While nations like Libya and Tunisia are now run by a BP, Shell, and Total-funded Petroleum Institute chairman and a US NED-funded "activist" respectively, Egypt had managed to ward off and expose the US' first proxy of choice, Mohammed ElBaradei, who's own movement was forced to denounce him as a Western agent.
Photo: Mamdouh Hamza collaborated with Mohamed ElBaradei in executing the premeditated, US-engineered destabilization of Egypt in January 2011. Most likely to remove ElBaradei's terminally infected public image, he has finally outed ElBaradei as a member of George Soros' International Crisis Group and accused him of having "strong ties to Zionism." Hamza himself, however, is just as compromised as ElBaradei, perhaps more so.
….
The Egyptian military would then strike at seditious Western-funded NGOs, seeking to undermine the source of destabilization, the conduit through which US money and support was being funneled through to "activists," and expose the true foreign-funded nature of the political division that has gripped the nation for now over a year.
A February 2012 AP article reported that Egypt's generals declared, "we face conspiracies hatched against the homeland, whose goal is to undermine the institutions of the Egyptian state and whose aim is to topple the state itself so that chaos reigns and destruction spreads." Clearly, this was an accurate observation, not a political ploy to undermine "opposition" activists, with similar US-hatched conspiracies documented and exposed from Tunisia all the way to Thailand.
With the more "blunt" instrument of Morsi and the Muslim Brotherhood taking the reins in the wake of ElBaradei's fall, the West will inevitably face a reckoning in the distant future after the Muslim Brotherhood has served its purpose. Until then, it seems to be doing a masterful job disassembling the institutions, checks, and balances of Egypt's secular government. Egypt's "revolution" has gone from a quasi-pliable proxy dictatorship, to one both more hardline and brutal domestically, and more pliable and willing in terms of serving Western interests abroad.
A Dark Age Descends Upon Egypt
For the average Egyptian, a dark age has begun to descend – one where freedom of speech is still curbed, the press still muzzled, an autocratic despot still holding the reins of power, but also one where the largest military in the Arab World is commanded by hardline theocratic sectarian extremists with regional ambitions and affiliations along with a proven track record of shedding blood within and beyond its own borders.

McCain (left) and Kerry (right) gesticulate as they explain Wall Street and London's agenda within the confines of an Egyptian Coca-Cola factory. This was part of a trip surveying the effects of their US-funded opposition overthrowing Hosni Mubarak's government. While war and destruction seem approaching over the immediate horizon, the final goal is global corporate-financier hegemony being extended over Egypt and its neighbors. Morsi will inevitably, but quietly prepare the grounds for the machinations described by McCain and Kerry in 2011.
….
With the NATO-created terrorist safe-haven of Libya to Egypt's west, and the epicenter of Arab World despotism, Saudi Arabia to its east, a corporate-financier underwritten terrorist empire is rising from the barren north of Mali, to the oil rich shores of Saudi Arabia, Qatar, and the United Arab Emirates.
There is no revolution. Instead, a violent, extremist multinational front has been assembled, as it was planned since 2007, to array sectarian extremists against the collective influence and interests of Hezbollah in Lebanon, the government of Syria, and the Islamic Republic of Iran. By consequence, this brazen geopolitical conspiracy targets both Russia and China as well, setting the stage for even greater global conflict. It is a conspiracy that will be paid for with secular, moderate Muslim, and non-Muslim blood across the region, the destruction of ancient culture and traditions, and the regression of all social and economic progress made since the fall of the Ottoman Empire.
Tony Cartalucci is the writer and editor at Land Destroyer
Iran can build an N-bomb by Oct. 1. Cairo coup hampers Israeli action
DEBKAfile Exclusive Report August 13, 2012, 9:53 AM (GMT+02:00)
At its present rate of enrichment, Iran will have 250 kilograms of 20-percent grade uranium, exactly enough to build its first nuclear bomb, in roughly six weeks, and two-to- four bombs by early 2013, debkafile's military and intelligence sources report. Hence the leak by an unnamed Israeli security source Sunday, Aug. 12, disclosing Iran's progress in developing the detonator and fuses for a nuclear warhead which can be fitted onto Shehab-3 ballistic missiles capable of reaching Israel.
Since 20 percent refined uranium is a short jump to weapons grade fuel, Iran will have the capability and materials for building an operational nuclear bomb by approximately October 1.
This knowledge is not news to US President Barack Obama, Saudi King Abdullah, Syrian ruler Bashar Assad, or Israeli Prime Minister Binyamin Netanyahu – and certainly not to Iran's Ayatollah Ali Khamenei.  Netanyahu's comment at the opening of the weekly cabinet meeting Sunday: "All threats against the home front are dwarfed by one – Iran must not be allowed to have nuclear arms!" – was prompted by that deadline.
Ex-Prime Minister Ehud Olmert did not have that information when he "assured" Tel Aviv students Sunday, "Iran's nuclear program has not reached the threshold necessitating Israeli action now or in the near future." He further claimed that Israel's "defense leaders" don't subscribe to the view that "action now is unavoidable." Olmert, who stepped down under a cloud of suspected corruption in 2009, has not since then had access to regular intelligence briefings on Iran. So either he spoke out of ignorance or willfully joined an opposition chorus of voices speaking out against Netanyahu and Defense Minister Ehud Barak.
The fact is that when Olmert approved the Israeli strike for destroying a nuclear reactor under construction by Iran and North Korea in northern Syria in September 2007,  Iran was years away from accumulating enough enriched uranium and the capability to build nuclear warheads.
Both are now within Tehran's grasp in weeks.
Leading an opposition campaign to bring down the incumbent government is legitimate. Discrediting belated Israeli action to pre-empt a nuclear Iran as fodder for that campaign is not.  If what Olmert and Barack (the same defense minister as today) did in 2007 was necessary then, action now for delaying Iran's imminent "breakout" to a bomb is many times more necessary and far more urgent.
However Netanyahu and Barak have put themselves in a straitjacket by two lapses:
1.  By foot-dragging on their decision for two years, they have led their opponents at home and in Washington – and Khamenei's office too – to believe that, by turning on the heat, they can hold Israel back from military action against Iran's nuclear program until it is too late. The time has been used not just for Iranian nuclear progress, but to enlist ex-politicians and retired generals at home and add them to the voices, especially in the White House, which believe Israel can learn to live with a nuclear-armed Iran.
2.  Netanyahu and Barak have behaved as though a decision on Iran is in their exclusive province, insulated from the turmoil and change swirling through Israel's Arab neighbors in the past two years.
But the Middle East has a way of catching up with and rushing past slow-moving politicians:
Sunday, at 10:00 a.m. Netanyahu warned his ministers that no threat was worse than a nuclear Iran. At 17:55 p.m., Egyptian Muslim Brotherhood President Mohamed Morsi dropped a bombshell in Cairo. In one fell swoop, he smashed the Egyptian military clique ruling the country for decades, sacked the Supreme Military Council running Egypt since March 2011 and cut the generals off from their business empire by appropriating the defense ministry and military industry.
That fateful eight hours-less-five-minutes have forced Israel's leaders to take a second look at their plans for Iran.
Morsi's lightning decisions were the finishing touches that proved the Islamist Bedouin terror attacks in Sinai of Aug. 5 fitted neatly into a secret master plan hatched by Morsi and the Muslim Brotherhood to seize full control of rule in Cairo…
Israel tests SMS missile alerts as Iran chatter grows
August 13, 2012 – TEL AVIV – Israel yesterday began testing an SMS system for warning the public of an imminent missile attack as chatter over a possible strike on Iran dominated the Israeli press headlines. As testing began, Prime Minister Benjamin Netanyahu said Israel had chalked up 'a significant improvement' in its home front defense capabilities, mentioning its highly-vaunted anti-missile systems such as Iron Dome and Arrow 2. "There has been a significant improvement in our level of defense capacity on the home front: with Iron Dome, with the Arrow, in terms of protection and shelters, in advanced warning systems and in other areas," he said at the start of the weekly cabinet meeting. "But all the threats which are directed towards the Israeli home front are dwarved by another threat — different in both its scope and its essence. And so I repeat: Iran must never be allowed to get nuclear weapons." With front page stories in two papers suggesting Tehran had made progress towards the manufacture and assembly of a nuclear warhead, Israel's Home Front Command began final tests of the SMS warning system which is expected to be operational by September. "The Home Front Command will today start conducting nationwide testing of the 'Personal Message' alert system, which will end on Thursday," said a statement indicating that SMS texts in Hebrew, Arabic, English and Russian would be sent to subscribers on Israel's three main networks: Cellcom, Pelephone and Orange. The idea is that the SMS system could be used to warn the population of an imminent missile attack by Iran or Lebanon's Hezbollah militia if Israel strikes Tehran's nuclear facilities which it believes is a front for developing a bomb. In recent days, talk of a possible strike on Iran has dominated the headlines, largely coming from unsourced officials quoting intelligence reports, none of which it was possible to verify. "Iran has made progress toward nuclear warhead," was the headline in the Haaretz newspaper. "The Iranians greatest progress recently is in the manufacture and assembly of a nuclear warhead," the paper said, quoting the official who was drawing his information from an intelligence report which an Israeli newspaper said was recently presented to U.S. President Barack Obama. Although US officials declined to comment on the report, Israeli Defence Minister Ehud Barak referred to it directly last week, saying it "brings the American assessment much closer to ours" and makes the Iranian issue "a bit more urgent." Not prepared for war was the headline in Yediot Aharonot, which questioned Israel's readiness to both mount a decisive military strike and to cope back home with the expected fallout. It quoted statistics saying 700,000 civilians did not have bomb shelters, only half of Israel's population of 7.8 million people had gas masks, and that work to fortify 70 percent of the country's hospitals would not be completed until 2015.
Muslim Brotherhood anti-army coup in Cairo. Tanks move up to Israel border
DEBKAfile Special Report August 12, 2012, 7:20 PM (GMT+02:00)
Having gained control of the Egyptian parliament, government and presidency, the Muslim Brotherhood has made itself the unchallenged ruler of Egypt. Demoting the heads of the military leaves the MB in control of the biggest army in the Arab world.
Two months after assuming the presidency, the Muslim Brotherhood's President Mohamed Morsi swept away the powerful pro-American Supreme Military Council heads ruling Egypt since Hosni Mubarak's overthrow.  Sunday. Aug. 12, he fired the Egyptian Defense Minister, Field Marshal Mohamed Tantawi, the Egyptian chief of staff Gen. Hafez Sami Annan and three more generals and appointed Field Marshall Abd al-Fatah Sissi defense minister and Gen. Sidki Sobhi chief of staff in their place.
The three generals also sacked were Air Force chief Rezza Abd al-Megid, Navy commander Mahab Muhamed Mamish and Air Defense chief Abd Al-Aziz Muhamed Seif.
President Morsi also annulled the law amendments endowing the military with broad powers.
debkafile reports: Field Marshal Tantawi and Gen. Annan were regarded as the last major impediments to the Muslim Brotherhood's complete takeover of Egypt. Morsi's action has cast Egypt's military caste out into uncertain territory with regard to its future status in government.
Morsi's actions in the last month have aroused serious concern in the United States and Israel. His coup Sunday will give them more unsavory food for thought. They will not have missed the sudden arrival of Egyptian army M-60 tanks (made in the US) right up to the Israeli border of Sinai while the new appointments were announced in Cairo.
It is still not yet clear whether the Israeli government and army were caught off guard or gave permission for this extreme exception to the demilitarized clauses of their 1979 peace treaty. However, last week, the Egyptian president said that treaty clauses not deemed beneficial to Egyptian interests by the new regime would have to go. Israel did not respond to this statement…
Israel's Netanyahu Attempts to Shame UN
Netanyahu regime 'leaks' phone conversation with UN's Ban Ki-moon to shame him over decision to attend Non-Aligned Movement Conference (NAM) in Tehran, Iran. Pulls "antisemitic" card.
Tony Cartalucci, Contributor
Activist Post
Haaretz in their report titled, "UN chief angered over Netanyahu's 'leak' of private talk on Iran, sources say," claims, "United Nations Secretary General Ban Ki-moon has been angered over what he considered to be Prime Minister Benjamin Netanyahu's "leaking" of the contents of a phone conversation between the two regarding the UN chief's planned visit to Tehran."
Image: Ban Ki-moon and Benjamin Netanyahu in Jerusalem. (Photo by Flash 90)
During the alleged phone conversation, Netanyahu expressed "disappointment" that Ban Ki-moon would be attending the conference claiming he, "saw no reason to visit a country whose government is anti-Semitic and openly declares its intention to destroy Israel." It is claimed Netanyahu also mentioned Teheran's alleged statements about "annihilating the Zionist entity."
Haaretz did not clarify that the statement Netanyahu is referring was both translated incorrectly and taken purposefully out of context (here and here). Haaretz also fails to mention that accusations against Iran of being "anti-Semitic" are ludicrous at face value, as the Syrian Arab Republic (Arabs being Semites) is one of Iran's closest allies, while the largest population of Jews in the Muslim World resides peacefully in Iran (and here).
"Leak" is PR Stunt Designed to Undermine NAM & UN Diplomatic Representation There
Netanyahu's "leak" attempted to paint the NAM conference, involving representatives from well over half the world's population, as an "illegitimate" exercise in international diplomacy hosted by a "belligerent," "bigoted," and "backward" nation.
Image: NAM members are in dark-blue, observers in light-blue. Collectively the conference brings together representatives of over half the world's population. Israel's Netanyahu government has attempted to intimidate and shame UN Secretary General Ban Ki-moon from attending the conference in hopes of undermining it, and specifically this year's host nation, Iran.
In reality, Netanyahu's "leak" of his phone conversation with the UN's Ban Ki-moon is a public relations stunt intended to play on whatever credit there remains for the "anti-Semite" card and Iran's portrayal as the premier "state sponsor of international terrorism."
This is in part to undermine Iran, this year's host nation, as well as sabotage an anticipated follow-up to the highly-successful "International Consultative Conference on Syria" held earlier this month.
Unfortunately for Netanyahu and his increasingly tenuous legitimacy, his government's support and role in Western operations undermining the peace and security of neighboring Syria through the use of listed terrorist organizations including the Libyan Islamic Fighting Group (LIFG), the Muslim Brotherhood, and Al Qaeda itself, instead place him amongst the premier state sponsors of international terrorism.
His nation, which should be enjoying standards of living and prosperity amongst the highest on Earth considering Israel's extensive human resources, is facing austerity and economic hardship as the collective talent and potential of the Israeli people are squandered in the pursuit of armed corporate-financier hegemony instead of peaceful progress.
If Netanyahu is not presiding over a backward, bankrupted, terroristic state, no one else on Earth is. His latest attempt to betray the trust of an alleged international body representing humanity's collective "rule of law" not only indicates immensely unprofessional and conniving statesmanship, but a degree of diplomatic thuggery and intimidation that has no place in the so-called "Free World."
The UN, which should be ashamed for many other reasons, including its failure to categorically condemn the West's violent subversion of Syria via listed terrorist organizations, has no reason to be ashamed for attending the upcoming NAM conference in Tehran.
Netanyahu on the other hand, has exposed himself and the interests he represents as both connivers and thugs attempting to intimidate diplomats from attending the conference.
The Israeli Government is the Greatest Enemy of the Israeli People
Western corporate-financier oligarchs have done more to send both Americans and Israelis to their deaths than any combination of suicide belt-wearing, Kalashnikov-waving "terrorists." The "War on Terror" is indeed a fraud, and Israel's government has masterfully played a pivotal role – maintaining a strategy of tension to keep its own people in perpetual fear, while keeping their perceived enemies in perpetual and absolute rage. When enemies are difficult to find, the government of Israel and its corporate-financier backers upon Wall Street and in the city of London create them, including theMuslim Brotherhood, Hamas (and here), and Al Qaeda.
The result is a nation at constant war, with an inexhaustible supply of enemies in an unending conflict giving the interests of Wall Street and London – the very interests that created the modern state of Israel to begin with – an excuse to remain perpetually engaged in the Middle East with a military encampment the size of a nation at their constant disposal.
Augmenting this camp are the Israeli people themselves, just as lied to, manipulated, and kept in constant fear as their counterparts in the West to keep the rank and file of the Israeli Defense Force (IDF) as full as Wall Street's American Armed Forces or Europe's NATO foot soldiers.
The Israeli people are no less well-intentioned, talented, or full of potential as any other people on Earth, but they are likewise just as susceptible to being indoctrinated, misled, and terrorized into taking a course of action in no way beneficial to themselves or their nation. The Israeli government does not pursue a foreign or domestic policy conducive to its own self-preservation, let alone its prosperity as a nation.
Its constant warmongering, meddling geopolitically beyond its borders, and the creation and perpetuation of its alleged "enemies" have indeed killed more Israelis than any "terrorist." The Israeli government and the corporate-financier interests they represent are the Israeli people's worst enemy. It would be wise for both the Israeli people, and those who perceive themselves to be "enemies of Israel" to remember that and make a clear distinction when moving forward.
Egypt's president cancels amendments that gave military power, names vice president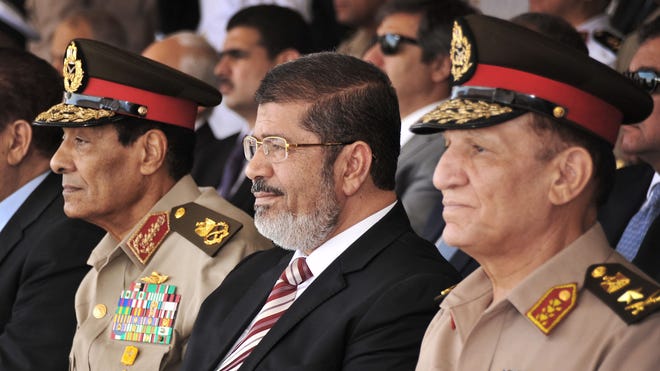 CAIRO –  Egypt's Islamist president ordered his defense minister and chief of staff to retire on Sunday and canceled the military-declared constitutional amendments that gave top generals wide powers.
It was not immediately clear whether the decision had the military's blessing. Morsi has been in a power struggle with the military since he came to power on June 30. Shortly before he was announced the winner of elections, the ruling military council that took power after Hosni Mubarak's ouster stripped the presidency of many of its key powers.
Morsi also appointed a senior judge, Mahmoud Mekki, as vice president. All decisions are effective immediately.
Outgoing Defense Minister Hussein Tantawi headed the ruling military council for 17 months after Mubarak's ouster in February 2011. Before that, he was defense minister for nearly two decades under Mubarak. The military council's No. 2, Chief of Staff Sami Annan, was also ordered to retire. But both men were appointed advisers to Morsi, according to state television.
Presidential spokesman Yasser Ali said told a news conference aired on state TV that Morsi named a career army officer, Lt. Gen. Abdel-Fattah el-Sissi, to replace Tantawi and Lt. Gen. Sidki Sayed Ahmed to replace Annan.
Morsi also ordered the retirement of the commanders of the navy, air defense and air force. The retired navy commander, Lt. Gen. Mohan Mameesh, was named as chairman of the Suez Canal, the strategic waterway linking the Red Sea and the Mediterranean and a major source of revenues for the country.
Dozens Of Underwater Drones Deployed To The Waters Of Iran
Peter Murray
Singularity Hub
Facing sanctions, Iran has once again threatened to choke off the Strait of Hormuz, the only way into and out of the Gulf for oil tankers.
What to do when international talks begin falling apart? Send a fleet of unmanned submersibles in preparation for a waterway showdown. As US talks with Iran over their nuclear program began to sour and the possibility of sanctions against the country rose, Iran responded by threatening to cut off the Strait of Hormuz, a narrow waterway and the only way into and out of the petroleum-rich Persian Gulf. The US responded in turn, the LA Times reports, by sending dozens of SeaFox unmanned submersibles to the region to seek out and destroy mines in the strait.
Each SeaFox is outfitted with an underwater television camera, homing sonar, an explosive charge, and is controlled through an optic fiber tether. None of the submersibles, however, return from a successful mission as they end, not only with the destruction of the mine, but the craft itself, each costing about $100,000. The SeaFox can sniff out both submerged and surface mines.
The SeaFox is the unmanned underwater vehicle (UUV) made by the German company Atlas Elektronik. It measures about 4 feet long and weighs just under 100 pounds. Their small size enables them to be deployed from helicopters, small rubber boats, or dropped from minesweeping ships. Its maximum operational depth is about 300 meters and it can run for around 100 minutes without having to return and recharge.
Filed Under: FEATURED • WORLD NEWS
Comments (0)