By Chris Geo on Jun 08, 2012 with Comments
By Mike Barrett
theintelhub.com
June 9, 2012
Contributed and Originally Appeared on Natural Society
It was recently reported that a rather significant, concerning, and mysterious spike in radiation occurred in the north Indiana / south Michigan area, causing widespread alarm throughout the nation.
Not only are the reports of the radiation spike concerning in of itself, but the appearance of military helicopters, aircraft, and Department of Homeland Security hazmat fleets is also generating some raised eyebrows.
Reports are continuously coming out updating on the event occurring throughout June 6-7, with locals reporting on a series of explosions, house-shaking rumbles, and even large trees being completely snapped in half on a clear day just days before.
The thunder-mimicking sound led some locals to believe that explosions took place in their own basements; planes breaking the sound barrier, earthquakes, and extremely powerful fireworks were ruled out – so what could it have been?
Could the shakes and loud sounds have been a result of a terrible fracking incident? In the past fracking has caused concerning explosions both in Pennsylvania and Nixon.
As for the radiation spike reaching levels as much 7,139 CPM without warning, which is over the average of between 5 and 6, what could be the true cause?
One network responsible for the increased level measurement went on record (after removing the live measurements abruptly) stating that it was a unknown fluke in the system of which the operators are unsure of the origin.
Of course this would not make much sense as a number of different privately owned radiation measurement facilities had confirmed the readings — even some private enthusiasts. But let's say that it was a fluke — why the sudden interest of military, government, and the abrupt eruption of unheard of 'shaking booms' rocking the incident zone?
It seems that extremely large amounts of radon is one possible answer, with high radon levels existing in St. Joseph County — the area in question.
The mainstream media and government organizations have decided to shy away from even examining any of the real aspects of this questionable event.
In fact, the only stories out on the subject — outside of the reported interest of Al Jazeera on the subject — is that it was all a 'system error'. There is no mention of the military vehicles, shaking booms disrupting 60 foot trees, or even the radon factor.
Nuclear Cover-Up: Explosions, Military Helicopters Filmed Near Blacked Out Radiation Zone
Anthony Gucciardi
Infowars.com
Friday, June 8, 2012
Eyewitnesses on the ground near the media-blacked-out elevated radiation zone near the border of Indiana and Michigan, where radiation levels hundreds of times higher than normal were quickly removed from public viewing by the EPA, are now sending in a large number of photos and videos documenting massive explosions accompanied by unmarked helicopters, A-10 Thunderbolts, and military personnel. These reports come after a Department of Homeland Security hazmat fleet was sent out to the location after 'years' of inactivity.
Those on the ground report that the explosions are 'loud and deep', sounding like fireworks with a kick. The explosions are oftentimes followed up with a squadron of helicopters or other aircraft, oftentimes black and unmarked. One Michigan resident reports the following, and is then backed by dozens of organic comments which confirm the findings:
"EXPLOSIONS EVERYWHERE! Also, Large helicopter heading away from Local Air Force base flying toward scene of explosions! These explosions are seriously consistant, loud booms for the last hour or more."
After generating much interest, the poster was able to capture some of the explosions on tape. While he would be the first to do so, many more videos began to pop up recording both the explosions and the onset of military aircraft flying through the area into the radiation zone. You can view the video below and hear the explosions for yourself:
Further comments went on to document the increased presence of unmarked choppers and strategic military aircraft. A number of photos have begun to surface from eyewitnesses in the tri-state area of the event, reporting that the helicopters and other crafts were traveling towards the center of the incident. Some pictures are shown below: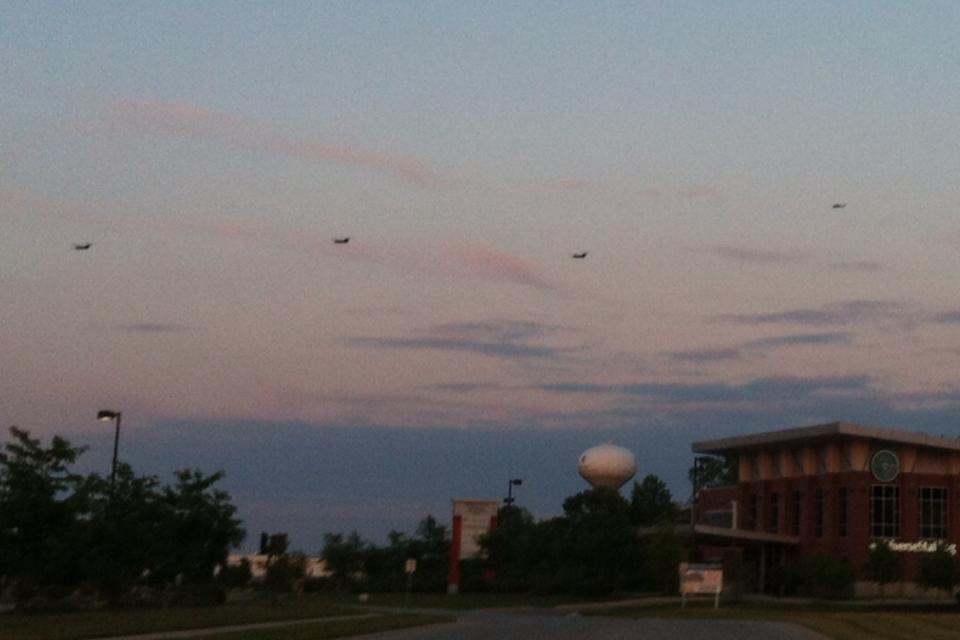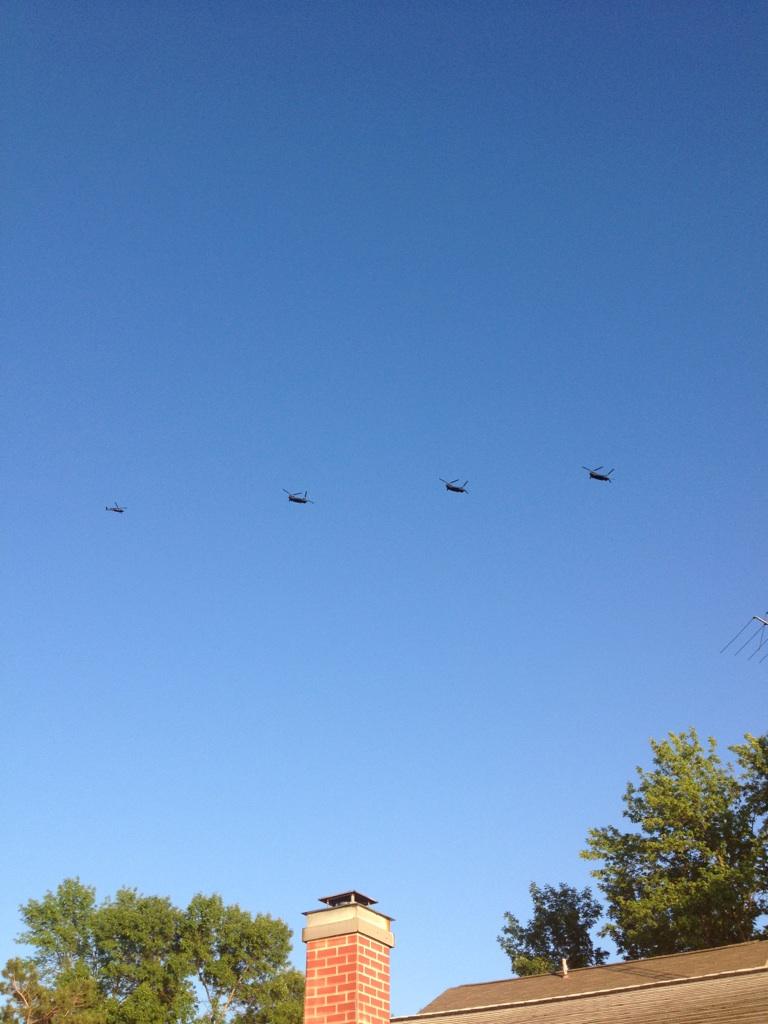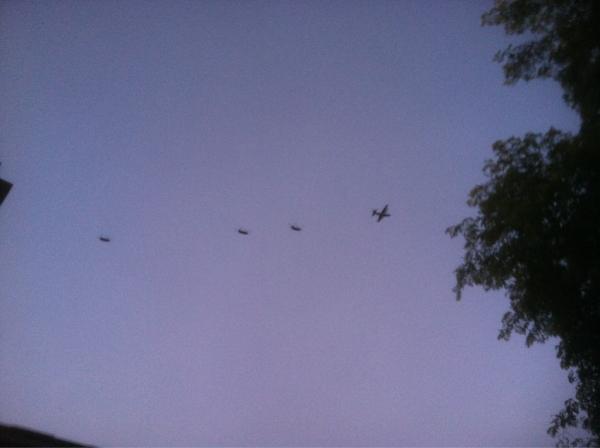 Thousands of comments on articles, discussion boards, and twitter posts are surfacing regarding this event. Explosions are still reportedly being heard in rapid secession, often a large number over the course of only a few seconds.
This article first appeared at Natural Society
Indiana Radiation Spike Triggers Elevated Levels In Other States, Media Stays Silent
By Anthony Gucciardi
theintelhub.com
June 8, 2012
Contributed and Originally Appeared on NaturalSociety.com
Elevated Indiana radiation levels — specifically near the border of Indiana and Michigan — have prompted explosions, military helicopters, thousands of eyewitness accounts, but where is the mainstream media coverage?
Now independent radiation experts are reporting increased levels in some other states, with one particular station noticing an increase since just around 11:45am mountain time on Thursday.
This coincides with community board posts created just around the same time in a number of locations, even before the incident hit the public.
In one such posting on a law enforcement website discussing the radiation increase, an individual from Chicago states "We've been encountering some high readings at the labs here."
Independent radiation monitoring station owner Joey Stanford has uploaded a video showing spiked radiation levels as far as Colorado.
Some individuals are questioning the actual source of the increased radiation, stating that it could be solar-based.
Stanford created the video in response to the growing concerns over elevated radiation levels stemming from Indiana. Indiana radiation levels normally hover around 5 and 6 counts per minute (CPM), but the levels drastically increased to as much as 7,139 CPM without warning.
Afterwards, the EPA disabled the online measurement tool. Here is the screenshot of the tool showing the skyrocketing levels.
You can view Joey Stanford's video below — remember that Joey is in Colorado, not Indiana so the elevated levels are not nearly as high:
Joey's report echoes what many stations are finding, with live Twitter updates reporting a consistently increased amount of radiation since the initial event around 11:45 AM on Thursday.
Some Twitter updates from last night's Radiation Monitor, Joey's own station all the way in Colorado, read:
252 CPM, 2.0462 uSv/h, 1.9820 AVG uSv/h, 7 time(s) over natural radiation
324 CPM, 2.6309 uSv/h, 2.1884 AVG uSv/h, 8 time(s) over natural radiation
222 CPM, 1.8026 uSv/h, 1.7459 AVG uSv/h, 6 time(s) over natural radiation
Once again, this is nothing compared to the 7,139 CPM reported near Indiana, however it shows that there is a possibility of correlation.
While the answer as to what is going on is not clear, it is clear that it has piqued the interest of government officials.
Military helicopters, aircraft, and Department of Homeland Security hazmat fleets have reportedly been dispersed towards the area based on eyewitness photos and accounts.
Major Nuclear Base Running 'Containment Exercise' Amid Censored Radiation Spikes
By Anthony Gucciardi
theintelhub.com
June 8, 2012
Contributed and Originally Appeared on NaturalSociety
Amid a number of reports of massive and bizarre radiation readouts coming from experts, eyewitnesses, radiation facilities, and a key choice news outlet, it has now come out that one of the largest nuclear bases is currently running a 'nuclear containment exercise'.
The Minot Airforce Base exercise, running in North Dakota, reportedly involves the use of B-52 aircrafts. The news comes after a developing story arose over the potential cover-up of a nuclear situation stemming from near the border of Indiana and Michigan.
Sources from near where the elevated levels of radiation were observed say that a Department of Homeland Security 'hazmat' fleet has been dispatched after 'years' of inactivity.
The story first erupted after online geiger readings showed an unprecedented radiation spike in the area, with levels reaching as high as 7.139 counts per minute (CPM) over the average of between 5 and 6.
While there has been no official reported cause of the spike, there has been quite a bit of foul play regarding the information being put forth by many media outlets, the EPA, and even radiation measurement centers.  After the readings shocked viewers, the EPA quickly censored the ability to view the levels online.
Thankfully, the readings were captured in a screenshot, which show the elevated levels far exceeding normal limits.
Measurements were recorded by a number of sources, though the growing publicity over the event has caused denial and censorship from not only the EPA but private organizations as well.
The Radiation Network originally released an image showing an outburst in radiation levels stemming from the location, but later issued a special message on their home page stating that the readings were the result of an 'error'.
This, of course, is virtually impossible as the readings were confirmed by two entirely different locations. BlackCat and the Radiation Network both recorded the levels, meaning that the likelihood both of their systems failed at the exact same time and produced the exact same result would be dismal.
As the story develops, more information will undoubtedly come out on the subject. It appears that the EPA's incognito takedown of the measurement results indicates that the agency, perhaps along with other government organizations, will vehemently deny that there was any real spike in radiation levels.
The 'failure' message issued by the Radiation Network also shows that it is very possible that an organized level of non-disclosure may ultimately be the result until alternative media organizations continue to pry into the situation.
Radiation Levels were at a Catastrophic Level in South Bend?
Technical glitch or large scale radiation cover up?
By Bob Tuskin
theintelhub.com
June 8, 2012
According to Tim Flanegin, owner of MineraLab, the company that runs Radiation Network, it was simply a technical glitch.
Nonetheless a very scary glitch for many. WSBT in South Bend, Indiana had many concerned individuals call after the reported readings seemed to have gone through the roof.
There is no doubt in my mind that we should be on the look out for radiation (especially the particles that are more difficult to test for). So I am glad that people were alert and actively engaged. However, this does "seem" to be a glitch.
In a statement to WSBT Tim Flanegin says this about the occurrence:
"My apologies to all. I have no idea what caused this. The alert level reading (Wednesday) evening appears to be a false alert from an equipment malfunction," said Flanegin. "We use some form of radiation, almost everyday. We count on it for medicine, the sciences, communication and cooking."
If anyone has any data to confirm this please email me ( BobTuskin@theintelhub.com ).
It is possible there may be more to this story. If so, I will be sure to provide an update.
Note from Alex Thomas: Multiple posts on the website Reddit seem to confirm that it was NOT just the Radiation Network Geiger counter that recorded extremely high levels. The levels were apparently picked up by federal test sites as well. Stay tuned for more information as it becomes available.
Its also important to note that Tim bringing up the fact that we use some form of radiation almost everyday makes absolutely no sense to say in response to a radiation detector on his site going through the roof! (seems to be some sort of diversion to downplay radiation dangers)
Comments (0)