By Chris Geo on Apr 22, 2012 with Comments
127 killed as Pakistan jet bursts into flames in mid-air
All 127 people on board a budget airline were killed after it crashed following a possible lightning strike, bursting into flames minutes before it was about to land in Islamabad.
By Tom Hussain and Javed Siddiq Islamabad and Dean Nelson
Police said there was "no chance of any survivors" in what is the second major air disaster to hit the Pakistan capital in the last two years.
"It will be only a miracle," Fazle Akbar, a police official, said. "The plane is destroyed."
Nine crew and 118 passengers on board the Bhoja Airline flight from Karachi died in the crash, minutes before it was due to land at Benazir Bhutto International Airport. Several senior army officers, an unnamed government minister and four children were reported to be among the victims.
Captain Arshad Mahmood, a Pakistan Navy official said the crash happened as the plane approached the runway to land.
"The weather was very bad, there was hail and thunderstorm. The pilot lost control and hit the ground. It tossed up due to the impact and exploded and came down in a fireball," he said.
Villagers however said they had seen a flash of lightning flash and then heard a massive explosion, which was followed by a rain of aircraft parts and bodies. Some landed on the roofs and in the courtyards of the villagers' homes.
"I was with my family about to eat dinner when there was a flash, a huge bang, and then things started falling to the ground," said Niaz Kayani, a retired soldier.
"It was a scene from hell: bodies were all over the place, in the wheat fields and on the roofs of homes."
The 5pm flight had been due to land in Islamabad at 6.50pm.
No survivors from Pakistan plane crash, official says
From Reza Sayah, Shaan Khan and Nasir Habib, CNN
updated 9:36 PM EDT, Fri April 20, 2012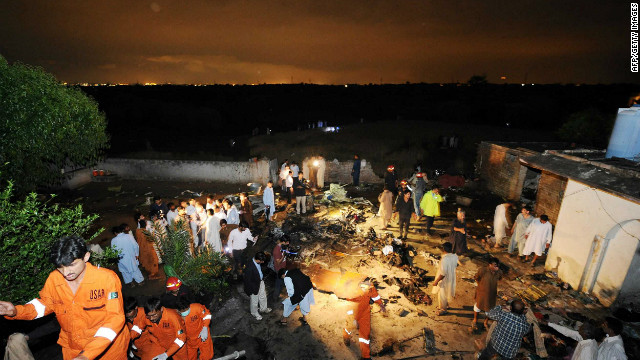 Islamabad, Pakistan (CNN) — A commercial airplane carrying 127 people crashed Friday in Islamabad just before it was to land at a nearby airport, according to Pakistan's Civil Aviation Authority, which cited poor weather as a possible factor.
No survivors have been found, officials said.
The Bhoja Air Boeing 737-200 had been making its first evening flight from Karachi to Islamabad, where the weather was cloudy, officials said.
Authorities twice changed the number people reported to be on board, but by Friday afternoon appeared to agree on the figure.
The crash occurred near the Chaklala airbase, a military site used by the country's air force, which is adjacent to the Benazir Bhutto International Airport in Islamabad.
Debris and body parts were scattered across the crash site as workers sifted through the wreckage in the heavily populated residential area. Four villages were affected by the crash and debris from the plane has been recovered within a kilometer of the site, Interior Minister A Rehman Malik said in a interview with Pakistani media.
At least 110 bodies have been recovered from the scene, while more than a 150 bags filled with body parts have been transported to hospitals across the region, according to Farkhand Iqbal, a municipal official in Islamabad.
World's deadliest plane crashes
The flight data recorder, which is considered a key component in determining what may have caused the tragedy, was recovered, officials said.
By CHRIS BRUMMITT, Associated Press – 1 day ago
ISLAMABAD (AP) — Pakistan blocked the head of an airline whose jet crashed near the capital from leaving the country and ordered him into protective custody on Saturday as it began an investigation into its second major air disaster in less then two years.
The Bhoja Air passenger jet crashed Friday as it tried to land in a thunderstorm at Islamabad's main airport, killing all 127 people on board and reviving concerns about aviation safety in a country saddled by massive economic problems, an embattled government, and Islamist insurgency.
The small domestic airline, which only resumed operations last month after suspending them in 2001 due to financial difficulties, said after the crash that the weather was the cause of the accident.
Speaking at the scene of the disaster, Interior Minister Rehman Malik said that Farooq Bhoja, head of Bhoja Air, had been put on the "exit control list," meaning he can't leave Pakistan. Such a ban is often put on someone suspected or implicated in a criminal case. He said Bhoja had been ordered into protective custody and a criminal investigation launched into the incident.
He later said that the airline "seems to be at fault as it had acquired a very old aircraft."
"If the airline management doesn't have enough money it doesn't mean you go and buy a 30-year-old or more aircraft as if it were a rickshaw and start an airline."
Separately, Prime Minister Yousuf Raza Gilani said he has ordered a judicial commission to probe the accident and said, "It is not fair to reach any conclusion without a proper investigation."
Jahanzeb Khan, a Bhoja Air representative, declined comment.
The weak government has come under immediate media criticism for granting Bhoja, one of only three private airlines in Pakistan, a license. Gilani and Malik maybe trying to deflect some of that criticism. Such is the distrust of the state in Pakistan, few believe that the government has the will to hold wealthy or political connected people accountable, or carry out credible investigations.
Given the violent storm lashing Islamabad during the accident, some experts have speculated that "wind shear," sudden changes in wind that can lift or smash an aircraft into the ground during landing, may have been a factor. It may even have been a dangerous localized form of the phenomena, called a microburst. That can cause planes to lose airspeed suddenly or lift abruptly if a headwind suddenly changes to a tail wind during takeoff or landing.
Soldiers and emergency workers at first light began the grim task of looking for bodies and body parts among the debris from the Boeing 737-200, which was spread out over a one-kilometer (mile) stretch of wheat farms around five kilometers (three miles) from the Benazir Bhutto International Airport.
The plane was on a flight from the southern city of Karachi to Islamabad when it crashed at dusk.
One soldier had a plastic bag over his hand and was picking up small bits of flesh. Another was using a stick to get at remains in a tree. The smell of decomposing bodies was beginning to fill the air.
"We are collecting these so that the souls are not desecrated," one of them said.
The officers were also picking up personal effects of the passengers, making piles of documents, bank cards, gold and bangles.
The last major plane crash in the country — and Pakistan's worst — occurred in July 2010 when an Airbus A321 aircraft operated by domestic carrier Airblue crashed into the hills overlooking Islamabad, killing all 152 people aboard. A government investigation blamed the pilot for veering off course amid stormy weather.
According to the Web site www.airfleets.net, the Bhoja jet was 32 years old and first saw service with British Airways in South Africa. Thirty-two years is not especially old for an aircraft, and age by itself is rarely an important factor in crashes, said Nasim Ahmed, a former crash investigator.
Ahmed said it appeared at this stage that the age and air worthiness of the plane were unlikely causes.
He said that a combination of factors during the most crucial stage of the flight, the landing, was probably to blame, possibly the weather or some form of unexpected incident that caused the pilot to lose vital awareness of the plane's location.
Filed Under: SCIENCE & TECH • WORLD NEWS
Comments (0)