By Chris Geo on Jan 29, 2012 with Comments
Aaron Dykes
The prominent satire rag The Onion continues to bleed humor from the razor's-edge of reality in an article that spoofs calls to kill off more than 2 billion people from the earth's population 'to save humanity.'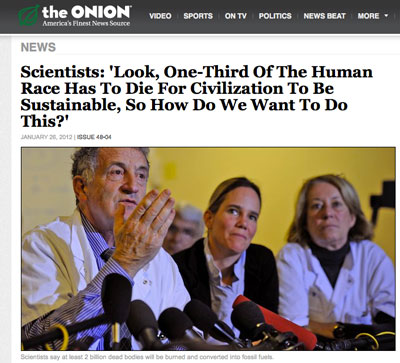 The January 26 piece, entitled "Scientists: 'Look, One-Third Of The Human Race Has to Die for Civilization to Be Sustainable, So How Do We Want to Do This?", so-closely reflects the real positions calling for coercive population control from prominent pseudo-scientists who've dominated policy, government posts and NGO organizations for the past hundred years that one can only laugh in horror.
It reads in part:
Saying there's no way around it at this point, a coalition of scientists announced Thursday that one-third of the world population must die to prevent wide-scale depletion of the planet's resources—and that humankind needs to figure out immediately how it wants to go about killing off more than 2 billion members of its species.

[...] "I'm just going to level with you—the earth's carrying capacity will no longer be able to keep up with population growth, and civilization will end unless large swaths of human beings are killed, so the question is: How do we want to do this?" Cambridge University ecologist Dr. Edwin Peters said. "Do we want to give everyone a number and implement a death lottery system? Incinerate the nation's children? Kill off an entire race of people? Give everyone a shotgun and let them sort it out themselves?"
But it's no joke. It parallels a chilling reality of quotes from top globalists and eugenicists obsessed with leveling the earth's population by any means necessary.
For instance, Prince Phillip, husband of Queen Elizabeth II and co-founder of the World Wildlife Fund, famously quipped that "If I were reincarnated I would wish to be returned to earth as a killer virus to lower human population levels."
But he is only one of many. Sierra Club environmentalist and co-founder of Earth First, Dave Foreman, called 'overpopulation the fundamental problem on earth today', musing "We humans have become a disease, the Humanpox." Meanwhile, the Club of Rome dubbed humanity itself as "the real enemy" in its 1991 publication The First Global Revolution.
COERCIVE STERILIZATION
"There's no avoiding the reality that half the world's progeny will have to be sterilized," The Onion article goes on to read.
Dr. Eric Pianka, in a 2006 speech receiving an award from the Texas Academy of Sciences, drew applause from the crowd when he presented horrifying statements about the death of 90% of humanity by an airborne virus. He drew laughter, too, when advocating that everyone on earth be sterilized.
According to the transcript, he stated in part:
But there's a solution that's theoretically possible. I call it the Johnny Anti-Appleseed Solution. Instead of being cursed with our fertility, I would bless us with infertility. Now this could happen because male sperm counts are falling because of plastics and the estrogen [unintelligible] naturally. [...] We need to sterilize everybody on the Earth [laughter] and make the antidote freely available to anybody who's willing to work for it.
Another passage from The Onion reads, "Thus far, humanity has been presented with a great variety of death options, among them, poisoning the world's water supply." Again, this closely mocks very real proposals.
Current White House science advisor John P. Holdren co-authored the textbook Ecoscience in 1977 with Population Bomb scaremonger Paul Ehrlich that controversially discussed adding a sterilant to the drinking water in order to curb population. A 1969 memo leaked from Planned Parenthood's Vice President Frederick S. Jaffe, written secretly to (the Rockefeller's) Population Council president also advocated "Fertility control agents in the water supply," along with many other bizarre and draconian measures including the encouragement of homosexuality, in order to reduce the population.
In reality, hundreds of millions of dollars per year are spent by the largest of NGOs, including the Rockefeller, Gates, Ford, and Hewlett Foundations, as well as arms of the United Nations to push family planning, planned parenthood, and other health access programs in developing nations throughout the world. Whatever the merits of these initiatives on the surface, they serve in reality as a smokescreen and camel's nose under the tent for coercive population control measures.
The Onion again bluntly reflects the decades of this reality. "Unfortunately, we are well past the point of controlling overpopulation through education, birth control, and the empowerment of women. In fact, we should probably kill 300 million women right off the bat."
While police state China implemented strict one-child policies to contain its population, while encouraging abortions and infanticide, nations like India and Peru saw epidemics of forced sterilization under deceptive auspices to deal harshly with population growth. Other countries were bombarded with heavy handed propaganda, subsidized birth control and employed agents of the state to monitor the birth rates of its assigned families.
Underwater pioneer Jacques Costeau, voicing support for population reduction as a UNESCO courier, stated in 1991 that, "In order to stabilize world population, we must eliminate 350,000 people per day. It is a horrible thing to say, but it is just as bad not to say it."
Filed Under: FEATURED • HEALTH/EUGENICS
Comments (1,335)