By Chris Geo on Aug 14, 2012 with Comments
Oregon man convicted of collecting rainwater on his own property surrenders and begins serving 30-day jail sentence
by: J. D. Heyes
(
NaturalNews
) If ever there were a perfect example of government inanity, this is it.
Maybe you didn't know – and chances are excellent you didn't – that if you have the audacity to collect rainwater and snow runoff on your own property, for your own consumption, you can and will go to jail for it.
Just ask Eagle Point, Ore., resident Gary Harrington, who recently began serving a 30-day sentence after having been convicted of that very thing, CNSNews.com reported.
In July, Harrington was convicted of violating an obscure, arcane 1925 law because he had what state water managers described as "three illegal reservoirs" on his property. In the end, a court found him guilty of nine misdemeanors, sentenced him to 30 days in jail and levied in excess of $1,500 in fines for doing what any sane human being could never describe as criminal behavior.
According to Oregon Water Resources Department, Harrington violated state water use laws by illegally diverting water running from streams into the Big Butte River.
Harrington begged to differ, saying he was only collecting water that flowed or melted naturally on his property, not from any particular body of water.
The whole ridiculous episode began nearly a decade ago, when state water managers contacted him after complaints they said they had received about the three "reservoirs" he allegedly had on his 170 acres of land.
Tortured explanations, ridiculous rules
State law in Oregon says all water is publicly owned, therefore, if you want to store any of it – apparently no matter where it originally comes from – you have to obtain a permit from state water gatekeepers.
Harrington played the game, he said, and applied for three permits so he could comply with state law and house reservoirs for storm and snow run-off on his property. A side note: one of the so-called "reservoirs" had been on his property for 37 years.
He went onto say that the state Water Resources Department initially approved his permits in 2003, but then, inexplicably, the state – backed by a state court decision – reversed them.
"They issued me my permits. I had my permits in hand and they retracted them just arbitrarily, basically. They took them back and said 'No, you can't have them,' so I've been fighting it ever since," Harrington told CNSNews.com.
Enter the nearly 90-year-old law, which says the nearby city of Medford holds exclusive rights to "all core sources of water" in the Big Butte Creek watershed and all appropriate tributaries (though according to other regulations, water in the state is supposed to be publicly owned, hence the permit process in the first place).
"Way back in 1925, the city of Medford got a unique withdrawal that withdrew all — supposedly all — the water out of a single basin and supposedly for the benefit of the city of Medford," he said.
But, he continued, the 1925 law doesn't say anything about collecting rainwater or melted snow.
"The withdrawal said the stream and its tributaries. It didn't mention anything about rainwater and it didn't mention anything about snow melt and it didn't mention anything about diffused water, but yet now, they're trying to expand that to include that rain water and they're using me as the goat to do it," Harrington said.
Police Allegedly Break Man's Arm, Falsely Prosecute Him After Refusing Officer's Prostitution Offer
By Madison Ruppert
theintelhub.com
August 14, 2012
According to recently filed court documents, Miami police brutally broke a man's arm and then falsely prosecuted him after he refused an offer of prostitution from an undercover police officer.
While at this stage it is nothing more than an allegation, I wouldn't be all too surprised if it turned out to be true.
After all, police have brutally beaten people for no reason and even murdered an innocent elderly man with no repercussions whatsoever while officers who actually stand up for our rights are targeted for harassment and discipline.
The plaintiff, Guillermo Cuadra, says that he had a mere $3 on his person when what appeared to be a prostitute approached him as he was stopped at a traffic light and asked him if he would like to engage in sexual activities, to put it in a more palatable manner.
According to the documents filed in the Miami-Dade County Court, Cuadra said, "No," and yet still "the undercover officer gave another officer the takedown sign," and then an officer turned on his lights and stopped him.
Cuadra says that he was ordered into a nearby motel parking lot where other police officers were handling other drivers, making Cuadra think that he was being stopped for a mere traffic violation.
Obeying the commands of the police officers, Cuadra stepped out of his car, put his hands in the air and got on his knees.
"The plaintiff obeyed the police officers' commands, exited his automobile, put his hand up, and knelt on the gravel of the parking lot," according to the complaint.
However, in just the next paragraph of the story on Courthouse News, the account seems to be contradicting itself.
Cuadra apparently claims that the police pulled him out of the car then pushed his face into the gravel, stepped on him and then handcuffed him.
However, this cannot be reconciled with the above quote where it is said that Cuadra "exited his automobile." If he exited his car, how could the police pull him out of it?
According to the court filing, after Cuadro either exited the vehicle or was pulled out and handcuffed, police "yanked up on the left arm of the plaintiff Cuadra breaking the plaintiff's left upper arm, tearing his shoulder ligament and causing nerve damage to his elbow and hand."
"The break caused an audible snap and crack, at which time plaintiff Cuadra told the police officers, 'You broke my arm,'" states the complaint.
After that, according to Cuadra, the "police officer responded, 'Fuck you … you want a piece of this?!'"
Cuadra maintains that he had only $3 in cash on his person while he says that the city falsely charged him with "solicitation of prostitution, allegedly offering the undercover police officer $60."
According to the complaint the police also charged Cuadra with resisting arrest, although all charges were later dropped.
He also alleges that the police held him in their car for a whopping 4 hours instead of taking him to a hospital to receive medical attention.
When he complained about the severe pain in his arm, one of the officers allegedly said, "Well, you do still have another arm."
Cuadra is now seeking damages for "costs incurred in connection with this action, and for any other and further relief [the court] deems just and proper."
Furthermore, the complaint alleges that Cuadra's wife, Ginny Cuadra, "suffered consequential loss of consortium, comfort, society, companionship, affection, attentions and spousal services, in both the past and future."
It's sad to say that this type of behavior on the part of police is neither surprising nor shocking in today's world. I believe it is truly tragic that our law enforcement officers, formerly public servants sworn to protect and serve, have become revenue generation officers sworn to brutalize and oppress.
Note from End the Lie: Please support our work and help us start to pay contributors by doing your shopping through our Amazon link or check out some must-have products at our store.
This article originally appeared on End the Lie
Boy Whose Hot Dog Cart Was Shut Down by the City of Holland Now Homeless
Anne Shieber
Mackinac.org
August 10, 2012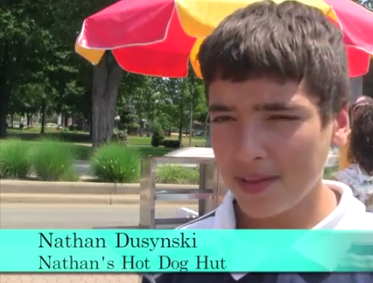 Several weeks after a city zoning officer shut down his hot dog business, 13-year-old Nathan Duszynski and his parents are homeless.
The family was hoping Nathan's hot dog cart could help them through a difficult time. Nathan's mother, Lynette Johnson, suffers from epilepsy and his stepfather, Doug Johnson, has multiple sclerosis. Their illnesses have restricted them from finding permanent, full-time work.
The family receives about $1,300 a month in disability payments, Medicaid and food assistance. The three are having a hard time staying together. MLive confirms what the Mackinac Center learned Thursday — Nathan and his mother are staying at the Holland Rescue Mission.
Filed Under: POLICE STATE
Comments (0)