By Chris Geo on Jun 22, 2012 with Comments
Will Toledo, Ohio Be The First Major American City To Be Owned By China?
The Economic Collapse Blog
June 21, 2012
It has been said that there are two ways to conquer and enslave a nation.  One way is by using the sword, and the other is by using debt.
Fortunately, America is not in danger of being conquered by the sword right now, but America is being conquered by debt.  The borrower is the servant of the lender, and today we owe China more than a trillion dollars.
By running a gigantic trade deficit with us, China has been able to become incredibly wealthy.  We have begged them to lend us back some of the money that we have sent them and this has made them even wealthier.
Now China is gobbling up U.S. real estate and U.S. assets at an astounding pace.  In fact, some cities are in danger of becoming completely dominated by Chinese ownership.
One of those cities is Toledo, Ohio.  In many "rust belt" areas, real estate can be had for a song, and the Chinese are taking full advantage of this.  America was once the wealthiest nation on earth, but now we are drowning in debt and we are being sold off in chunks to the highest bidder.
Is this the legacy that we are going to leave for future generations?
According to a recent Fortune article, Chinese investors have been very busy purchasing distressed commercial real estate in Toledo lately….
In March 2011, Chinese investors paid $2.15 million cash for a restaurant complex on the Maumee River in Toledo, Ohio. Soon they put down another $3.8 million on 69 acres of newly decontaminated land in the city's Marina District, promising to invest $200 million in a new residential-commercial development. That September, another Chinese firm spent $3 million for an aging hotel across a nearby bridge with a view of the minor league ballpark.
Toledo is being promoted to Chinese investors as a "5-star logistics region".  From Toledo it is very easy to get to Chicago, Detroit, Cleveland, Pittsburgh, Columbus and Indianapolis.
With a population of 287,000, Toledo is only the fourth largest city in Ohio, but it lies at the junction of two important highways — I-75 and I-80/90. "My vision is to make Toledo a true international city," Toledo's Mayor Mike Bell told the Toledo Blade.
For some reason the Chinese seem to be very interested in that area of the country.  Last month, I wrote about how one Chinese group plans to develop a 200 acre "China city" just 40 minutes away from Toledo….
A Chinese group known as "Sino-Michigan Properties LLC" has bought up 200 acres of land near the town of Milan, Michigan.  Their plan is to construct a "China City" with artificial lakes, a Chinese cultural center and hundreds of housing units for Chinese citizens.  Essentially, it would be a little slice of communist China dropped right into the heartland of America.  This "China City" would be located about 40 minutes from both Detroit and Toledo, and it would be marketed to Chinese business people that want to start businesses in the United States.
But it is not just the rust belt that is being bought up by the Chinese.  A recent Forbes article documented several of the huge real estate deals that the Chinese are doing in New York right now….
According to a recent report in the New York Times, investors from China are "snapping up luxury apartments" and are planning to spend hundreds of millions of dollars on commercial and residential projects like Atlantic Yards in Brooklyn. Chinese companies also have signed major leases at the Empire State Building and at 1 World Trade Center, the report said.
In addition to real estate, the Chinese are also buying up businesses and natural resources all over the United States.
For example, the Dalian Wanda Group recently bought U.S. movie theater chain AMC Entertainment for 2.6 billion dollars.
Also, the Obama administration has been allowing companies owned by the Chinese government to gobble up U.S. oil and gas deposits worth billions of dollars.
On top of all that, the Federal Reserve recently announced that it will now allow Chinese banks to start buying up American banks.
So how in the world did we come to be so completely and totally dominated by China?
Well, the key to all of this is the trade deficit.
Most Americans can't even tell you what a trade deficit is, but it is at the very heart of our economic problems.
Basically, we buy far, far more from other countries than they buy from us.
Most Americans don't realize this, but the truth is that the United States has a trade imbalance that is more than 5 times larger than any other nation on earth has.
Overall, the U.S. has run a trade deficit of more than 8 trillion dollars with the rest of the globe since 1975.
If you go into a Wal-Mart of a dollar store today and you start looking at product labels, you will notice that hundreds of products say "made in China" and very few of them say that they were made in this country.
Every single month, China sends us gigantic mountains of plastic crap to sell in our stores and we send them gigantic mountains of our money.
The U.S. trade deficit with China during 2011 was $295.4 billion.  That was the largest trade deficit that one country has had with another country in the history of the planet.
Sadly, so far our trade deficit with China in 2012 is about 12 percent larger than it was last year.
So things are getting even worse.
To get an idea of how far things have come, let us take a look back at the 1980s for a moment.
Back in 1985, the U.S. trade deficit with China was only 6 million dollars for the entire year.
All of this imbalanced trade is absolutely killing us.
Today, the United States spends about 4 dollars on goods and services from China for every one dollar that China spends on goods and services from the United States.
So why doesn't China buy more stuff from us?
Well, there are a whole lot of reasons.  One of the main reasons is that they slap huge tariffs on many American-made goods.
For example, according to the New York Times a Jeep Grand Cherokee that costs $27,490 in the United States costs about $85,000 in China thanks to all the tariffs.
So why do we allow China to keep doing this to us?
That is a very good question.
Meanwhile, China is continually getting wealthier and we are continually getting poorer.
All of the money that is leaving this country and going to China could be going to U.S. businesses and U.S. workers instead.  In turn, those businesses and workers would pay taxes on that money to support the government.
Instead, we have to go beg China to lend us the money that we just sent to them.
At this point, China now holds approximately 1.17 trillion dollars of U.S. government debt.
None of this ever had to happen.
But it did happen because we were stupid.
Now China has mountains of money to literally buy us up.
But China is not the only country that we have an imbalanced trading relationship with.
For example, the new "free trade agreement" between the United States and South Korea that Barack Obama has been touting went into full effect on March 15, 2012.
So how has that "free trade agreement" turned out so far?  The following is from a recent article by Pat Buchanan….
The U.S. trade deficit with Korea tripled in one month. Imports from South Korea jumped 15 percent to $5.5 billion in April, while U.S. exports to South Korea fell 12 percent to $3.7 billion. Suddenly, the U.S. trade deficit with Seoul surged to an annual rate of $22 billion.

Shades of NAFTA. When it passed in 1993, we had a $1.6 billion trade surplus with Mexico. By 2010, our trade deficit with Mexico had reached $61.6 billion.
Ouch.
The truth is that these free trade agreements are not fair and balanced.
U.S. workers end up competing for jobs with workers in countries where it is legal to pay slave labor wages.  And other countries often have far fewer rules and regulations to follow as well.  In his recent article, Buchanan described why all Americans should be economic nationalists….
Global free trade means U.S. workers compete with Asian and Latin American workers whose wages are a fraction of our own and whose benefits may be nonexistent. Global free trade means U.S factories that relocate to Indonesia or India need not observe U.S. laws on health, safety, pollution or paying a minimum wage.

Global free trade means that companies that move factories outside the United States can send their products back to the United States free of charge and undercut businessmen who retain their American workers and live within American laws.

Free trade makes suckers and fools out of patriots.
Unfortunately, both major political parties in the United States are absolutely married to the one world economic agenda that the elite are pushing.
So we will continue to bleed wealth, businesses and jobs at an astounding pace.
You can get a really good idea of the horrific manufacturing job losses in the United States over the past 40 years by checking out this map right here.
Overall, the United States has lost a total of more than 56,000 manufacturing facilities since 2001.
According to the Economic Policy Institute, since 2001 America has lost approximately 2.8 million jobs due to our trade deficit with China alone.
There seems to be absolutely no concern with protecting American jobs these days.
If you can believe it, Chinese corporations are even building our bridges.  The following is a brief excerpt from a recent ABC News article….
In New York there is a $400 million renovation project on the Alexander Hamilton Bridge.

In California, there is a $7.2 billion project to rebuild the Bay Bridge connecting San Francisco and Oakland.

In Alaska, there is a proposal for a $190 million bridge project.

These projects sound like steps in the right direction, but much of the work is going to Chinese government-owned firms.

"When we subsidize jobs in China, we're not creating any wealth in the United States," said Scott Paul, executive director for the Alliance for American Manufacturing.
Americans need to start understanding that our trade deficit is causing us to lose massive numbers of businesses and jobs and that this is making us poorer as a nation.
As I wrote about the other day, the median net worth of families in the United States declined "from $126,400 in 2007 to $77,300 in 2010" according to the Federal Reserve.
Even if you take away the effect of the housing collapse, household net worth still declined by 25 percent between 2005 and 2010.
A lot of that decline in wealth was due to the recent recession, but the point I am trying to make is that we are getting poorer as a nation.
A decade ago, the United States was ranked number one in average wealth per adult.  By 2010, the United States had fallen to seventh.
And when you factor in our debts, we are a complete and total mess.  U.S. consumers are more than 11 trillion dollars in debt and the federal government is nearly 16 trillion dollars in debt.
We are getting deeper in debt at the same time that our ability to service that debt is declining.
The reality is that our economy is completely falling apart and it no longer produces enough jobs for everyone.
In fact, it isn't even close.
Right now there are about 3.7 workers that are "officially" unemployed for every single job opening.
So what we are doing right now is clearly not working.
We need to fundamentally change direction as a nation.
Unfortunately, that is not going to happen any time soon.
So where do we go from here?
Dow tumbles 251 points: market shaken by second worst trading day of the year
June 21, 2012 – ECONOMY – Global growth worries slammed stocks, triggering a bearish recommendation from Goldman Sachs that accelerated declines and helped drive major benchmarks to their second-biggest losses of the year. The Dow Jones Industrial Average dropped 250.82 points, or 2%, to 12573.57, while Standard & Poor's 500-stock index fell 30.18 points, or 2.2%, to 1325.51. The Nasdaq Composite shed 71.36 points, or 2.4%, to 2859.09, pacing to snap a five-session streak of gains. The Dow inched higher at the open, but quickly turned red after Mid-Atlantic manufacturers said that business conditions deteriorated sharply this month, according to the Federal Reserve Bank of Philadelphia. Another sour reading from the jobs market also weighed. The number of Americans filing for jobless benefits fell slightly last week, though the prior week's figure was revised higher, indicating the labor market is sputtering. "What we're seeing is the job market slowing to a crawl," said Saira Malik, head of global equity research for TIAA-CREF in San Francisco.  Stocks slid to session lows after analysts at Goldman Sachs recommended that clients set up short positions in the S&P 500. The analysts set a short target for the benchmark index at 1285, or more than 5% lower than Thursday's close, writing that Thursday's soft U.S. reports "provides further evidence that weakness has extended into June." Short sellers borrow shares from other investors and sell them in the hope of buying them back at a lower price later. Traders also cited rumors that the tab for Spain's bank bailout may be higher than previously reported. Energy and materials stocks led all 10 of the S&P 500′s sectors lower after reports showed that business activity in the euro zone and manufacturing activity in China each contracted in June. Additionally, traders cited lingering disappointment that the Federal Reserve held off on announcing more aggressive stimulus measures on Wednesday.
The great unravel: U.S. 30 -year mortgage rates fall to lowest on record
June 21, 2012 – ECONOMY – The average U.S. rate on a 30-year fixed mortgage fell this week to a record low for the seventh time in eight weeks. Cheap mortgages have helped drive a modest recovery in the weak housing market this year. Mortgage buyer Freddie Mac said Thursday that the average on the 30-year loan dropped to 3.66 percent. That's down from 3.71 percent last week and the lowest since long-term mortgages began in the 1950s. The average rate on the 15-year mortgage, a popular refinancing option, declined to 2.95 percent. That's down from 2.98 percent last week and just above the record 2.94 percent reached two weeks ago. The rate on the 30-year loan has been below 4 percent since December. Low rates could provide some help to the economy if more people refinance. When people refinance at lower rates, they pay less interest on their loans and have more money to spend. Still, the pace of home sales remains well below healthy levels. Sales of previously occupied homes dipped in May to a seasonally adjusted annual rate of 4.55 million, although they are up from the same month last year. Many people are still having difficulty qualifying for home loans or can't afford larger down payments required by banks. Some would-be home buyers are holding off because they fear that home prices could keep falling. The U.S. economy is growing only modestly and job creation slowed sharply in April and May. U.S. employers created only 69,000 jobs in May, the fewest in a year. Mortgage rates have been dropping because they tend to track the yield on the 10-year Treasury note. Uncertainty about how Europe will resolve its debt crisis has led investors to buy more Treasury securities, which are considered safe investments. As demand for Treasurys increase, the yield falls.
Who Destroyed the Middle Class
The Burning Platform
June 20, 2012
"Over the last thirty years, the United States has been taken over by an amoral financial oligarchy, and the American dream of opportunity, education, and upward mobility is now largely confined to the top few percent of the population. Federal policy is increasingly dictated by the wealthy, by the financial sector, and by powerful (though sometimes badly mismanaged) industries such as telecommunications, health care, automobiles, and energy. These policies are implemented and praised by these groups' willing servants, namely the increasingly bought-and-paid-for leadership of America's political parties, academia, and lobbying industry." – Charles Ferguson – Predator Nation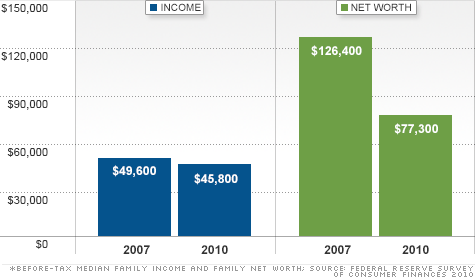 The Federal Reserve released its Survey of Consumer Finances last week. It's a fact filled 80 page report they issue every three years to provide a financial snapshot of American households. As you can see from the chart above, the impact of the worldwide financial collapse has been catastrophic to most of the households in the U.S. A 39% decline in median net worth over a three year time frame is almost incomprehensible. Even worse, the decline has surely continued for the average American household through 2012 as home prices have continued to fall. Median family income plunged by 7.7% over a three year time frame and has not recovered since the collection of this data 18 months ago. Even more shocking is the fact that median household income was $48,900 in 2001. Families are making 6.3% less today than they were a decade ago. These figures are adjusted for inflation using the BLS massaged CPI figures. Anyone not under the influence of psychotic drugs or engaged as a paid shill for the financial oligarchy knows that inflation is purposely under reported in order to keep the masses sedated and pacified. The real decline in median household income is in excess of 20% since 2001.
The destruction of the blue collar jobs has been underway since the early 1970s. And the relentless decline in real blue collar wages has followed a bumpy downward path for decades. Sadly, the average person doesn't understand the insidious destruction caused to their lives by the Federal Reserve generated inflation, as they actually believe their wages today are higher than they were in 1973. The reality is the oligarchy has used foreign wage differentials and the perceived benefits of globalization to ship manufacturing and now service jobs to Asia while using their captured mainstream media to convince the average American that this has been beneficial to their lives. Using one of their 15 credit cards to buy cheap foreign goods made by people who took their jobs was never so easy.  I wonder if the benefits of being able to buy cheap Chinese electronics, toxic dog food, and slave labor produced igadgets outweighed the $2.3 trillion increase in consumer debt, 27% decline in real wages, 7 million manufacturing jobs lost since the mid-1970s, 46 million people on food stamps, $15 trillion increase in the National Debt since 1978, and a gutted decaying industrial base.
Filed Under: ECONOMY
Comments (0)