By Chris Geo on Aug 28, 2012 with Comments
China's missile advances aimed at thwarting US defences: Analysts
Hong kong—China is moving ahead with the development of a new and more capable generation of intercontinental ballistic missiles and submarine-launched missiles, giving it a greater capability to hit targets in the United States and to overwhelm any missile defense systems, US media quoting military analysts reported on Saturday.
China's steady improvements in its military capabilities have caused concern in Congress and among American allies in East Asia, particularly as the improvements have coincided with a more assertive Chinese position regarding territorial claims in the East China Sea and South China Sea.
The Global Times, a newspaper directly controlled by the Chinese Communist Party, reported on Wednesday that China was developing the capability to put multiple warheads on intercontinental ballistic missiles, or ICBMs. But the newspaper disputed a report in Jane's Defense Weekly that the latest Chinese ICBM, the Dongfeng-41, had already been tested last month.
Larry Wortzel, a former U.S. military intelligence officer and retired Army colonel who is now a commissioner of the U.S.-China Economic and Security Review Commission, a panel created by Congress, said that China was developing the capability to put as many as 10 nuclear warheads on an ICBM plus a series of dummy warheads. The dummy warheads would have heat and electromagnetic devices designed to trick missile defense systems into perceiving them as being as threatening as the actual warheads, he said. "The bigger implication of this is that as they begin to field a force of missiles with multiple warheads, it means everything we assume about the size of their nuclear arsenal becomes wrong," he said. China has separately tested submarine-launched missiles as well in recent weeks, and could use these to outflank American missile detection systems, Colonel Wortzel said. Most of the radar arrays that the United States has deployed to detect ballistic missiles were built during the cold war to detect attacks over polar routes. Sun Zhe, a professor of international relations at Tsinghua University in Beijing and a frequent commentator on U.S.-China relations, said that China was developing its military forces only to respond to continued efforts by other countries, particularly the United States, to continue improving their own forces. "We have again and again said that we will not be the first country to use nuclear force," he said. "We need to be able to defend ourselves, and our main threat, I'm afraid, comes from the United States."
The United States has been mulling where it can best place additional high-tech radar systems designed to track ballistic missiles. American forces currently have one in northern Japan and others that are deployed from time to time at sea. The Wall Street Journal reported this week on discussions of whether to put two more on land, in southern Japan and in Southeast Asia. American officials have said repeatedly that their main concern is North Korea, which has been testing long-range missiles and developing nuclear weapons. But Chinese officials and experts have been deeply suspicious that American missile defense systems are aimed at their country's forces as well."I have no doubt that the one of the goals of the missile defenses is to contain threats from North Korea, but objectively speaking, a high-tech expansion of U.S. military biceps impacts China, too," said Shi Yinhong, a professor of international relations at Renmin University in Beijing, adding that discussions have taken place in China on whether to develop missile defense systems as well.
Asia Stocks Down Ahead of US Fed Chief's Speech
TOKYO August 28, 2012 (AP)
Asian markets were mostly lower Tuesday, weighed down by global worries about the impact of the eurozone debt crisis, while investors awaited the release of key U.S. economic data.
The Tokyo Stock Exchange's benchmark Nikkei lost 0.9 percent to 9,003.19. South Korea's Kospi index lost 0.3 percent to 1,912.42. Key indexes were also down in Singapore, Indonesia and
Taiwan. Mainland Chinese shares were mixed, while benchmarks in New Zealand, Thailand and Australia rose.
Nobuhiko Kuramochi, head of the investment information department at Mizuho Securities Co. in Tokyo, said that traders were not going to make major moves ahead of key events later in the week, including U.S. Federal Reserve Chairman Ben Bernanke's speech in Wyoming.
Traders were also looking ahead to the release of U.S. April-June gross domestic product data set for Wednesday.
"Attention is on how overseas markets are faring as those herald major risks," Kuramochi said. "With Japanese exports already declining, they will determine the momentum of manufacturing issues."
Also weighing on sentiments was a monthly Japanese government report on the economy, released Tuesday, whose language on the main assessment was changed — to a more pessimistic one, for the first time in 10 months — to highlight concerns about weaknesses, stemming from dwindling exports.
Decoding The Air-Sea Battle Concept: Operational Consequences And Allied Concerns – Analysis
By: RSIS
August 28, 2012
The emerging Air-Sea Battle (ASB) operational concept has been riddled with ambiguity and uncertain operational consequences. U.S. allies in East Asia have expressed varying perceptions and concerns, while the growing emphasis on the ASB has overshadowed conceptual alternatives and counterarguments within the U.S. military.
By Michael Raska
The AirSea Battle (ASB) concept does not specifically target China as an adversary, though it is predominantly focused on mitigating the strategic and military effectiveness of the PLA's asymmetric military capabilities. These include long-range surveillance radar and precision missile systems, integrated air defense systems, anti-ship missiles, submarines, space and cyberwarfare capabilities. From the U.S. strategic viewpoint, these represent the so-called Anti-Access/Area-Denial (A2/AD) operational challenges, which may limit U.S. freedom of action in the Western Pacific.
China – US Relations
In a hypothetical crisis scenario, in which China would use its increasingly sophisticated A2/AD capabilities, the ASB envisions U.S. military response in three distinct phases: (1) Blinding Campaign – striking PLA's intelligence, surveillance, and reconnaissance (ISR) assets from afar in order to deny their situational awareness. In other words, by reducing the PLA's ability to "see deep", U.S. aircraft carrier groups would gain access to the battlespace; (2) Missile Suppression Campaign – disrupting PLA's air-defense networks by stealthy long-range platforms, supported by submarine-launched weapons and sensors. By destroying or degrading Chinese critical air-defense assets and achieving air superiority, U.S. forces would be able to attack PLA's land-based missile launchers, surface-to-surface missiles, and their supporting infrastructure; (3) Follow-On Operations – seizing the operational initiative by conducting diverse missions such as a "distant blockade" to ensure protracted U.S. freedom of action in the region.
China could penetrate US with new huge missile
Phil Muncaster
The Register
It might be time to sweep the cobwebs out of that old nuclear bunker at the bottom of the garden after reports in state-run Chinese media confirmed that the People's Liberation Army is actively developing an intercontinental missile capable of penetrating US defences.
News first emerged of the planned 'super missile' from defence industry bible Jane's Defence Weeklylast week, according to South China Morning Post.
It apparently claimed that a Dongfeng-41 (DF-41) intercontinental ballistic missile (ICBM), had been fired in testing last month by the PLA's Second Artillery Corps.
This third-generation missile, US military sources told Jane's, contain multiple independently targetable re-entry vehicles (MIRVs) – effectively multiple warheads – meaning they would be almost impossible for current US defences to take down.
Inflating the China threat
Posted By Stephen M. Walt
Monday, August 27, 2012 – 4:00 PM
If you were focusing on Hurricane Isaac or the continued violence in Syria, you might have missed the latest round of threat inflation about China.   Last week, the New York Times reported that China was "increasing its existing ability to deliver nuclear warheads to the United States and to overwhelm missile defense systems."  The online journal Salon offered an even more breathless appraisal: the headline announced a "big story"–that "China's missiles could thwart U.S."–and the text offered the alarming forecast that "the United States may be falling behind China when it comes to weapon technology."
What is really going on here?  Not much.  China presently has a modest strategic nuclear force.  It is believed to have only about 240 nuclear warheads, and only a handful of its ballistic missiles can presently reach the United States.  By way of comparison, the United States has over 2000 operational nuclear warheads deployed on ICBMs, SLBMs, and cruise missiles, all of them capable of reaching China.  And if that were not enough, the U.S. has nearly 3000 nuclear warheads in reserve.
Given its modest capabilities, China is understandably worried by U.S. missile defense efforts.  Why?  Chinese officials worry about the scenario where the United States uses its larger and much more sophisticated nuclear arsenal to launch a first strike, and then relies on ballistic missile defenses to deal with whatever small and ragged second-strike the Chinese managed to muster.  (Missile defenses can't handle large or sophisticated attacks, but in theory they might be able to deal with a small and poorly coordinated reply).
This discussion is all pretty Strangelovian, of course, but nuclear strategists get paid to think about all sorts of elaborate and far-fetched scenarios.  In sum, those fiendish Chinese are doing precisely what any sensible power would do: they are trying to preserve their own second-strike deterrent by modernizing their force, to include the development of multiple-warhead missiles that would be able to overcome any defenses the United States might choose to build.  As the Wall Street Journal put it:
The [Chinese] goal is to ensure a secure second-strike capability that could survive in the worst of worst-case conflict scenarios, whereby an opponent would not be able to eliminate China's nuclear capability by launching a first strike and would therefore face potential retaliation. As the U.S. Defense Department's Ballistic Missile Defense Review points out, "China is one of the countries most vocal about U.S. ballistic missile defenses and their strategic implications, and its leaders have expressed concern that such defenses might negate China's strategic deterrent."
Three further points should be kept in mind. First, hawks are likely to use developments such as these to portray China as a rising revisionist threat, but such claims do not follow logically from the evidence presented. To repeat: what China is doing is a sensible defensive move, motivated by the same concerns for deterrent stability that led the United States to create a "strategic triad" back in the 1950s.
Second, if you wanted to cap or slow Chinese nuclear modernization, the smart way to do it would be to abandon the futile pursuit of strategic missile defenses and bring China into the same negotiating framework that capped and eventually reduced the U.S. and Russian arsenals. And remember: once nuclear-armed states have secure second-strike capabilities, the relative size of their respective arsenals is irrelevant. If neither side can prevent the other from retaliating and destroying its major population centers, it simply doesn't matter if one side has twice as many warheads before the war. Or ten times as many. Or a hundred times….
US-China missile race
The United States says it's planning to build new missile defence in Asia. White House officials say early warning radar systems could be placed on a remote Japanese island and possibly in the Philippines. They say the proposed systems are in response to the development of new Chinese missiles, which the Pentagon says could be used to target the American Pacific Fleet. The US plans come in the wake of a diplomatic fall-out with Russia over similar systems in Eastern Europe.
VOR's Tom Hedegard spoke to Alexander Neal, an Asia expert at the Royal United Services Institute, and asked him what the US is trying to achieve in the region.
I think first and foremost the US as part of its rebalancing campaign in the Asia-Pacific region has viewed China's growing missile capabilities as a challenge to the current status-quo or at least the current domination of US sources in the Pacific region. Enhancing a ballistic missile defense Umbrella in the region allows the US to maintain the upper hand in many ways, but unfortunately because of China's proliferation of missile technologies, it's creating an arms race in the region. US policy makers would prefer China not to be spending so much money on these sophisticated weapons systems. And I'm sure many Chinese leaders would agree with that, but they say the People's Liberation Army has to face up to the possibility of contingency in the region and certainly the confrontation using ballistic missile technologies is at the full-front of their minds.
U.S. Arms Sales Tripled In 2011 To $66.3 Billion: Report
The Huffington Post  |  By Harry Bradford Worldwide weapons sales by the United States tripled in 2011, according to a new report by the Congressional Research Service.
U.S. arms sales to both developed and developing nations reached $66.3 billion last year, up from $21.4 billion in 2010, the report found. Russia, the nation with the second highest weapon sales, sold $4.8 billion worth of arms. Meanwhile, total worldwide weapon sales nearly doubled to $85.3 billion, making the U.S. responsible for more than three-quarters of the global total.
Some of the biggest purchasers of U.S. weapons were Middle Eastern nations, including Saudi Arabia, whose purchase of 84 advanced F-15 fighters in part accounted for a $30 billion bill. The U.S. also sold around $2 billion worth of antimissile batteries to Taiwan, a deal that stoked the ire of China and caused tension during a diplomatic Chinese military visit last July.
For its part, Russia has also faced criticism for its weapons dealings with Syria, which remains embroiled in a civil war since March 2011.
The United Nations failed to reach a consensus last month on a treaty to increase regulation of the arms industry, but further talks are expected leading up to a possible vote by the end of the year.
(Hat tip: The New York Times)
We Arm the World! US Dominates Global Arms Sales
An "extraordinary increase" over the $21.4 billion in deals for 2010
- Common Dreams staff
U.S. arms exports tripled and reached a record $66.3 billion last year or more than three-quarters of the global arms market, the New York Times is reporting Sunday night.
The US military-industial complex sold 78 per cent of the world's arms in 2011. Russia was a distant second, with just $4.8 billion in weapon sales.
In a June 2012 conference call to journalists, Andrew Shapiro, US Assistant Secretary of State for Political-Military Affairs said: "Today, I can confirm that this is already a record-breaking year for foreign military sales. We have already surpassed $50 billion in sales in fiscal year 2012," which ends September 30. Shapiro said it was too early to predict whether 2013 would see a further increase in foreign military sales.
Despite the global domination by the United States, on Saturday the neo-con editors at the Washington Post headlined an article claiming China an Emerging World Arms Exporter.
"China… has transformed itself from the world's largest importer of arms to a major producer, with domestic production exploding by 95 percent from 2002 to 2006 and from 2007 to 2011, making it the sixth-largest arms exporter in the world."
The New York Times reports:
The American weapons sales total was an "extraordinary increase" over the $21.4 billion in deals for 2010, the study found, and was the largest single-year sales total in the history of United States arms exports. The previous high was in fiscal year 2009, when American weapons sales overseas totaled nearly $31 billion.
The report was prepared by the nonpartisan Congressional Research Service, a division of the Library of Congress. The annual study, written by Richard F. Grimmett and Paul K. Kerr and delivered to Congress on Friday, is considered the most detailed collection of unclassified arms sales data available to the public.
The agreements with Saudi Arabia included the purchase of 84 advanced F-15 fighters, a variety of ammunition, missiles and logistics support, and upgrades of 70 of the F-15 fighters in the current fleet.
Sales to Saudi Arabia last year also included dozens of Apache and Black Hawk helicopters, all contributing to a total Saudi weapons deal from the United States of $33.4 billion, according to the study.
The United Arab Emirates purchased a Terminal High Altitude Area Defense, an advanced antimissile shield that includes radars and is valued at $3.49 billion, as well as 16 Chinook helicopters for $939 million.
Oman bought 18 F-16 fighters for $1.4 billion.
In keeping with recent trends, most of the weapons purchases, worth about $71.5 billion, were made by developing nations, with about $56.3 billion of that from the United States.
To compare weapons sales over various years, the study used figures in 2011 dollars, with amounts for previous years adjusted for inflation to provide a consistent measurement.

The US is Taiwan's principal source of advanced military technology.
 China Willing to Promote Military Ties With U.S.
13:50 GMT, August 27, 2012 WASHINGTON | China is willing to work with the United States to properly handle their differences and promote stable and sound development of military-to-military ties, says a senior Chinese military officer.
Cai Yingting, a deputy chief of the general staff of the People's Liberation Army, made the remarks Thursday while meeting with U.S. Deputy Secretary of Defense Ashton Carter at Pentagon.
Cai, who arrived in the United States Monday for a visit, said the two nations have made key and positive progress in developing bilateral relations since the Obama administration came to power in 2009.
The top leaders of the two countries have reached important consensus to establish a new type of big power relations, he said, adding that the two sides should be committed to the principle of equality, mutual benefit and win-win cooperation while developing inter-military ties.
Saying the U.S. strategy in the Asia-Pacific region is not aimed at containing China, Carter voiced his country's hope that China continues to be its cooperation partner.
He called on the two sides to work together to find a way to ensure their development and prosperity through cooperation.
Also on Thursday, Cai met with Admiral James Winnefeld, vice chairman of the joint chiefs of staff, and General Lloyd Austin III, the U.S. Army's vice chief of staff.
During his talks with Winnefeld, Cai said the two countries should prevent their military relations from suffering major setbacks.
Winnefeld said that, as conflicts and frictions between big powers are inevitable, it is important for both sides to enhance dialogues, step up strategic mutual trust and avert misjudgment.
While meeting with Austin, Cai proposed that the two countries should promote mutual trust and cooperation between their armed forces, and properly tackle the obstacles that are undermining healthy and stable development of inter-military ties.
Austin said it is important to establish a long-term and fruitful inter-military relationship between the United States and China, which will benefit both sides. (Xinhua)
China Announces 8 Trillion Yuan Stimulus to Boost Confidence
Malcolm Moore
Telegraph.co.uk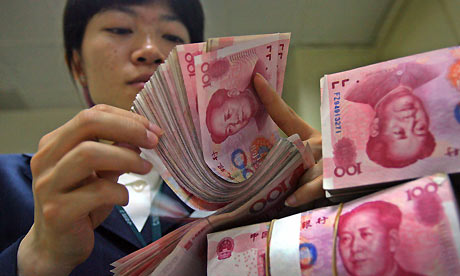 One Chinese province after another has stepped forward over the last fortnight to announce their plans, in what appears to be a propaganda effort to reassure the public that the economy is still on track.
Meanwhile, Wen Jiabao, the Chinese premier, promised over the weekend that the Chinese government would intensify its efforts to boost the economy in the second half of the year.
On a visit to Guangdong, the heartland of China's export industry, Mr Wen warned that "there will still be a lot of problems and uncertainties in exports going forward. The third quarter is a crucial period".
Filed Under: ECONOMY • FEATURED • WORLD NEWS
Comments (0)