By Chris Geo on Sep 19, 2012 with Comments
By Stephen Lendman, Contributor
theintelhub.com
He's undisciplined, unchecked, and unambiguous. He never knows when to leave well enough alone. He makes more enemies than friends. He's a consummate loudmouth bully. He hurls unrestrained verbal assaults. More on that below.
He presides over Israel's worst government. It's belligerent, hardline, and neoliberal. It's offensive to both Jews and Arabs. He menaces the entire region and beyond.
His finger on Israel's nuclear trigger should worry everyone. Maybe he'll squeeze during one of his frequent tantrums.
Fiction for him is fact. It's whatever he's saying at the time. He claims he doesn't lie but doesn't tell the truth. Perhaps he can't tell the difference between the two. He claims Armageddon is just around the corner. Who's he afraid of in a region where only Israel threatens neighbors?
He presides over a government Gideon Levy calls "racis(t), untranationalis(t), arrogan(t), and messiani(c)" for good reason. Nonetheless, "this country is still not the worst," he says.
He's right. It's the second worst. America is number one in every shameful thing mattering most.
On September 16, Netanyahu lied like he always does. He claimed Iran is six to seven months from having a nuclear bomb capability. Again he demanded Obama set a clear red line. For good reason, the president, other US officials, and most others are fed up with him.
He told NBC's Meet the Press:
"You have to place that red line before them now, before it's too late." He conflated Iran's government with "fanaticism….It's the same fanaticism that you see storming your embassies today. Do you want these fanatics to have nuclear weapons?"
Host David Gregory practically fawned over him. At issue is why was he invited on? He's guilty of crimes of war and against humanity. He's waging slow-motion genocide against 1.7 million Gazans.
He wages financial war on Jews and Arabs alike. He's a monster buttoned down to look normal. His legitimacy should be questioned.
He should be impeached, charged, prosecuted, and imprisoned before he does more harm.
His arrogance makes him impossible to deal with. On Meet the Press, he showed no signs of backing down. He practically challenged viewers to dispute him.
He told one lie after another about Iran. He's done it many times before.
Iran is "different," he says. It puts "zealotry above survival. They have suicide bombers all over the place. I wouldn't rely on their rationality."
Soviet Union-style "mutual assured destruction" (MAP) won't contain them, he suggested. He gets national US air time to voice vitriol and anti-Iranian propaganda. Too bad anyone wastes time watching.
"Since the advent of nuclear weapons, you have countries that had access to nuclear weapons who always made a careful calculation of cost and benefit. But Iran is guided by a leadership with an unbelievable fanaticism."
He falsely claims Iran nears nuclear weapons capability. No evidence whatever proves it. He denies what policy makers know but won't say.
No weapons program exists. None is planned. Saying otherwise spurns truth. Using a football analogy, he said "(t)they're in a 'red zone.' "
"They're in the last 20 yards. And you can't let them cross that goal line. Because that would have unbelievable consequences."
Asked if Israel would go it alone, he added:
"We always reserve the right to act. But I think that if we are able to coordinate together a common position, we increase the chances that neither one of us will have to act."
Make no mistake. Reserving the right and acting are worlds apart. On war and peace as well as other major geopolitical issues, Israel won't act without Washington's approval.
Picking a public fight with your benefactor comes down to biting the hand that feeds you and much more.
Doing so also draws strong criticism at home. He repeatedly oversteps. He doesn't know when to back off and stay quiet. Diplomacy for him is a four letter word.
His way or the highway is policy. His scowl and bullying make him impossible to deal with. Red lines, timelines and deadlines don't wash.
He wrongly claims "once the Iranians understand that there's a line that they can't cross, they're not likely to cross it."
Tehran observes international law. It was one of the first countries to sign the Nuclear Non-Proliferation Treaty (NPT). It has no nuclear weapons program. It plans none.
For decades, Israel's been nuclear armed and dangerous. It spurns NPT and won't sign it. It won't tolerate IAEA inspections. No nation is more closely monitored round the clock than Iran.
Netanyahu lied saying if America set a red line before Saddam invaded Kuwait, "maybe that war could have been avoided."
US ambassador April Glaspie OK'd his invasion. It followed months of failed negotiations to stop cross-drilling into Iraqi territory. Washington planned the provocation. It needed Saddam to react to wage war.
A World On The Verge Of War?
Here is a summary of where the world stands: -
- Unable to reach a compromise over the weekend, South Africa is now in an all out labor strike, with the police again firing rubber bullets at miners with lethal escalation guaranteed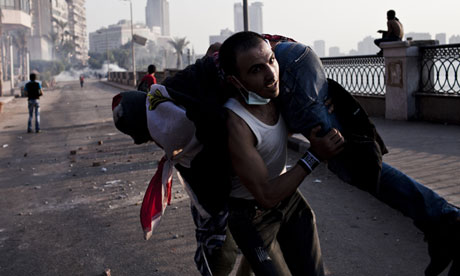 - Back from vacation, the once again penniless citizens of Spain, Greece, and Portugal have resumed protesting austerity
- US embassies attacked, in many cases with numerous casualties, in Egypt, Libya, Tunisia, Morocco, Sudan, Lebanon, India, Balgadesh, Indonesia, and others.
- Japan "appropriating" China-contested islands provoking a firestorm of retaliation including demands for "war with Japan"
- The Japanese ambassador to China dying mysteriously
- Netanyahu telling Meet the Press Iran will have a nuke in six-seven months and must be stopped beforehand
- Warships from more than 25 countries, including the United States, Britain, France, Saudi Arabia and the UAE, launching a military exercise in the Straits of Hormuz
- A third US aircraft – the CVN-74 Stennis – carrier is en route to Iran with an ETA of about 10 days
- And finally, a potential catalyst to light this whole mess on fire, Iran's Revolutionary Guard announcing that its troops are now on the ground in Syria.
From Reuters:
Members of Iran's Islamic Revolutionary Guards Corps (IRGC) are providing non-military assistance in Syria and Iran may get involved militarily if its closest ally comes under attack, commander-in-chief Mohammad Ali Jafari said on Sunday.

Jafari's statement is the first official acknowledgement that Iran has a military presence on the ground in Syria where an 18-month-old uprising has left tens of thousands dead.

Western countries and Syrian opposition groups have long suspected Iran has troops in Syria. Iran has denied this.

"A number of members of the Qods force are present in Syria but this does not constitute a military presence," Iranian news agency ISNA quoted Jafari as saying at a news conference.

Qods is an IRGC unit set up to export Iran's ideology. It has been accused of plotting attacks inside Iraq since the overthrow of Saddam Hussein.

Jafari did not indicate how many IRGC members were in Syria but said they were providing "intellectual and advisory help".

The Islamic Republic has backed Syria's President Bashar al-Assad since the crisis began and regards his rule as a key part of its axis of resistance against Israel and Sunni Arab states.

Jafari also said Iran would change its policy and offer military backing if Syria came under attack.

"I say specifically that if Syria came under military attack, Iran would also give military support but it … totally depends on the circumstances," he said.
Next up: satellite photos somewhere "confirming" beyond a reasonable doubt that weapons of mass destruction are being prepared for usage, and a preemptive war is the only way to not only preserve peace, but to be awarded the Nobel prize in said activity.
What is perfectly obvious to anyone but the most jaded and biased, is that the West will use any opportunity of conflict escalation which in turn will send crude, and gas, prices soaring, to commence the launch of the Strategic Petroleum Reserve release, arguably at just the right time to push down gas prices, which as we showed on Friday have never been higher on this day in history. "Right time", because any SPR release will have the short-term benefit of boosting Obama's re-election chances even more, even if it means surging gas prices after the election.
The reality of course is that the bulk of upside pressure on commodity (crude and gas included) prices is as a result of the Fed and ECB's recent monetization expansion and liquidity tsunami, which does the usual: soothes the symptoms for a few weeks, crushes volatility and creates the impression that all is well…. if only to lead to yet another far more grave outcome. And since there is now officially no limit much debt the Fed will monetize, there is so no limit on how high commodity prices will go.
So while in reality any war, supposedly one which is "regional" and "contained" will merely be a smokescreen to the central banks officially taking over ownership of the insolvent developed world, the likelihood is that a war will neither be "regional" nor "contained" as both countries that make up the axis of a future hard-backed currency, China and Russia, have already made it quite clear that any intervention by the US in regions they themselves consider strategic, such as the Senkaku Islands, Syria and/or Iran, will result in retaliation.
And retaliation by one or more rising superpowers to another fading superpower, will inevitably lead to yet another World War.
Needless to say, nobody could possibly foresee war as the outcome to the global depression ver 2.0: certainly not the Princeton historian who will be, more than anyone else, responsible for it.
Meir Dagan, Former Mossad Chief, Says Attack On Iran 'Stupidest Idea' He's Ever Heard
Mark Hanrahan
Huffington Post
Meir Dagan, a former head of the Israeli intelligence service Mossad, says that an attack on Iran would be the "stupidest idea [I've] ever heard."
Speaking to '60 Minutes' Dagan said: "An attack on Iran now before exploring all other approaches is not the right way how to do it [sic]."
Dagan, a man who Iranian authorities reportedly claim has dispatched assassins, computer viruses and faulty equipment in a bid to delay the country's nuclear program, appears to have developed a surprising appreciation for the Islamic Republic's regime – which is a sworn enemy of Israel.
Iran atomic chief says 'explosives' cut power at facility
Explosive blasts destroyed power lines to Iran's underground nuclear facility at Fordo last month, the head of Iran's atomic agency said at a meeting of UN atomic agency member states Monday.
"On … 17th August 2012, the electric power lines from the city of Qom to the Fordo complex … were cut using explosives," Fereydoon Abbasi Davani told the 155-nation International Atomic Energy Agency gathering in a speech.
Davani did not accuse anyone of sabotage, but in the past Iran has claimed both Israel and the United States were behind the assassinations of nuclear scientists and computer viruses targetting its facilities.
Ex-envoy to Israel: US will go to war with Iran in 2013
Former US Ambassador to Israel Martin Indyk predicts that the United States will go to war with Iran as early as 2013. "I'm afraid that 2013 is going to be a year in which we're going to have a military confrontation with Iran," he said in an interview on CBS' "Face the Nation."
During the interview, Indyk pointed out that the time has not come, yet, for the US to take military action. "Iran doesn't have a nuclear weapon. While there's still time, there's not a lot of time," he said.
Indyk's remarks came during a discussion with foreign policy experts on the latest protests in the Middle East and Israel's public statements pressuring the United States over Iran.
As for the public dispute between Prime Minister Benjamin Netanyahu and President Barack Obama over Iran, Indyk said he does not think that "the difference between Netanyahu and Obama on this is that great, in terms of the President's commitment not to allow Iran to acquire nuclear weapons."
'Nothing would remain' of Israel if they attack Iran: 'we would no longer be committed to Nuclear Non-Proliferation Treaty'
 
September 16, 2012 – MIDDLE EAST - The top commander in Iran's powerful Revolutionary Guard warned Sunday that his country's missiles will ensure "nothing will remain" of Israel if it takes military action against Tehran over its controversial nuclear program. Gen. Mohammad Ali Jafari also warned that Iran might close the Straits of Hormuz if it is attacked, withdraw from the Nuclear Non-Proliferation Treaty and hit U.S. bases in the Middle East. Such warnings and references to Israel's destruction have been made before by Iranian officials. But Gen. Jafari's comments to a Tehran news conference were an unusually detailed, strongly worded and comprehensive listing of the means that Iran says it has to retaliate against a strike on its nuclear facilities. The U.S. and Israel have left open the possibility of such a strike if Iran does not back down from what they say are a push to develop nuclear weapons. Iran says its nuclear program is for peaceful purposes. US-Israel rift over Iran widens; Obama denies Netanyahu asked for meeting. "Our response to Israel is clear: I think nothing will remain of Israel (should it attack Iran). Given Israel's small land area and its vulnerability to a massive volume of Iran's missiles, I don't think any spot in Israel will remain safe," he said. He said Iran's response to any attack will begin near the Israeli border. The Islamic Republic has close ties with militants in Gaza and Lebanon, both of whom have rocket arsenals that could be used for cross-border strikes. He said he did not believe however that Israel would attack on its own. Should the U.S. launch a strike, Jafari suggested that Iran could respond with missile salvos at U.S. bases in the Gulf. "The US military bases sprawled around Iran are considered a big vulnerability. Even the missile shields that they have set up, based on information we have, could only work for a few missiles but when exposed to a massive volume of missiles, the shields will lose their efficiency and will not work," he said. He also said that Iran warned that oil shipments through the strategic Strait of Hormuz will be in jeopardy if a war breaks out between Iran and the United States. Iranian officials have previously threatened to close the waterway, the route for a fifth of the world's oil, but less frequently in recent months. "If a war breaks out where one side is Iran and the other side is the West and U.S., it's natural that a problem should occur in the Strait of Hormuz. Export of energy will be harmed. It's natural that this will happen," he said. Gen. Jafari said that, if attacked, Iran will no longer be committed to the Nuclear Non-Proliferation Treaty, under whose terms U.N. inspectors visit Iranian nuclear sites. He said however that this does not mean that Iran would build a nuclear weapon.
Armada of British naval power massing in the Gulf as Israel prepares an Iran strike
   
September 16, 2012 – MIDDLE EAST – An armada of U.S. and British naval power is massing in the Persian Gulf in the belief that Israel is considering a pre-emptive strike against Iran's covert nuclear weapons program. Battleships, aircraft carriers, minesweepers and submarines from 25 nations are converging on the strategically important Strait of Hormuz in an unprecedented show of force as Israel and Iran move towards the brink of war. Western leaders are convinced that Iran will retaliate to any attack by attempting to mine or blockade the shipping lane through which passes around 18 million barrels of oil every day, approximately 35 per cent of the world's petroleum traded by sea. A blockade would have a catastrophic effect on the fragile economies of Britain, Europe the United States and Japan, all of which rely heavily on oil and gas supplies from the Gulf. The Strait of Hormuz is one of the world's most congested international waterways. It is only 21 miles wide at its narrowest point and is bordered by the Iranian coast to the north and the United Arab Emirates to the south. In preparation for any pre-emptive or retaliatory action by Iran, warships from more than 25 countries, including the United States, Britain, France, Saudi Arabia and the UAE, will today begin an annual 12-day exercise. The war games are the largest ever undertaken in the region. They will practice tactics in how to breach an Iranian blockade of the strait and the force will also undertake counter-mining drills. The multi-national naval force in the Gulf includes three US Nimitz class carrier groups, each of which has more aircraft than the entire complement of the Iranian air force. The carriers are supported by at least 12 battleships, including ballistic missile cruisers, frigates, destroyers and assault ships carrying thousand of US Marines and Special Forces. The British component consists of four British minesweepers and the Royal Fleet Auxiliary Cardigan Bay, a logistics vessel. HMS Diamond, a brand-new £1billion Type 45 destroyer, one of the most powerful ships in the British fleet, will also be operating in the region. In addition, commanders will also simulate destroying Iranian combat jets, ships and coastal missile batteries. In the event of war, the main threat to the multi-national force will come from the Islamic Revolutionary Guards Corps navy, which is expected to adopt an "access-denial" strategy in the wake of an attack, by directly targeting US warships, attacking merchant shipping and mining vital maritime chokepoints in the Persian Gulf. Defense sources say that although Iran's capability may not be technologically sophisticated, it could deliver a series of lethal blows against British and US ships using mini-subs, fast attack boats, mines and shore-based anti-ship missile batteries. Next month, Iran will stage massive military maneuvers of its own, to show that it is prepared to defend its nuclear installations against the threat of aerial bombardment. The exercise is being showcased as the biggest air defense war game in the Islamic Republic's history, and will be its most visible response yet to the prospect of an Israeli military strike. Using surface-to-air missiles, unmanned drones and state-of-the-art radar, Iran's Revolutionary Guards and air force will combine to test the defenses of 3,600 sensitive locations throughout the country, including oil refineries and uranium enrichment facilities.
Filed Under: FEATURED • WORLD NEWS
Comments (0)